Young Leadership Program 2021 April Apply Online Ravi Urban Development Authority YLP RUDA Latest in Lahore, Punjab
One Year Paid Programme
2000 Positions
Ravi Urban Development Authority (RUDA) intends to develop urban areas of the province into sustainable, liveable and well-managed engines of economic growth. Urban development and its management are critically linked with sound, comprehensive and strategic metropolitan level long-term planning. Over the years, rapid urbanization has changed the socio-economic and physical characteristics of the cities. The physical growth of the cities has emerged in a very different way from the land uses proposed in master plans and other such documents.
Young Leadership Program in the Following Fields
Engineering
Business
Architecture
Science
Social Sciences
Environmental Sciences
Young Leadership Program 2021 April Newspaper Advertisement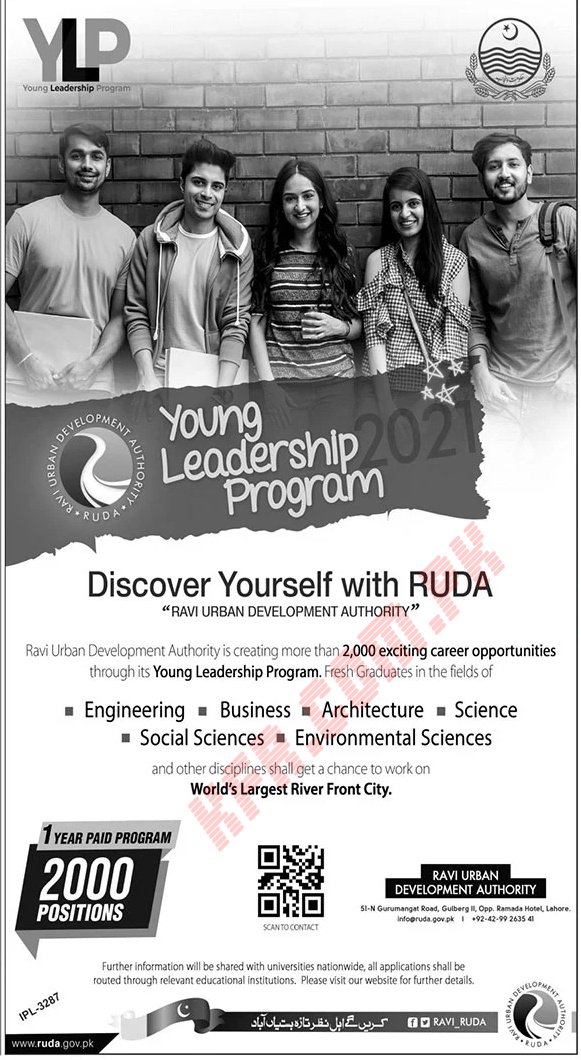 PLEASE CLICK THE IMAGE TO VIEW ITS ORIGINAL SIZE
HOW TO APPLY
RUDA Young Leadership Program 2021 April Online:
Please visit the link given below to Apply Online for Ravi Urban Development Authority Young Leadership Program 2021 April RUDA YLP:
---
SEE MORE JOBS HERE…..
KFR Team Collect Jobs from Pakistan's leading newspapers like Daily Jang, Express, Nawa-i-Waqt, The News, Dawn & The Nation. Our aim is to facilitate job seekers from various cities of Pakistan like Karachi, Lahore, Rawalpindi, Islamabad, Peshawar, etc. by providing them all www newspaper job advertisements on a single .com .pk website. This is done as a public service in good faith and we are not responsible for any incorrect, misrepresented or misleading advertisement. Instead of searching the Jobs Advertisements in every newspaper, you can use www.kfr.com.pk to find any ad of your interest quickly.