VACANCY ANNOUNCEMENT "Women University of Sukkur Jobs Latest 2020"
Applications are invited from qualified candidates domiciled in the Province of Sindh for recruitment of the following posts purely on con- tact/daily basis under ADP Scheme No. 488/2020-21″Establishment of Women University of Sukkur" and the execution agency is Begum Nusrat Bhutto Women University Sukkur. The candidates possessing the educational qualifications and fulfilling the conditions as laid down below should apply with payment of Rs.2,000 (non-refundable) at serial 1 and onward Rs. 1,000 (non-refundable) in shape of Pay Order/ Bank Draft in favor of Begum Nusrat Bhutto Women University Sukkur.
01 Project Manager / Project Engineer (Electrical) 01
02 Accountant 01
03 Supervisor 01
04 Peon 02
05 Malhi 01
INSTRUCTIONS / FURTHER INFORMATION:
• Applications should include Covering Letter mentioning Post applied for, detailed resume, two latest photographs, bio-data, and duly attested photocopies of Certificates/ degree(s).
Application form shall reach the Registrar Office Begum Nusrat Bhutto Women University Sukkur on or before 16-07-2020. Interview letters will be sent to the eligible candidates only after shortlisting. Ineligible candidates will not be informed.
• Candidates applying for more than one post should submit separate applications forms along with bank draft /pay order with necessary documents for each post. Candidates must clearly mention the position applied for.
• Candidates who are already serving in Government/Semi-Government and autonomous bodies should apply through proper channel accompanied by N.O.C. from the employer. An advance copy of the application(s) may be sent, so as to reach within due date.
• Age limit will be as per Sindh Government Rules and Higher Education Commission criteria,
• The posts are purely temporary, but are likely to be continued on contract/daily wages basis till the completion project.
• BNB Women University, Sukkur reserves the right to delete any post(s) partially and / or wholly or amend the advertisement.
• No T.A / D.A. will be paid for appearing at the interview,
Further Information can be obtained from:
Registrar Office
BNB Women University Campus At Aror University Rohri Bypass Sukkur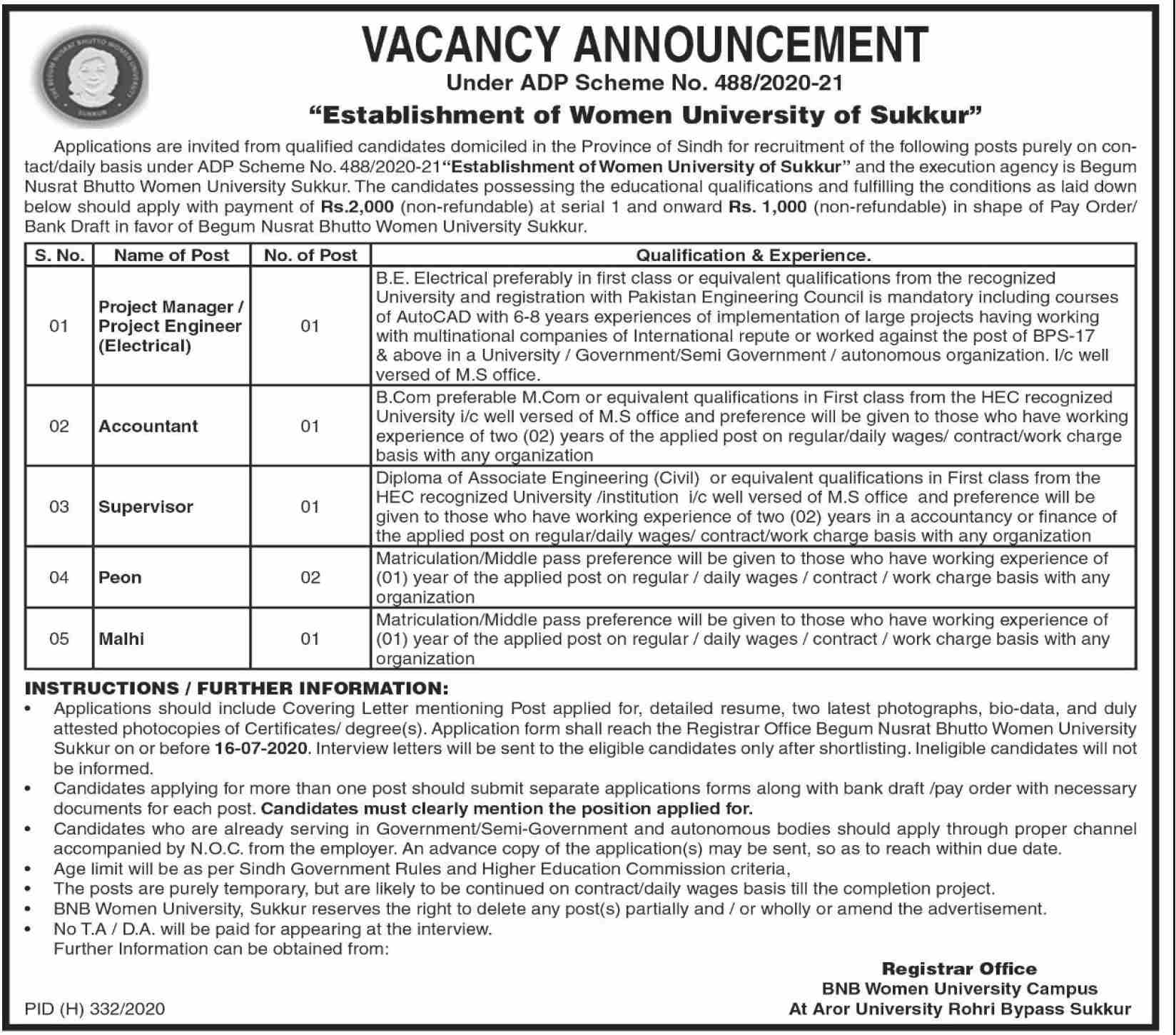 شیئر کریں, بےروزگاری ختم کرنے میں پاکستان کی مدد کریں, اجر کمائیں
SEE ALL JOBS PUBLISHED BACK WITN IN " 03 MONTH"