Wah Construction (Private) Limited Career Opportunity, GM Operations
Wah Construction (Private) Limited is a vibrant and rapidly growing construction company involved in substantial construction projects in various cities of Pakistan. As part of expansion and diversification plan, the company is looking for a result oriented, self-motivated, dynamic professional person for the post of GM Operations who can turn around Construction Company engaged in various big projects;
Job Description:
1. He will have to fulfill proper criteria as laid down in the SECP Public Sector Companies (Corporate Governance Rules 2013) with a strong business mindset.
2. Should be able to operate efficiently planning/contracts/monitoring branches of the Company.
3. Should have experience of preparation of bid documents for competitive biddings.
4. Should have grip over Lumpsum, measurements contracts and EPC.5. To plan the work and efficiently organize the site/facilities in coordination with Clients/PMUs in order to meet the time lines. 
6. Convert vision into specific actionable strategic plans, policies and budget for developments skills as per expectations of the WCL Board.
Qualification, Experience, Age etc
Qualification: Degree in Civil Engineering from reputed university/institution, recognized/accredited to HEC. Preference shall be given to retired Col/Lt Col from Corps of Engineers of Pakistan Army.
Experience: Minimum 20 years of work experience of Construction Industry with minimum 5 years experience as Senior Management Position.
Age: Maximum age should not exceed 55 years, however relaxable in exceptional cases.
Terms & Conditions
The applicant shall be required to apply for post duly supported with copies of the degrees/testimonials, duly verified by the HEC shall be provided.
Compensation:
The selected candidate will be offered an attractive market based salary and other perks/privileges (negotiable) commensurate with Qualification/Experience. Applications are required to reach within 15 days after publication of this advertisement on the following address:-
Human Resources Branch HQ Wah Construction (Pvt) Ltd 15-C Jhelum Road, Quaid Avenue Wah Cantt E-mail: [email protected]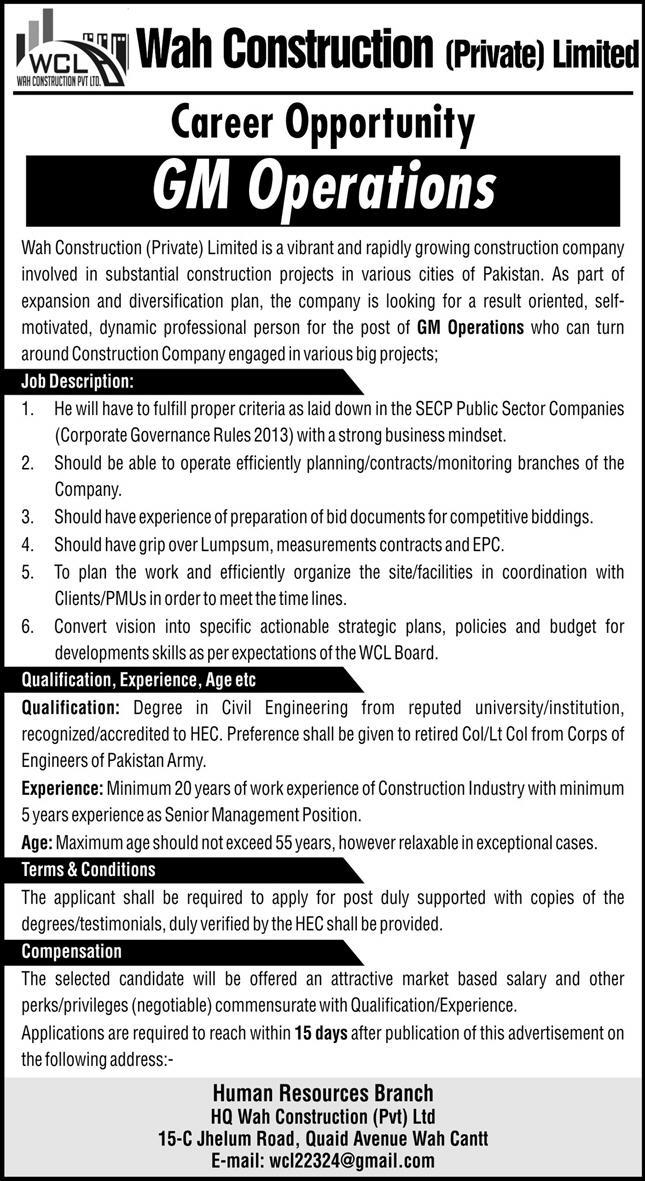 شیئر کریں, بےروزگاری ختم کرنے میں پاکستان کی مدد کریں, اجر کمائیں
Submit Your Name & Email for Daily Updates"
[email-subscribers-form id="1"]