UBL BANK JOBS LATEST 2020, UNITED BANK LIMITED PAKISTAN CAREERS
JOIN THE WINNING TEAM
United Bank Limited (UBL) leads the banking and financial sector in Pakistan, serving over 5 million customers through its network of over 1,400 countrywide branches. Our journey of over sixty years is one of success and we are looking to hire to continue our growth. We are looking for candidates for the following positions:
Branch Managers
ROLE: Establish and maintain customer relationships, maximise branch business as per assigned targets and ensure quality customer service within the Bank's Internal controls and regulatory compliance framework.
Eligibility Criteria:
Bachelor's Degree
Max. age 38 years
Min. 3 years of experience as Branch Manager of any commercial bank
Lending/Trade related experience will be preferred.
Relationship Managers
ROLE: Business development, sales and marketing of the Banks' products & services through relationship building, introducing new-to-bank customers and deepening cross-sell to existing customers.
Eligibility Criteria:
Bachelor's Degree
Max. age 32 years
Min. 1 year of experience in a similar role with any commercial bank's branch.
General Instructions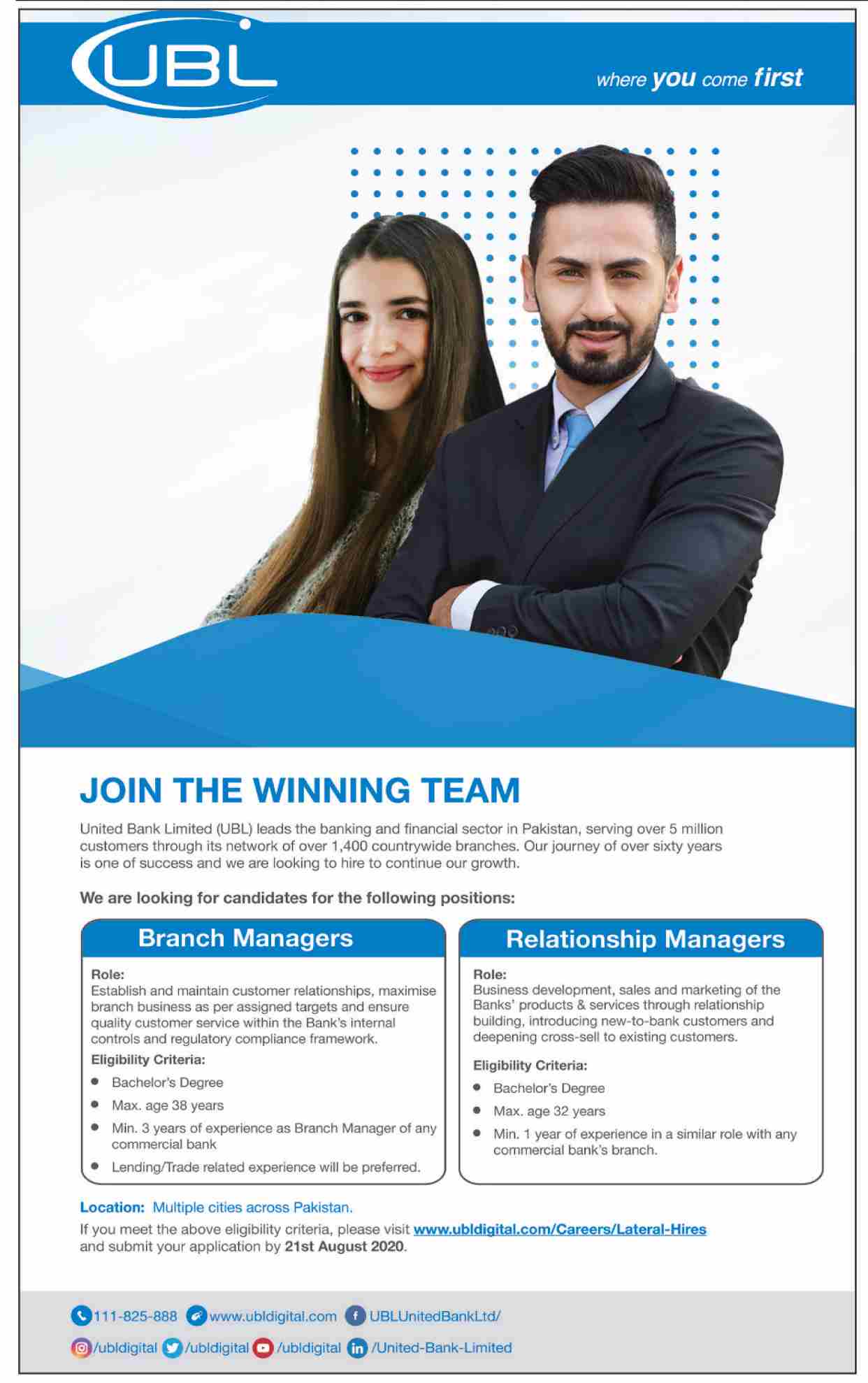 شیئر کریں, بےروزگاری ختم کرنے میں پاکستان کی مدد کریں, اجر کمائیں
VISIT LINK GIVEN FOR APPLY ONLINE THROUGH UBL WEBSITE https://www.ubldigital.com/Careers/Lateral-Hires
SEE ALL JOBS PUBLISHED IN BACK DATES & UPTO "04 MONTH"