UBL Bank Jobs 2021 March, Retail Banking Officers Apply Online, United Bank Limited Jobs 2021 Latest in Pakistan
We welcome applications from talented individuals irrespective of ethnicity, gender, religion and any disability. UBL is committed to promoting equality in the workplace and creating an inclusive culture."
UBL is a proud leader in the banking and financial services sector in Pakistan, serving over 10 million customers through its network of over 1,350 country wide branches. We are introducing the Retail Banking Officer (RBO) – entry platform for ambitious and energetic individuals nationwide in Branch Banking Sales & Customer Services. The RBO program will offer challenging assignments and market-competitive remuneration. Selected candidates will undergo comprehensive classroom/virtual and on-job training, enabling them to develop into sound Branch Banking professionals and lead the bank as Branch Managers in future. Keep Visiting www.kfr.com.pk for more daily Latest Jobs Across Pakistan.
Published Date: 21-03-2021
Due Date: 31st, March 2021
Organization: United Bank Limited UBL
Location: Across Pakistan
Qualification: Fresh Graduates
Newspaper: The Nation
Vacancies: Multiple
●●● Retail Banking Officers Program ●●●
Retail Banking Officers (RBO)/ Branch Banking Officers
Fresh Graduates from HEC recognized universities
Maximum age 28 years as of March 31, 2021
United Bank Limited UBL Jobs 2021 Paper Advertisement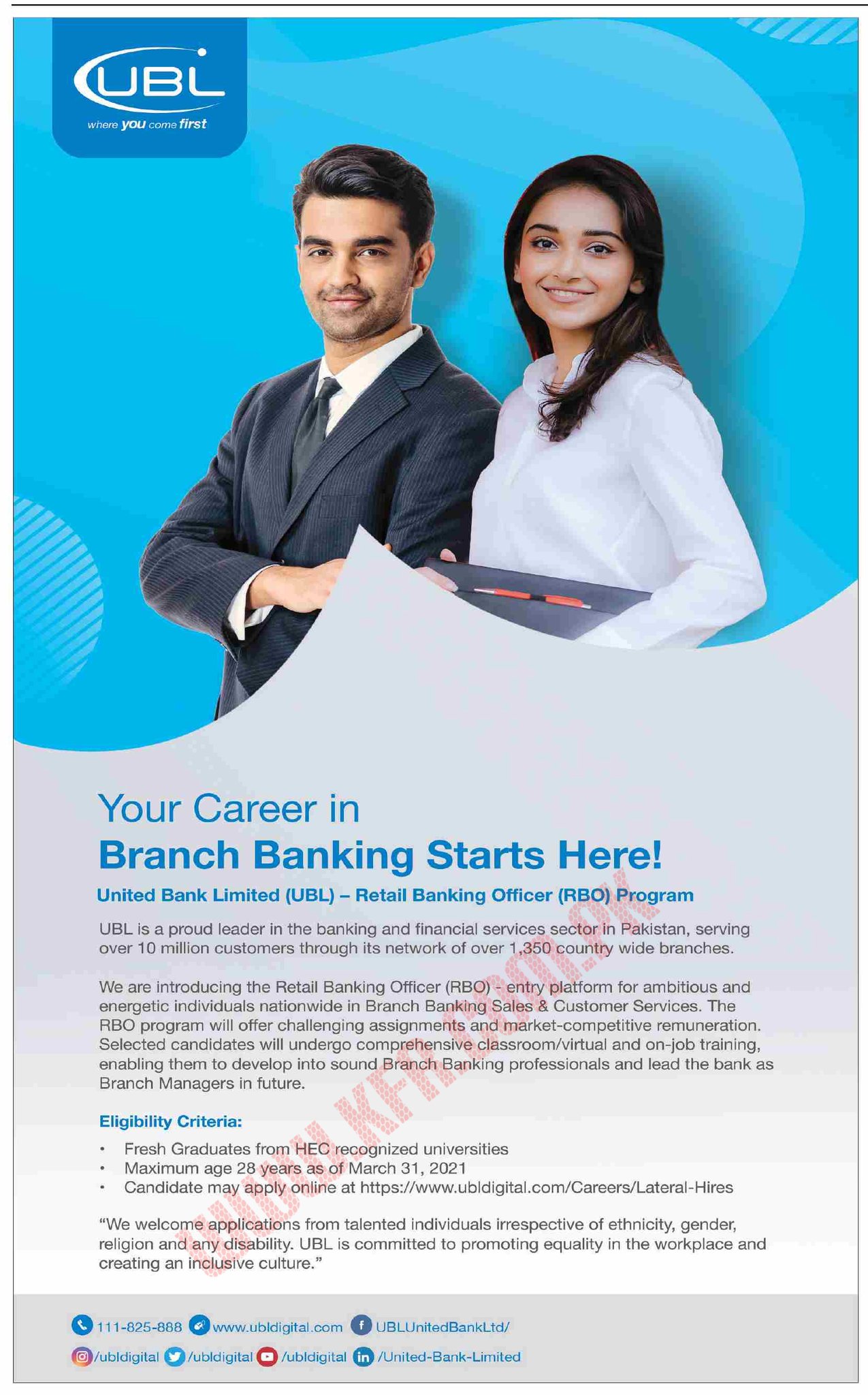 PLEASE CLICK THE IMAGE TO VIEW ITS ORIGINAL SIZE
HOW TO APPLY
Please visit the link given below for Apply Online (OR) Candidate may apply online at:
https://www.Ubldigital.com/Careers/Lateral-Hires
LAST DATE: 31st, March 2021
-21
Days
-18
Hours
-9
Min
-25
Sec
---
SEE MORE JOBS HERE…..