"54 VACANT POSTS", Pir Mehr Ali Shah Arid Agriculture University Rawalpindi Jobs Latest 2020,
Arid Agriculture University Jobs 2020 Latest Advertisement is invited applications for the positions of Accounts Clerk, Computer Operator, Data Analyst, Deputy Director, Driver, Field Worker, Lab Assistant, Naib Qasid, Network Administrator, Product Development Officer, Project Director, Research Assistant, Research Associate, Scientific Officer, Software Developer, Technical Director. Advertisement published on June 14, 2020. Positions are opening in Rawalpindi. Candidates having the qualifications of ( Matric/ Intermediate/ Master/ MS/ Ph.D ) can apply for Pir Mehr Ali Shah Arid Agriculture University Jobs 2019. Last date for submission of application form is June 29, 2020. Candidates are required to submit their applications to Registrar Office, Pir Mehr Ali Shah-Arid Agriculture University Rawalpindi.
Important Instructions
Ensure that you have read all the instructions given in the advertisement for the post you are applying for.
Before applying, ensure that you have all the required data with you.
Valid Mobile, Landline number and email is required for future correspondence.
Hard Copy of ONLINE APPLICATION form is not required.
Remember: You will not be considered as a PMAS-AAUR candidate unless you submit online application. Don't forget to complete the whole procedure.
Process of Filling of Online application may be completed in various phases/steps. You may complete your online application in different times before closing date/time. However, If you quit at any stage, and then want to come again, you will have to come from first step. But all your previuosly entered information is safe and sound.
After providing all required information of online application i.e Personal Record, Education Record, Service Record, Upload your picture, CNIC and terminal degree. Don't FORGET to click on "Apply Online" button.
Once you press "Apply Online" button, filling of online application phase is complete. Now, a unique Application Number will be generated and displayed.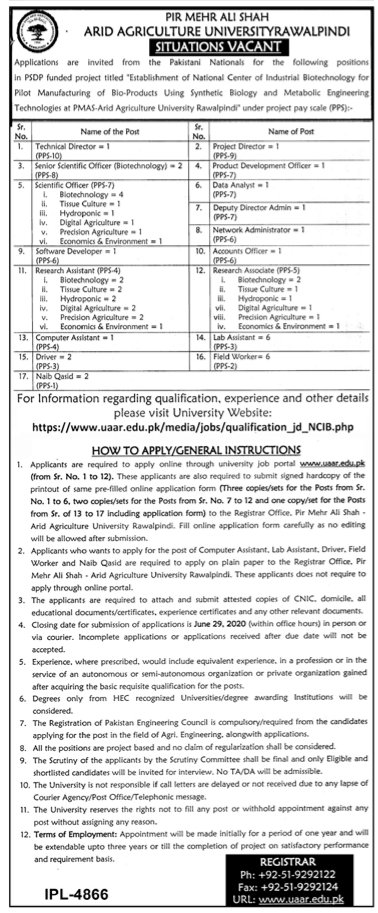 شیئر کریں, بےروزگاری ختم کرنے میں پاکستان کی مدد کریں, اجر کمائیں

اس اشتہار پر کلک کریں اور کورونا وائرس سے متاثرہ لوگوں کو بغیر کسی پریشانی کے مفت مدد کریں
Submit Your Name & Email for Daily Updates"