SPD Jobs 2021,P.O Box No. 758 Jobs 2021 Rawalpindi, Strategic Planning Division Jobs 2021 Online Apply https://www.paknokri.com Latest
Progressive Public Sector Organization P.O Box 758 Rawalpindi Jobs 2021
Posted Date: 12-09-2021
Last Date: 27-09-2021
Department: Public Sector Organization PO BOX 758, 🌟 Strategic Planning Division SPD Rawalpindi
Education: Retired/Ex-Servicemen of Armed Forces, Civilian (See Qualification Details in Paper Ad. Below)
Location: Balochistan, Sindh & Gilgit Baltistan
Total Positions: Multiple
A progressive Public Sector Organization seeking Applications from Civilian & Ex-Servicemen of Armed Forces for the following Positions:
●●● Ad. 1 ●●●
●●● Assistant Technical Officer ●●●
Electronics
Electrical
Mechanical
HVAC
●●● Principal / Senior Technicians ●●●
Electronics
Electrical
Mechanical
HVAC
●●● Technician-I/II/III ●●●
Electronics
Electrical
Mechanical
Electrician
Vehicle Mechanic
HVAC
●●● Technician-IV ●●●
Plumber
Electrician
Carpenter
Welder
Mason
Black Smith
Tin Smith
Painter
●●● Others ●●●
Security Supervisor-IV
Security Soldier-I/II
Security Soldier-III
Inspector Intelligence-III
Inspector Intelligence-IV
Senior Nursing Assistant / Nursing Assistant
Junior Assistant-I / II / III
Telecom Operator-I/II
Driver-II/III
Fireman
Cook-I/II
Senior Supervisor-I Horticulture
Mali
Waiter
Dispatch Rider-II/III
Attendants
Sanitary Attendant
●●● Ad-2 ●●●
Junior Structural Engineer
Deputy Assistant Director HVAC
Manager Image Interpretation
Manager Video Analysis
Manager RS/GIS
Technical Engineerings
Language Specialists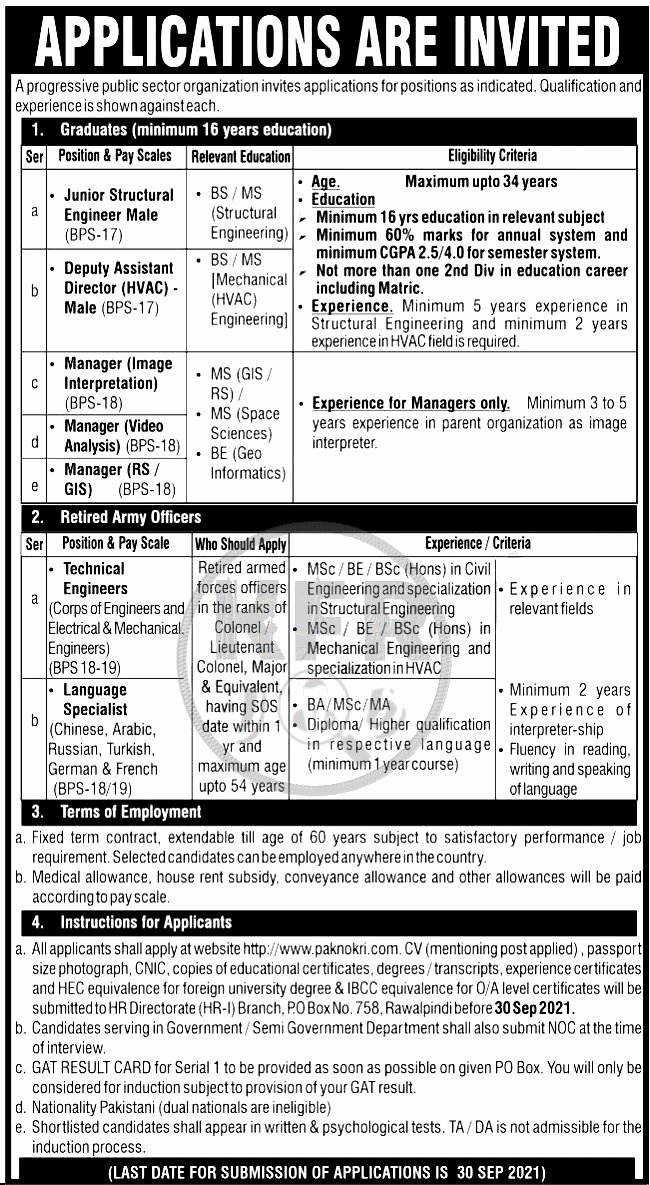 These vacancies are opening for both Civilian and Retired Army Persons. Interested applicants can get eligibility criteria from the advertisement. Overall, candidates holding Primary, Middle, Matriculation, Intermediate, BA, B.Com, BBA, BSc, BCS, BS, MS, B.E, MSc, and Army Retired Persons having experience in the same discipline may apply.
HOW TO APPLY
Interested individuals meeting the desired post terms & conditions may apply online at www.paknokri.com
Candidates should also forward their applications to P.O Box No. 758, Rawalpindi.
Selected candidates can be posted anywhere in Pakistan.
Applications reached after the deadline will be considered for the appointment
LAST DATE: 27th, September 2021
-25
Days
-13
Hours
-40
Minutes
-25
Seconds
SEE MORE JOBS HERE…..