Sitara Chemical Industries Limited Faisalabad Jobs Latest 2020 May, Deputy/Managers (Admin, Mechanical), FRP Specialists & Mechanical Engineers Latest Jobs in Faisalabad, Punjab
Sitara  Chemical Industries Faisalabad Jobs
Publiched on: 11-05-2020
Our History
SCIL was incorporated in 1981 and began producing caustic soda in 1985, initially at a rate of 30 metric tones Caustic a day. The plant's capacity was gradually increased over years to current level of 610 metric tons a day.In addition, various by-product facilities have been added and expanded from time to time to cope with growing demand. Company entered into Textile Spinning Business in 1995. Its specialty chemicals and export division was established in 2001.
QUALITY POLICY
Sitara Chemical Industries Ltd. is committed to remain alert and advance to continuously grow as a Quality Symbol for its products and in meeting industrial and consumer requirements, through training, team work, and procedures, on time, every time.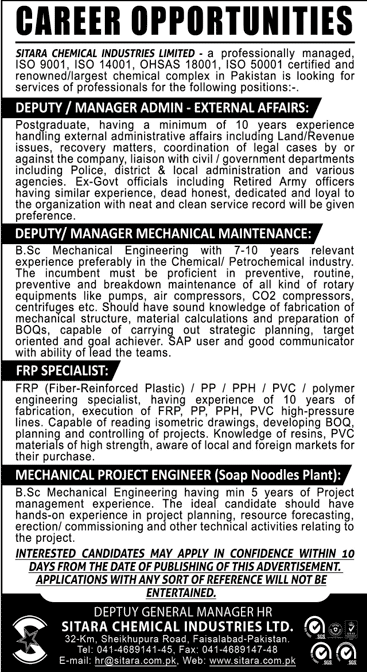 شیئر کریں, بےروزگاری ختم کرنے میں پاکستان کی مدد کریں, اجر کمائیں
Submit Your Name & Email for Daily Updates"
[email-subscribers-form id="1"]