SINDH INFRASTRUCTURE DEVELOPMENT COMPANY LTD (SIDCL) CABINET DIVISION "POSITIONS VACANT"
Sindh Infrastructure Development Company Limited (SIDCL), Cabinet Division, Government of Pakistan, is looking for following Managerial & Technical positions, purely on contract basis.
Senior Manager (Bus Ops & ITS) 1
Manaer (Procug rement & Management) 1
Accountant/ financial operations 1
Staff officers/ PS 1
Supervisor/ Quality control Inspector 1
Assistant (Document controller) 1
Driver/ Dispatch Rider 1
Office Boy 1
Age Limit: Competent Authori y may relax upper age limit for exceptional candidates, otherwise fit for the job, subject to permitting health and fitness.
Please note that
• Candidate must be a registered Professional Engineer/ PEC Registered with other practising licenses/ affiliations deemed appropriate practising the profession;
• Market Salary/ Negotiable commensurate with the qualification and experience of the candidate; in line with PC-I and policies of Government of Pakistan; will be offered;
• Only eligible/ shortlisted candidates will be called for interview in Karachi. No TA/DA will be admissible for interview purpose;
• Position shown above is not equitable with government BPS, gratuity and the same shall not be considered for any claim for permanent position;
• Government servant may also apply through proper channel; and are entitled to market-based allowance at par with other candidates;
• Details regarding SIDCL can be read at www.sidcl.com.pk
• Appointment will be made purely on contract basis for one year, renewable on satisfactory performance at the discretion of the appointing authority; Interested eligible candidates must apply with detailed resume covering personal particulars including age; qualifications; experience; details about registration with PEC etc. along with a covering letter. Applications must be submitted through post/ courier/ in person by 06 July 2020 at the given address.
6th Floor, Extension Block, Bahria Complex IV, Gizri, Karachi. Telephone: 021-35155101, Fax: 021-35155102 [email protected]; www.sidcl.com.pk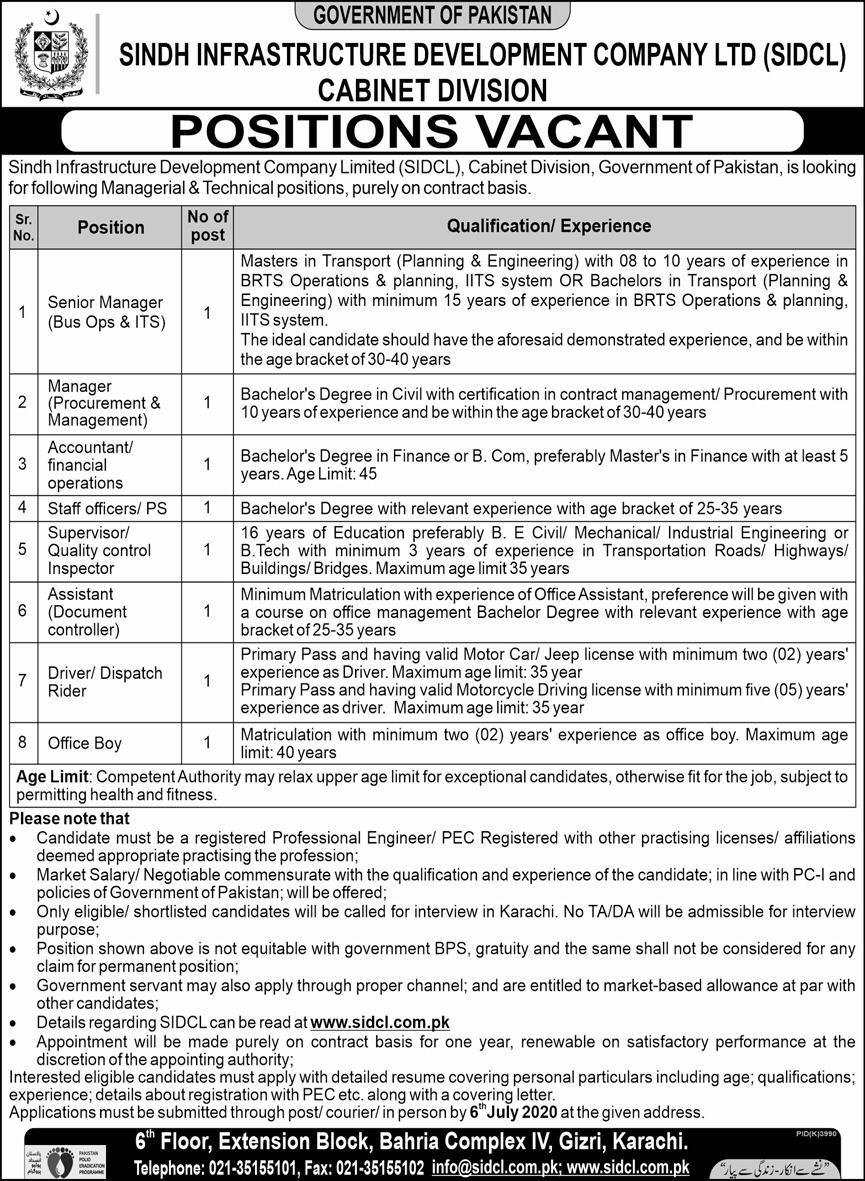 شیئر کریں, بےروزگاری ختم کرنے میں پاکستان کی مدد کریں, اجر کمائیں
SEE ALL JOBS PUBLISHED BACK WITN IN " 03 MONTH"