Rescue 1122 Jobs 2021 PTS Application Form, 1122 Jobs in DG Khan, Punjab
Good news for you in the shape of Rescue 1122 Jobs 2021. Read complete details about these Emergency Medical Technician Jobs, CTWO Jobs, Technician Jobs, and Govt Jobs in DG Khan. If you are interested in these Government Jobs in Punjab and the latest Jobs in Pakistan, then apply to these posts before the due date. These PTS Jobs 2021 will be very helpful to improve your future. keep Visiting www.kfr.com.pk for more daily Latest Jobs.
Over View:
Post Date: 04 February 2021
Due Date: 22 February 2021
Department: Rescue 1122
Qualification: Primary, Middle, Matric, Intermediate, Bachelors
Region: Punjab
Positions: 54
Job Details:
Pakistan Testing Service PTS inivtes applications for the following posts in Rescue 1122.
●●● BPS-011 ●●●
28 Emergency Medical Technician
08 Computer Telephone Wireless Operator
02 Maintenance Technician
●●● BPS-04 ●●●
14 Rescue Driver
●●● BPS-01 ●●●
02 Sweeper
Rescue 1122 Jobs 2021 Paper Advertisement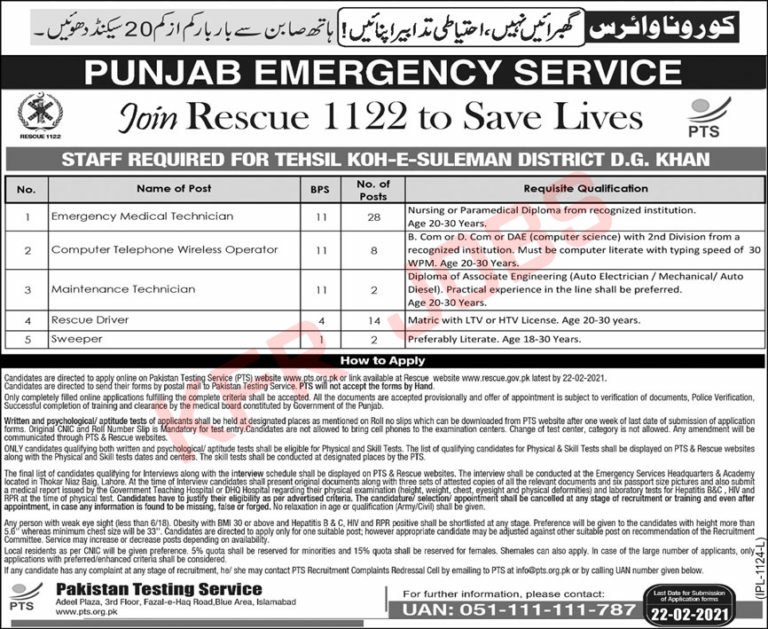 PLEASE CLICK THE IMAGE TO VIEW ITS ORIGINAL SIZE
LAST DATE: 22 February 2021
Please Visit the Link Given Below for Apply Online Via PTS Rescue 1122 Jobs 2021
Please visit the link below to Apply Online for Punjab Emergency Service Rescue 1122 Jobs 2021 February:
http://www.pts.org.pk/Projects/Details/Vm0wd2VFMUdiRmhTV0d4V1YwZG9XVmx0ZUV0WFJteFZVVzVrVm1KR2NIbFdWM1JMVlVaV1ZVMUVhejA9
---
SEE MORE JOBS HERE…..