14000 Intermediate & 891 under Graduate Scholarships 2021, Punjab Government Chief Minister Scholarships 2021, Rehmatul Lil Alameen Scholarship Program 2021 Latest in All over Punjab
891 Under Graduate Scholarships

For students of 30 public sector universities of Punjab
At a cost of Rs. 268 million till FY 2023-24
14000 Intermediate Scholarships

For students of all public sector colleges on merit and need basis
At a cost of Rs. 350 million in CFY and 700 million per annum afterwards
The scholarship will be awarded to public school students based on the following categories
Scholarship granted on the basis of SSC Results will have the following criteria:
Students who have secured at least 60% marks in SSC Examinations from any Public Sector School and secured admission in a Public Sector College within two years of passing the SSC Examinations.
Must not be availing of any other scholarship.
Students of Science & Humanities groups on the ratio of 60:40 respectively based on fair gender distribution.
For need based applicants, the following criteria must be met
Income of parents must be less than or equal to Rs. 25000/- per month
Parents must not own more than 05 acres of agricultural land or 5 Marla urban property
Note: Out of 50% of need based scholarships, a 10% quota will be reserved for children of government employees (Grade 1 – 4)
For merit based applicants, the following criteria must be met
Candidate must be the highest scorer from their respective district as selected by the Higher Education Department in light of the results issued by the Intermediate and Secondary Education boards
The score of the applicant is verified from the data provided by the boards in Punjab through the HEP
The students who get admission in a public sector institute out of their own district, their merit will be determined on the basis of district of domicile.
Note: The merit of the candidacy to be decided on the basis of their district/place of residence not the place or district where they are admitted
اہلیت کا معیار
اسکالرشپس درج ذیل بنیاد پر سرکاری اسکول کے طلباء و طالبات کو جاری کئے جائیں گے ایس ایس سی(میٹرک) کے نتائج میٹرک نتائج کی بنیاد پر دیئے جانے والے اسکالرشپس کے اجراء کیلئے درج ذیل معیارات مقرر ہیں
طالب علم نے کسی بھی پبلک سیکٹر اسکول سے ایس ایس سی امتحانات میں کم از کم %60 نمبر حاصل کئے ہوں اور ایس ایس سی امتحانات پاس ہونے کے دو سال کے اندرکسی پبلک سیکٹر کالج میں داخلہ لے لیا ہو
امیدوارکسی دوسرے اسکالرشپ سے فائدہ نہ اٹھارہا ہو
سائنس اورآرٹس(Humanities) کے طلباء کی صنفی بنیاد پرتقسیم بالترتیب 60:40 کے تناسب سے تصور کی جائے گی
(Need based)پر مبنی درخواست دہندگان کے لئے درج ذیل معیارات پر پورا اترنا ضروری ہے
والد ین کی ماہانہ آمدنی -/25,000روپے یا اس سے کم ہونی چاہئے
والدین کے پاس5 ایکڑ زرعی اراضی یا 5 مرلہ شہری املاک سے زیادہ کی ملکیت نہیں ہونی چاہئے
(Need Based) وظائف کے %50 میں سے %10 کوٹہ (درجہ 1 تا4)سرکاری ملازمین کے بچوں کے لئے مختص ہے
نوٹ: ضرورت پر مبنی میرٹ پر مبنی درخواست دہندگان کے لئے درج ذیل معیارات پر پورا اُترنالازم ہے
امیدوار کیلئے انٹرمیڈیٹ اور سیکنڈری ایجوکیشن بورڈ کے جاری کردہ نتائج اور ہائر ایجوکیشن ڈیپارٹمنٹ کے معیار کے مطابق اپنے ضلع میں سب سے بہتر نتائج کا حامل ہونا ضروری ہے
درخواست دہندگان کے نتائج کی تصدیق پنجاب بورڈ ز کے فراہم کردہ اعداد و شمارکی روشنی میں ہائر ایجوکیشن ڈیپارٹمنٹ (HED)کے ذریعے کی جاتی ہے
جو طلباء اپنے ہی ضلع سے باہر کسی سرکاری شعبے کے انسٹی ٹیوٹ میں داخلہ لیتے ہیں، ان کی اہلیت کا تعین ڈومیسائل ضلع کی بنیاد پر کیا جائے گا
نوٹ: امیدواریت کی اہلیت کا فیصلہ داخلہ کے ضلع یا مقام نہیں بلکہ ان کے رہائشی ضلع / مقام کی بنیاد پر کیا جائے گا۔
Rehmatul Lil Alameen Scholarship Program 2021 Paper Advertisement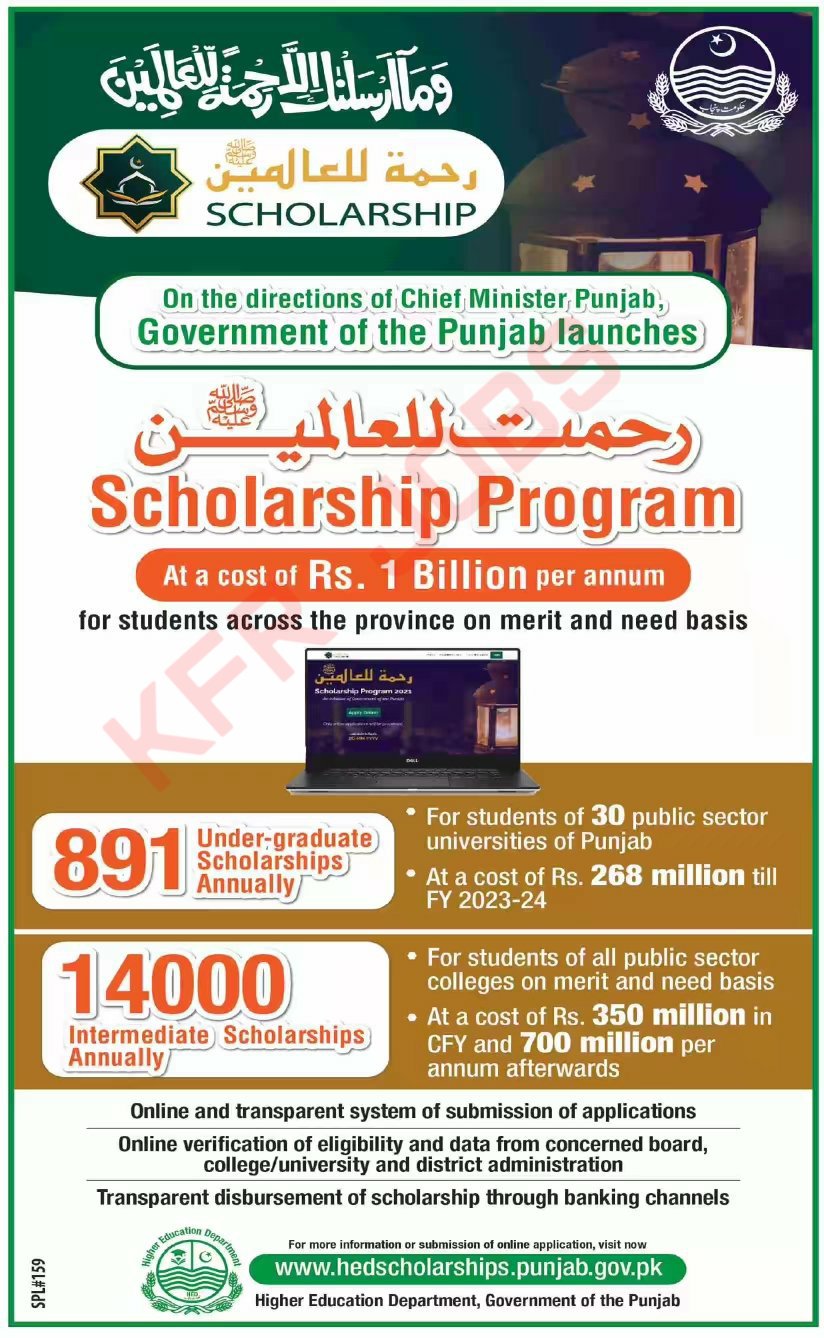 PLEASE CLICK THE IMAGE TO VIEW ITS ORIGINAL SIZE
LAST DATE: 10th March 2021
Please visit the link given below for online registration
https://hedscholarships.punjab.gov.pk/sign-up
---
SEE MORE JOBS HERE…..