Rawalpindi Women University Jobs 2021 April RWU Application Form Assistant Directors & Others Latest in Women University Rawalpindi Jobs 2021, Punjab
●●● BPS-19 ●●●
01 Project Director
01 Additional Director (QEC)
01 Additional Director (Information Technology Services)
●●● BPS-18 ●●●
01 Deputy Registrar
01 Deputy Controller of Examinations
●●● BPS-17 ●●●
01 Financial Aid & Scholarship Officer
03 Assistant Controller of Examinations
01 Assistant Engineer (Civil)
01 Assistant Engineer (Electrical)
01 Medical Officer (Female)
01 Computer Programmer
02 Network Administrator
01 Personal Secretary
02 Assistant Treasurer
01 Assistant Secrecy Officer
02 Assistant Registrar
●●● Assistant Directors (BPS-17) ●●●
01 Administration & Coordination
01 Academics
01 Press, Media & Publication/ Public Relation Officer
01 Assistant Director Legal Matters
01 External Linkages
01 Sports(Female
01 Information Technology Services
01 Research Innovation & Commercialization)(ORIC
01 Career Counseling Centre
01 Purchase & Store
01 QEC
01 Planning and Development
01 Student Affairs
●●● BPS-16 ●●●
08 Assistant
01 Assistant (Accounts)
01 Assistant (Auditor)
02 Assistant Computer Programmer
01 Deputy Estate Officer
●●● BPS-15 ●●●
01 Accountant
●●● BPS-14 ●●●
01 Senior Store Keeper
02 Hostel Wardens
●●● BPS-12 ●●●
08 Junior Computer Operators
●●● BPS-11 ●●●
01 Network Support Assistant
01 Electrician
●●● BPS-09 ●●●
01 Dispenser
●●● BPS-05 ●●●
04 Cook
02 Library Attendants
02 Security Guards (Female)
●●● BPS-04 ●●●
04 Bus Drivers
01 Plumber
01 Driver (LTV)
●●● BPS-01 ●●●
14 Naib Qasid
04 Mali
04 Sanitary Workers
04 Bus Conductors
01 Computer Lab Attendant
08 Helpers (Cook)
02 Chowkidar
Rawalpindi Women University Jobs 2021 Paper Ad.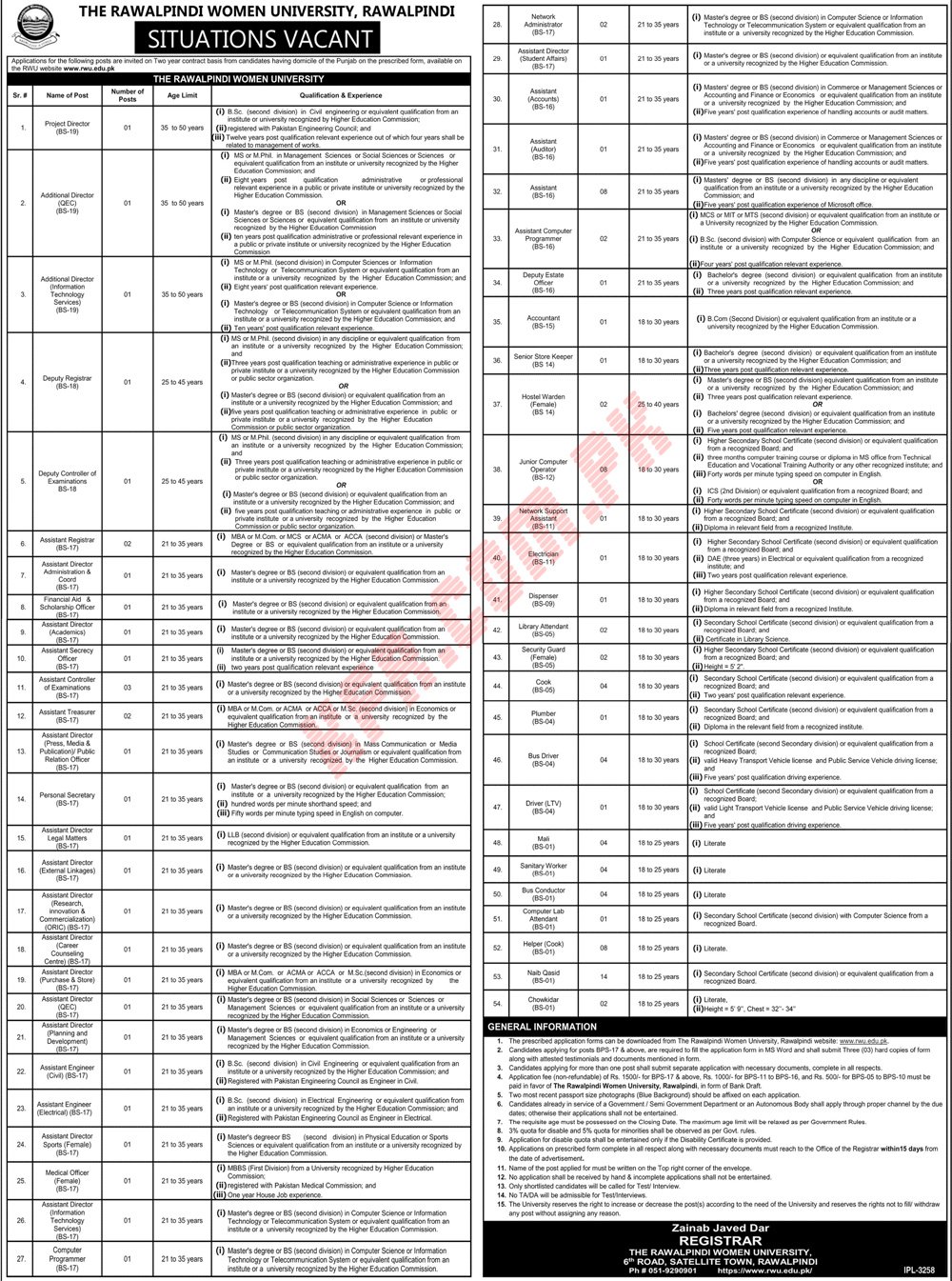 PLEASE CLICK THE IMAGE TO VIEW ITS ORIGINAL SIZE
HOW TO APPLY
Rawalpindi Women University Jobs 2021 April Application Form Download Online
Please visit the link below to Download Application Form for Rawalpindi Women University Jobs 2021 April Online:
LAST DATE: 26th, April 2021
-266
Days
-9
Hours
-29
Minutes
-42
Seconds
---
SEE MORE JOBS HERE…..
KFR Team Collect Jobs from Pakistan's leading newspapers like Daily Jang, Express, Nawa-i-Waqt, The News, Dawn & The Nation. Our aim is to facilitate job seekers from various cities of Pakistan like Karachi, Lahore, Rawalpindi, Islamabad, Peshawar, etc. by providing them all www newspaper job advertisements on a single .com .pk website. This is done as a public service in good faith and we are not responsible for any incorrect, misrepresented or misleading advertisement. Instead of searching the Jobs Advertisements in every newspaper, you can use www.kfr.com.pk to find any ad of your interest quickly.