Patwari Jobs in Revenue Department Faisalabad April 2021 Assistant Commissioner Chak Jhumra Latest in Chak Jhumra, Faisalabad, Punjab
Patwari Jobs in Revenue Department Faisalabad April 2021 Paper Ad.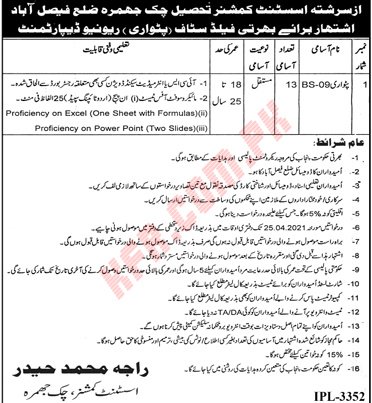 PLEASE CLICK THE IMAGE TO VIEW ITS ORIGINAL SIZE
HOW TO APPLY
Send Application by Post to the Following Address before Last Date. For more Information Regarding Application Submission See Paper Ad. Please
ADDRESS: Raja Muhammad Haider, Assistant Commissioner Chak Jhumra, Faisalabad
LAST DATE: 25th, April 2021
-267
Days
-10
Hours
-14
Minutes
-3
Seconds
---
SEE MORE JOBS HERE…..
KFR Team Collect Jobs from Pakistan's leading newspapers like Daily Jang, Express, Nawa-i-Waqt, The News, Dawn & The Nation. Our aim is to facilitate job seekers from various cities of Pakistan like Karachi, Lahore, Rawalpindi, Islamabad, Peshawar, etc. by providing them all www newspaper job advertisements on a single .com .pk website. This is done as a public service in good faith and we are not responsible for any incorrect, misrepresented or misleading advertisement. Instead of searching the Jobs Advertisements in every newspaper, you can use www.kfr.com.pk to find any ad of your interest quickly.