(پنجاب پبلک سروس کمیشن میں لیکچررز کی نوکریاں ) 1731 Male/Female Lecturer Jobs PPSC 2021 December Online Apply Advertisement No.41/2021 Punjab Public Service Commission Lecturers Jobs 2021 Latest
●●● 1359 Female Lecturer BPS-17 ●●●
63 Arabic
37 Botany
14 Civics
31 Commerce
87 Computer scence
249 English
11Fine arts
41 Geography
01 Geology
59 History
157 Home economics
12 Journalism
41 Library science
118 Mathematics
20 Pak studies
38 Persian
06 Philosophy
132 Political science
44 Punjabi
14 Saraiki
18 Social work
48 Sociology
88 Statistics
30 Zoology
●●● 372 Male Lecturer Bps-17 ●●●
24 Arabic
09 Botany
12 Civics
33 Commerce
18 Computer science
42 English
20 Geography
08 Journalism
11 Library science
30 Mathematics
06 Pak studies
14 Persian
53 Political science
28 Psychology
13 Punjabi
02 Saraiki
03 Social work
12 Sociology
22 Statistics
12 Zoology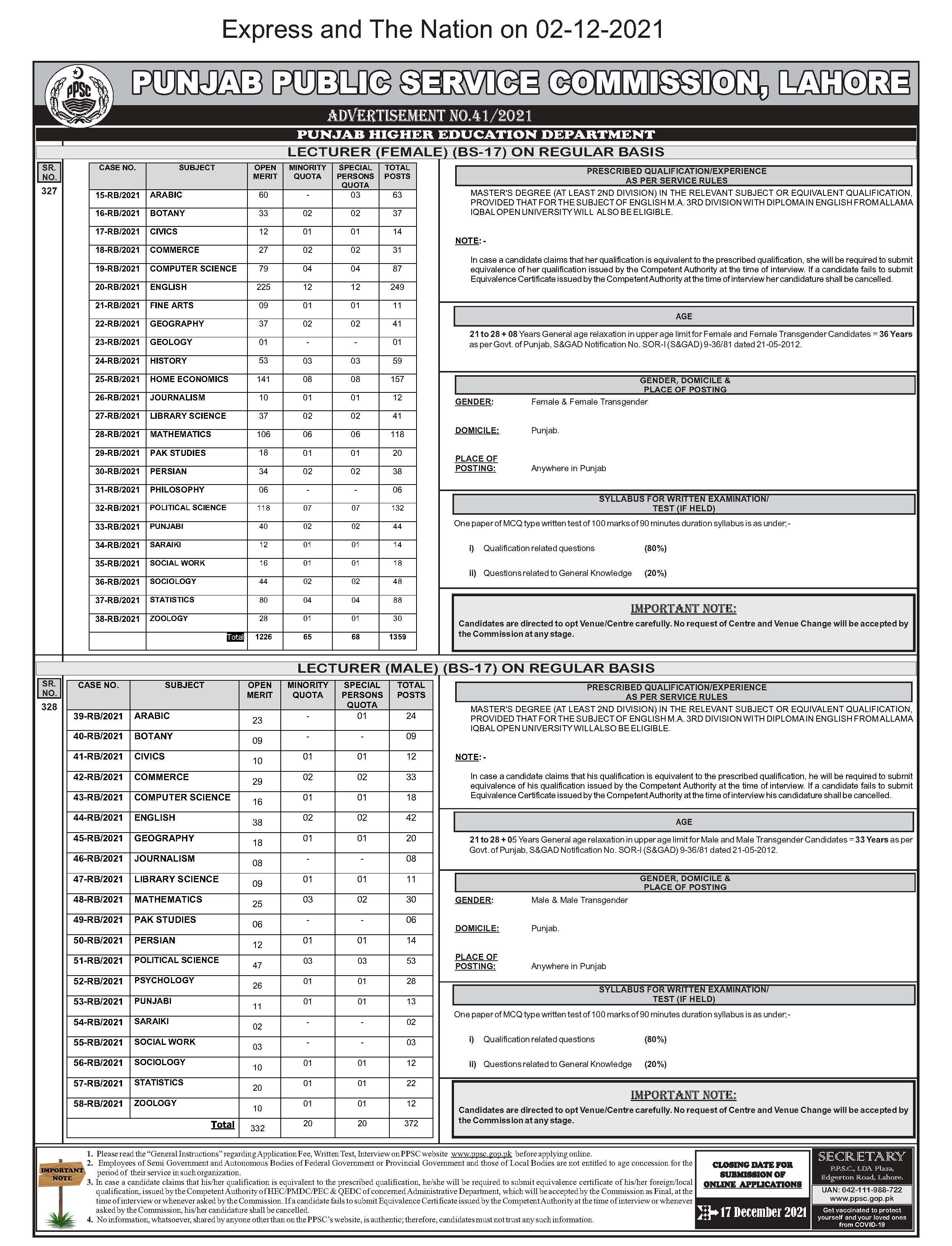 HOW TO APPLY:
PPSC Jobs December 2021 Apply Online
Please read the "General Instructions" regarding Application Fee, Written Test, Interview on PPSC website www.ppsc.gop.pk before applying online.
Employees of Semi Government and Autonomous Bodies of Federal Government or Provincial Government and those of Local Bodies are not entitled to age concession for the period of their service in such organization.
In case a candidate claims that his/her qualification is equivalent to the prescribed qualification, he/she will be required to submit equivalence certificate of his/her foreign/local qualification, issued by the Competent Authority of HEC/PMDC/PEC & QEDC of concerned Administrative Department, which will be accepted by the Commission as Final, at the time of interview or whenever asked by the Commission. If a candidate fails to submit Equivalence Certificate issued by the Competent Authority at the time of interview or whenever asked by the Commission, his/her candidature shall be cancelled.
No information, whatsoever, shared by anyone other than on the PPSC's website, is authentic; therefore, candidates must not trust any such information.
Please visit the link below to Apply Online for PPSC Jobs December 2021 Consolidated Advertisement No. 41/2021:
LAST DATE: 17th, December 2021
-40
Days
-15
Hours
-3
Minutes
-4
Seconds

SEE MORE JOBS HERE…..