PRIME MINISTER'S YOUTH BUSINESS & AGRICULTURE LOAN SCHEME
وزیراعظم محمد شہباز شریف کی قیادت میں حکومت پاکستان کی جانب سے "پرائم منسٹر یوتھ بزنس اینڈ ایگریکلچر لون" اسکیم کا دوبارہ اجراء۔
نوجوانوں کو نئے روزگار اور زرعی شعبے کی ترقی کے لئے 75 لاکھ تک کے آسان قرضہ جات کی فراہمی۔ ان قرضہ جات میں خواتین کے لئے 25 فیصد کوٹہ مختص

PMYB&ALS promotes entrepreneurship among youth by providing business loans on simple terms and with less markup through 15 Commercial, Islamic and SME banks.
All Pakistani residents, aged between 21 and 45 years with entrepreneurial potential are eligible to apply for the loan. For IT/ E-Commerce related businesses, the lower age limit is 18 years. Applications have to be submitted online only through our website.
Loans provided under PMYB&ALS are segregated into 3 tiers.
The range is 0.5 million PKR with 0% markup
The range is above 0.5 Million upto 1.5 Million PKR with 5% markup
The range is above 1.5 Million upto 7.5 Million PKR with 7% markup
HOW TO APPLY:
How to Register
Please visit the link given below for Online Registration
URL: https://pmyp.gov.pk/pmyphome/PMYBALS

ADVERTISEMENT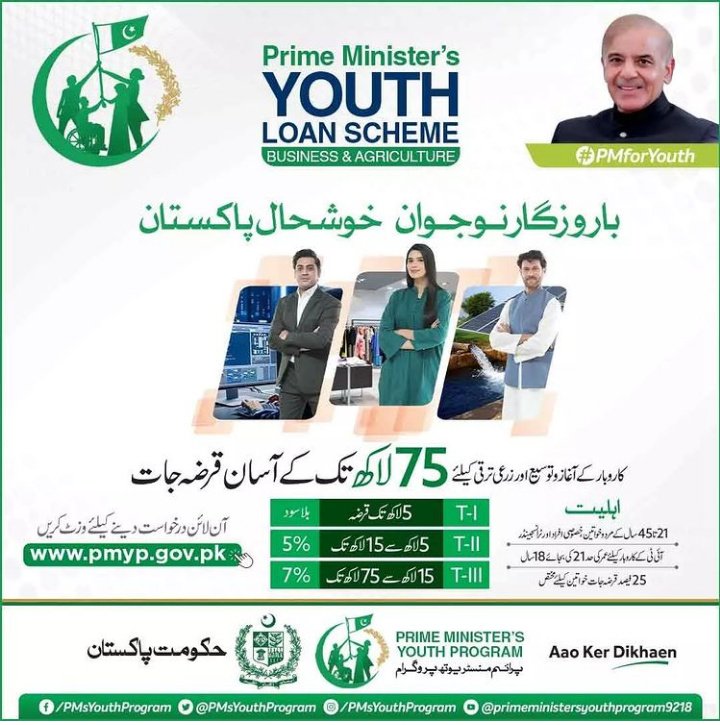 ? LAST DATE:
Not Announced

SEE MORE JOBS HERE…..