"PITB Multiple Vacancies in 30 Disciplines", Punjab Information Technology Board Lahore Jobs Latest 2020
Punjab Information Technology Board requires the services of Qualified, Energetic, Medically fit and Self Motivated IT Experts, Project Managers/Leaders and Support Staff on contract basis for the following positions (Code it NIP 002-2020)
1. Joint Director (Multiple Posts)Lahore
2. Engineer (Quality Assurance/ Software/ Principal Software) (Multiple Posts) Lahore
3. Senior Programme Manager (Operations/ Programme) (Multiple Posts) Lahore
4. DC Support Officer/ Network Support Officer/ System Network Engineer (Multiple Posts) Lahore
5. Programme Manager (Incubation/ Operations/ Programme/ Data Analyst) (Multiple Posts) Lahore
6. Senior IT Analyst Lahore
7. Research Analyst Lahore
8. Trainer/ Master Trainer (Multiple Posts) Multiple
9. S Visual Artist/ Animation Specialist (Multiple Posts) Lahore
10. GIS Specialist Lahore
11. Assistant Programme Manager (Multiple Posts) Lahore
12. Lab Manager (Multiple Posts) Multiple
13. Marketing Officer Lahore
14. Developer (Mobile App/ Software/ Full stack/ Web App) (Multiple Posts) Multiple
15. Senior Software Engineer (Multiple Posts) Lahore
16. Project Coordinator/ Assistant Programme Officer (Multiple Posts) Lahore
17. Senior Database Administrator Lahore
18. Programme Officer (Programme) (Multiple Posts) Multiple
19. Assistant Manager (DatacenterY Senior Business Analyst (Multiple Posts) Lahore
20. Operations Support Officer (Multiple Posts) Anywhere in Pakistan
21. Manager (Business Development) (Multiple Posts) Lahore
22. Programme Of (Incubation) (Multiple Posts) Anywhere in Pakistan
23. Specialist (FT/ Evaluation) (Multiple Posts) Lahore
24. Business Development Officer (Multiple Posts) Anywhere in Pakistan
25. Database Administrator Lahore
26. Data Entry Operator (Multiple Posts) Multiple
27. Senior Software Quality Assurance Engineer Lahore
28. Resident Engineer (Multiple Posts) Multiple
29. Software Architect Lahore
30. Driver/ Officer Helper/ Boy (Multiple Posts) Anywhere in Pakistan
Interested candidates can apply and view detailed eligibility/selection csiteria, experience and job descriptions of the positions on: http//www.jobs.punjab.gov.pk . For Serial No. 30, candidates are requested to apply through Courier/ Postal Service on address : PO BOX No. 405 GPO Lahore,
. Application through other means like email, Fax, Postal, courier services, In person, walk-in will not be entertained.
. Candidates in Government/Semi Government services should apply through proper channel.
. PIM reserves the right to cancel/reject any application without giving any reason. Recruitment quota set by Government of the Punjab for females, disabled and minorities shall be observed. Eligibility criteria of age relaxation shall be followed as per notification from Government of the Punjab. Only short-listed candidates will be called for further process. No TA/DA will be paid.
In case of any criminal record PITS can take action against the candidates. . last date to apply for all positions is June 20, 2020
DIRECTOR HUMAN RESOURCES PUNJAB INFORMATION TECHNOLOGY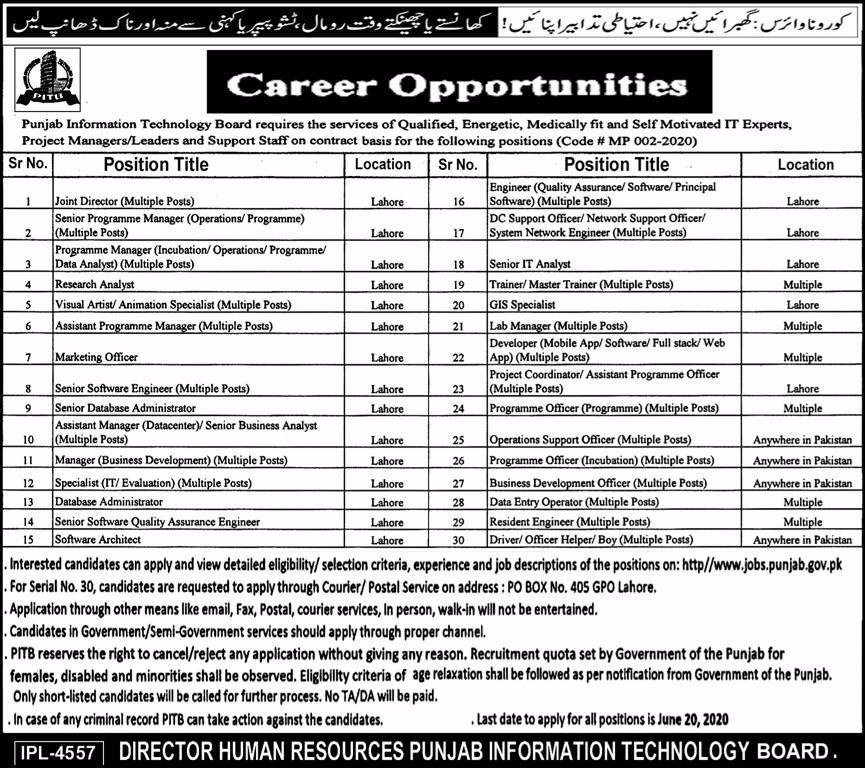 شیئر کریں, بےروزگاری ختم کرنے میں پاکستان کی مدد کریں, اجر کمائیں
Submit Your Name & Email for Daily Updates"
[email-subscribers-form id="1"]