Especial Public Prosecutors (04 Vacancies), Latest Jobs in Pakistan Coast Guards Karachi, May 2020 Latest
Pakistan Coast Guards Pakistan
Special Public Prosecutors SPPs Jobs
Publiched on: 08-05-2020
Applications are Invited from Pakistani national having Experience of 05 year from Sindh or Balochistan Bar Council.
The Said Positions of Special Public Prosecutors are Invited for Karachi and Gwadar Location.
The Pakistan Coast Guards (reporting name: PCG) is a military branch within the Pakistan Armed Forces  that is dedicated for the riverine operations by taking responsibility for conducting the anti-narcotics  missions, mounting efforts for the anti-human trafficking, illegal immigration through the coastal areas, and taking initiatives in the anti-smuggling.
The Coast Guards branch is distinguish from the Navy's Maritime Security Agency (MSA) that has the ability to conduct search and rescue operations in deep sea and has foremost responsibility of defending the coastal areas while conducting the military operation to maritime law enforcement in national and international waters. Instead, the Army's Coast Guard takes responsibility of policing role by preventing all sort of criminal activities in the coastal areas such as country's beaches.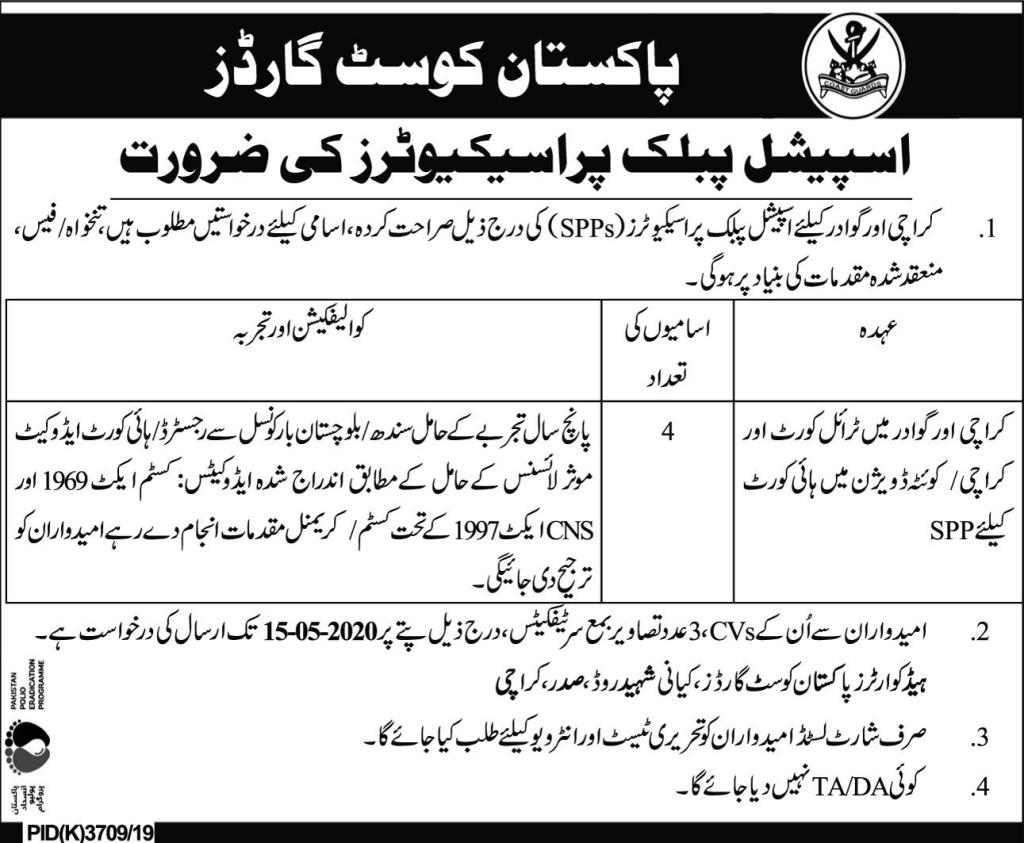 شیئر کریں, بےروزگاری ختم کرنے میں پاکستان کی مدد کریں, اجر کمائیں

Submit Your Name & Email for Daily Updates"