PASSCO Jobs Opportunities (124 Vacancies), Punjab, Sindh, KP & Balochistan
Applications are invited from suitable candidates (Pakistani National) for the following vacant positions:-
124 Vacancies (Administration, Accounts, Technical & Non Technical Positions)
How to Apply / General Instructions
1 All candidates will be selected on merit, observing the quotas as per Federal Govt. Policy.
2 Educational Degree must be from HEC Recognized Universities / Concerned Boards.
3 General Age Relaxation has already been included in the age mentioned against each cadre. No further age relaxation is allowed in the prescribed age limit except 03 years of age relax¬ation to the candidates belonging to scheduled castes, Budhist Community. Recognized Tribes of the Tribal Areas. AJK and Northern Areas. 03 years age relaxation shall also be admissible to the candidates belonging to Sindh Rural and Balochistan for the posts in BPS 15 & below. 05 years of age relaxation will be applicable to the Children / Widow of Ex¬PASSCO Employees (Retired / Expired).
4 15 years Age relaxation or the number of years actually served in Armed Forces etc. will be given to the retired candidates of Anned Forces / Security Agencies. 10 years Age Relaxation upto the age of 55 years to the Govt. Servants who have completed two years continuous service on the closing date of the receipt of application. 10 years age relaxation for disabled persons in BPS-15 or below.
5 Serving Candidates should apply through proper channel. Advance copy of the application. however. may he finvarcled without obtaining NOC. The candidate will not be allowed for the interview. 11. he / she fails to produce NOC from concerned Office.
6 Candidates who have been dismissed or debarred for future employment are not eligible to apply.
7 PASSCO Reserve the Right to withhold recruitment process at any stage. The number of posts can he increased or decreased by the Competent Authority.
8 Gov I Employees shall apply through proper channel.
9 Character verification and background check of selected candidates will be conducted. In case, of any unsatisfactory information or criminal record selection shall stand withdrawn / cancelled immediately and the emoluments received during service will be recovered from the concerned individual.
10 The documents of the selected candidates shall be verified at later stage. if any information is found false I incorrect at any stage the concerned employees shall be liable to dismiss from service as well as legal proceeding shall also be initiated against him / her.
11 Upon selection. the candidates shall liable to serve anywhere in Pakistan.
12 Candidates are advised to keep their given mobile No. operational during recruitment process.
13 interested candidates should send their complete CVs supported with Academic Credentials duly attested by a gunetted officer, experience certificates. two recent passport size photo¬graphs and a copy of CNIC to PO Box. 1247 GPO. Lahore.
14 Tim applications should reach within (15) fifteen days after the publication of advertise¬ment. 11w application received after due date will not be entertained.
15 Post applied for should be marked on Right Corner of the envelope. Only shortlisted eligible candidates shall be called for test / interview.
16 the shortlisted candidates will have to go through written test to be conducted by the Departmental Selection Committee (DSC) and successful candidates thereof will be inter¬viewed by the DSC.
17 The candidate called for interview is required to bring his original academic credentials alongwith attested copy of same.
18 All the above posts shall be placed on one year's probation. extendable to one more year but likely to be regularized after successful completion of probation period as fixed by the Corporation.
I 9 No TA / DA and any other expenditure shall be admissible 1br test / interview.
General Manager (HR)
Pakistan Agricultural Storage & Services Corporation Limited (PASSCO)
Head Office, 11-Kashmir Road, Lahore.
Phone Nos. 042-99201461-82 (Ext. No. 1126)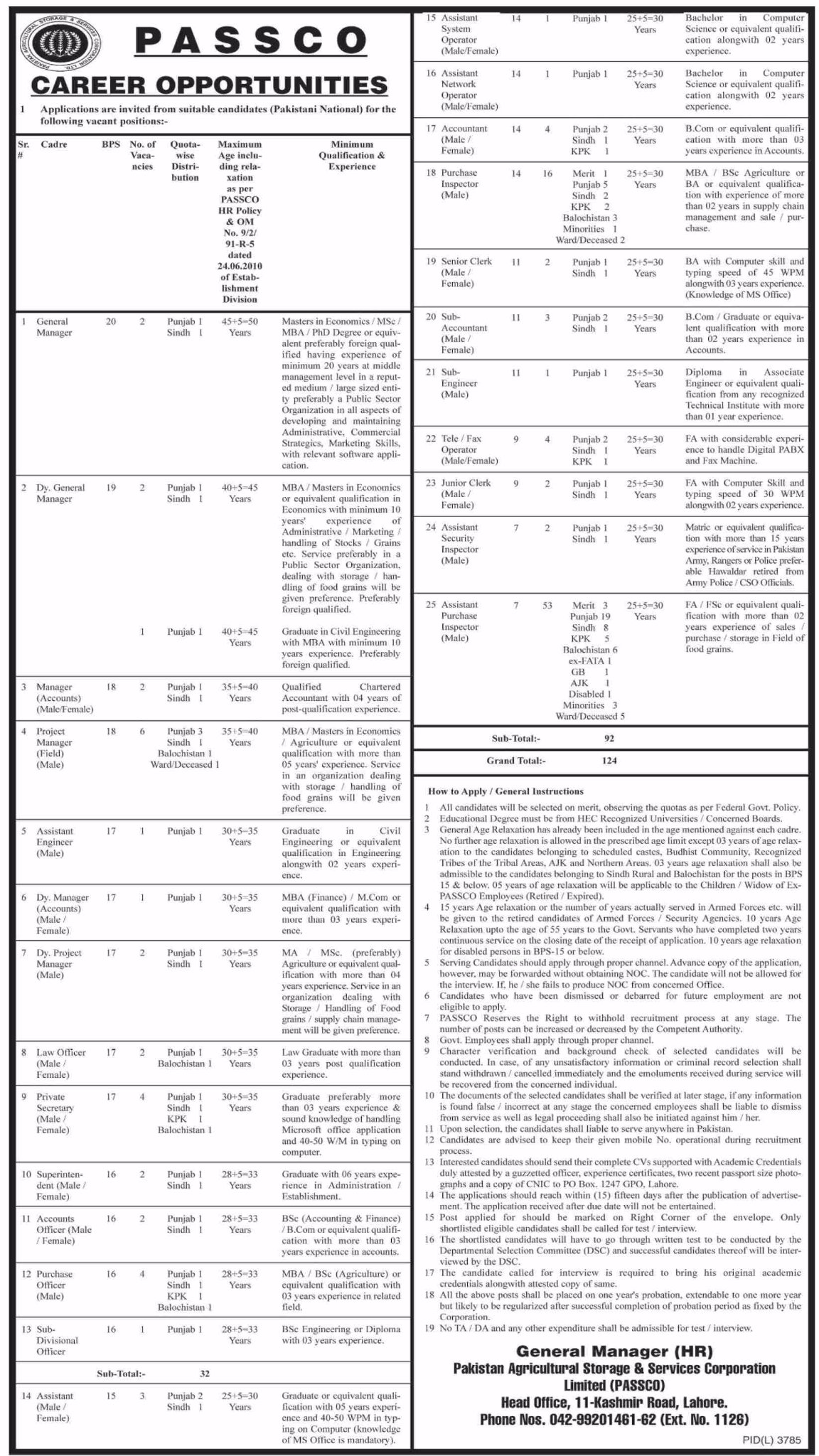 شیئر کریں, بےروزگاری ختم کرنے میں پاکستان کی مدد کریں, اجر کمائیں

Submit Your Name & Email for Daily Updates"

[email-subscribers-form id="1″]