CAREER OPPORTUNITIES, PAKISTAN RAILWAYS HQ's LAHORE & Outsourcing of Commercial Management of Passengers Trains
Looking for Top Level Professionals having ability to Transform Pakistan Railways. E-MAIL TO APPLY: [email protected]
1. ADVISOR HUMAN RESOURCE DEVELOPMENT & CB REVAMP & BUILD HUMAN CAPTIAL
2. ADVISOR TECHNICAL
3. ADVISOR BUSINESS PLANNING
> Recruitment will be made as per policy issued by the Establishment Division, Government of Pakistan vide their O.M. No. 1/3/2020-E-6 dated 22-06-2020 titled "Management Position Scales Policy, 2020".
> The appointment will be on contract basis initially for a period of three (03) years further extendable for a maximum period of two (02) years on annual (yearly) basis subject to satisfactory performance.
> Other perks, privileges, Job Description, Eligibility Criteria & terms and conditions can be seen on our websites i.e. www.pakrail.gov.pk and www.railways.gov.pk
> Candidates should have relevant experience of working in multi discipline large organizations requiring highly challenging and transformational environment with proven track record of success and achievement.
> Applications on prescribed format alongwith complete CV, passport size photograph should reach at the address given below, within thirty (30) days of the publication of this advertisement through courier or e-mail on [email protected] (soft copy on prescribed format). Incomplete applications will not be considered.nsidered.
> All those candidates who have applied earlier should apply afresh as per new requirement and policy approved by the Government of Pakistan under "Management Position Scales Policy, 2020" notified by the Establishment Division vide O.M. No. 1/3/2020-E-6 dated 22-06-2020 as their earlier applications will not be entertained.
> Candidates who apply in response to advertisement on social media must apply on given e-mail [email protected]
> Recruitment agencies/ Head-hunters can also recommend their candidates latest by the last date of submission of applications, as per approved policy of the Railway Board.
> Only short listed candidates shall be called for interview.
Director Administration Ministry of Railways, Room No.426, 4th Floor, Block-D, Pak. Secretariat, Islamabad. Phone 051-9205154 I Email : [email protected]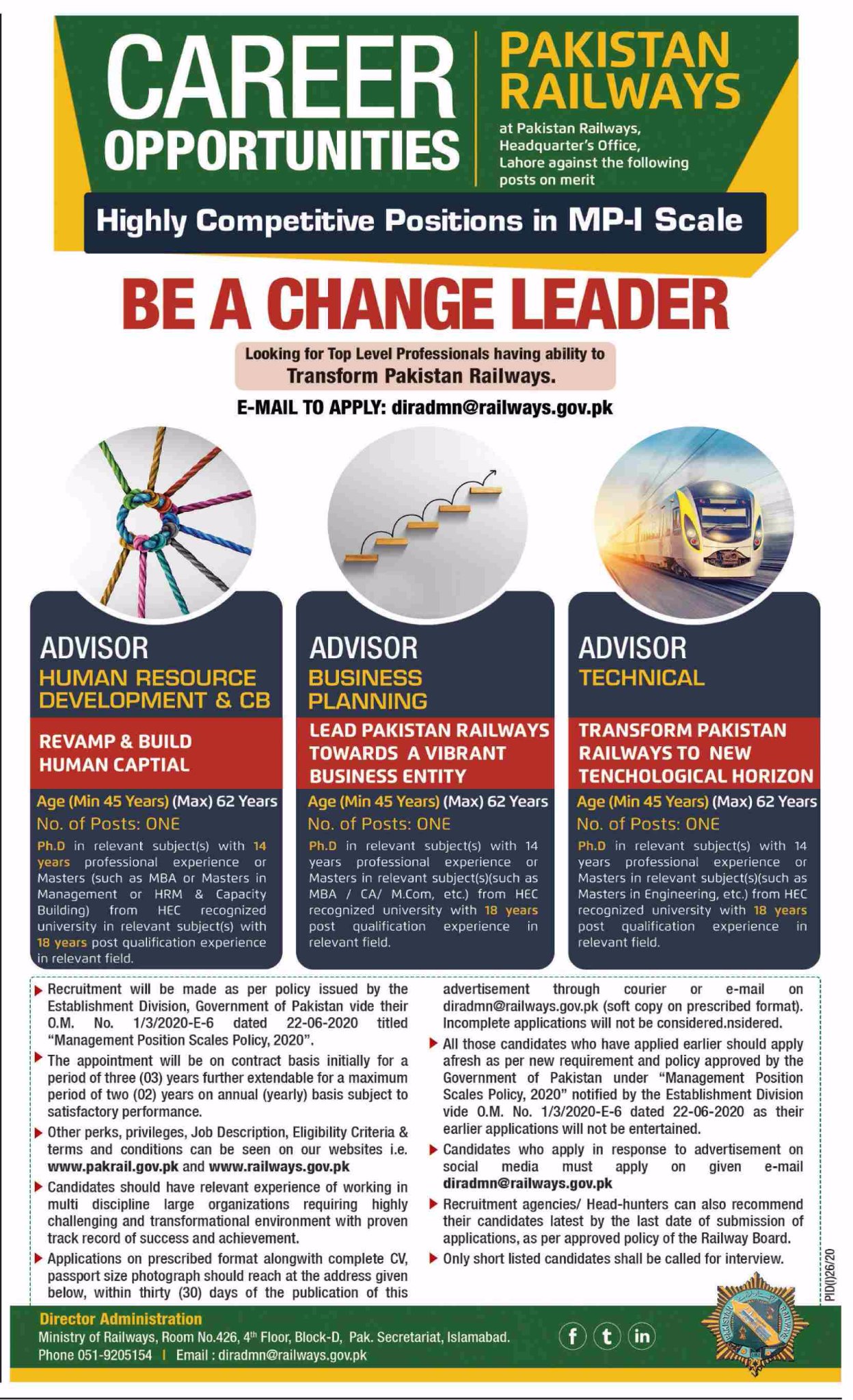 شیئر کریں, بےروزگاری ختم کرنے میں پاکستان کی مدد کریں, اجر کمائیں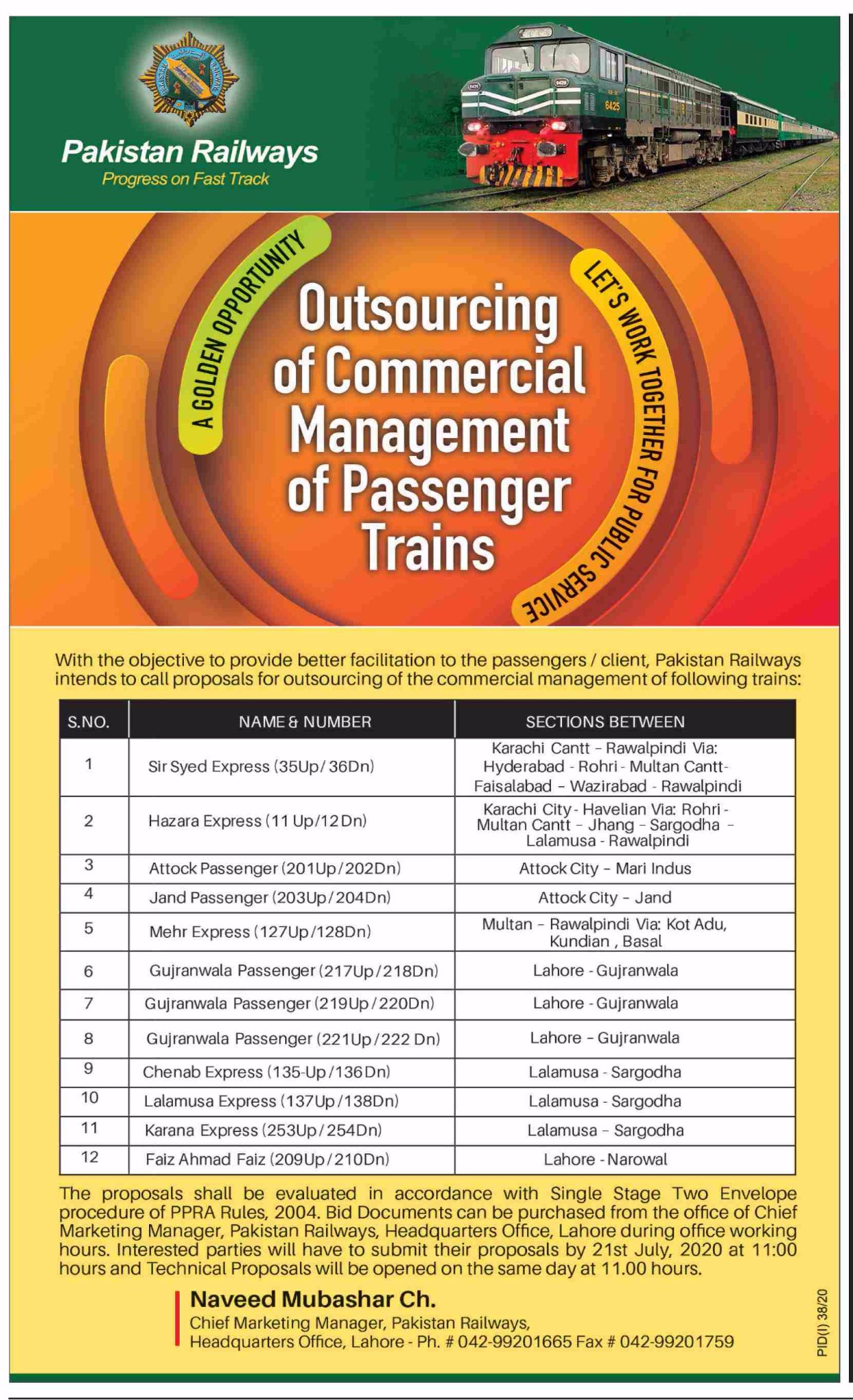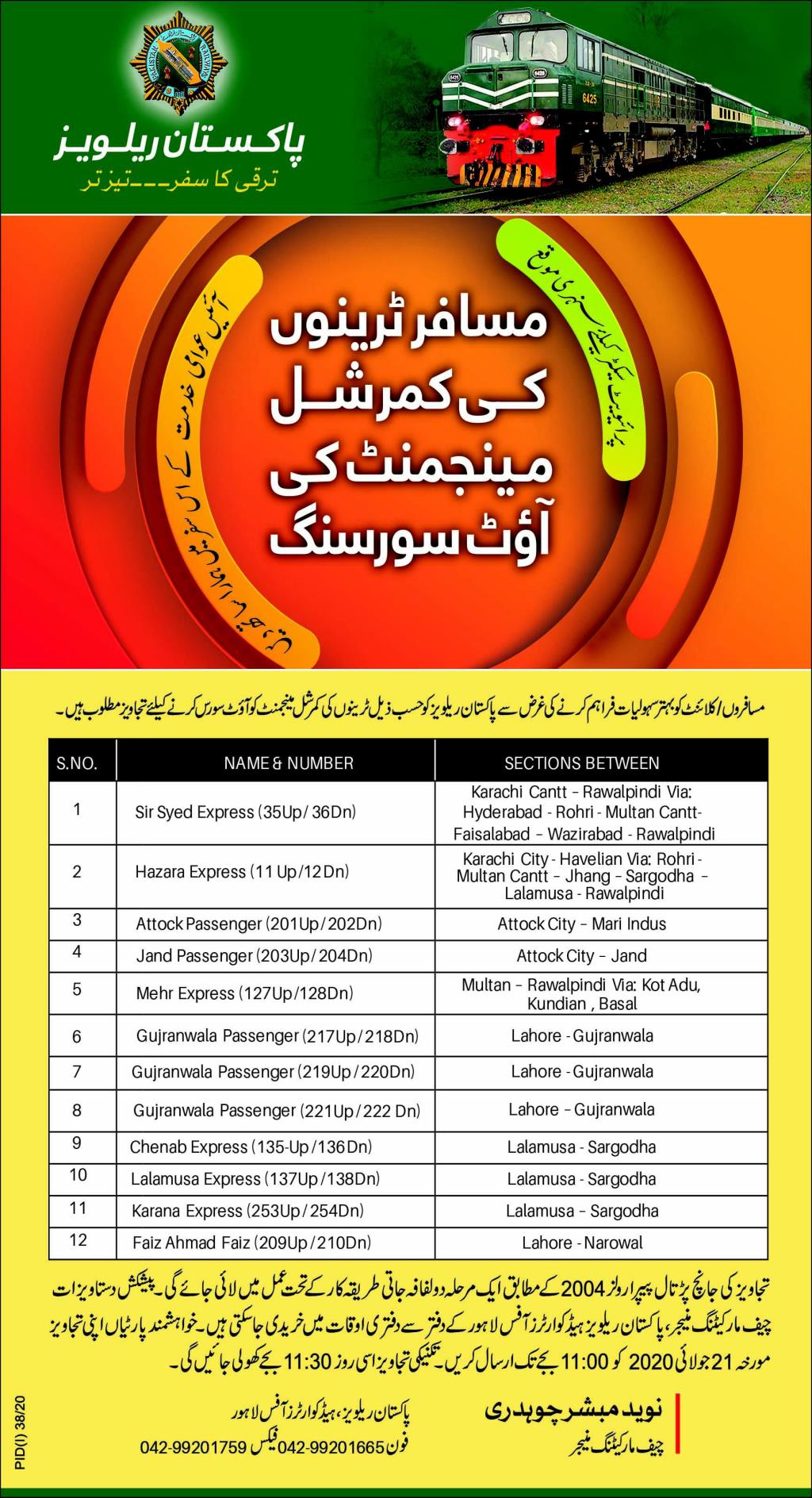 شیئر کریں, بےروزگاری ختم کرنے میں پاکستان کی مدد کریں, اجر کمائیں
SEE ALL JOBS PUBLISHED BACK WITN IN " 03 MONTH"