Join Pakistan Navy through Short Service Commission/ Join Pakistan Navy as PN Cadet for Permanent Commission in Term 2020-B
Short Service Commission Course 2020-B
AND
Join Pakistan Navy as PN Cadet for Permanent Commission in Term 2020-B
Published: 17-05-2020
Latest Data: 31-05-2020
For Online Registration Visit Pak Navy Website: www.joinpaknavy.gov.pk
ELIGIBILITY
• Unmarried Male Citizens of Pakistan
• Age on 01 January 2021
• Civilian Candidates: 16′ -21 Years
• Service Candidates: 17- 23 Years (Armed Forces in uniform Only)
• Height: 5'4″ (minimum)
Basic Qualifications:
• The candidates must have passed both Matric and F.Sc or 0/A Level with at least 60% marks with any of the following subjects:
• Physics, Maths and Chemistry
• Physics, Maths and Computer Science
• Physics, Maths and Statistics
• Candidates of 0/A-Level are required to submit equivalence certificate:
• F.Sc/A-Level Part-II appearing candidates with at least 65% marks in Part-I can also apply. However, they have to provide a hope certificate from the head of respective College/Institute.
HOW TO REGISTER?
Candidates may register themselves by visiting Pakistan Navy website (http://www.joinpaknavy.gov.pk)
from 17 May to 31 May 2020.
Note: Applications sent directly to Recruitment Directorate at Naval Headquarters will not be entertained
Short Service Commission Course 2020-B
شیئر کریں, بےروزگاری ختم کرنے میں پاکستان کی مدد کریں, اجر کمائیں

PN Cadet for Permanent Commission in Term 2020-B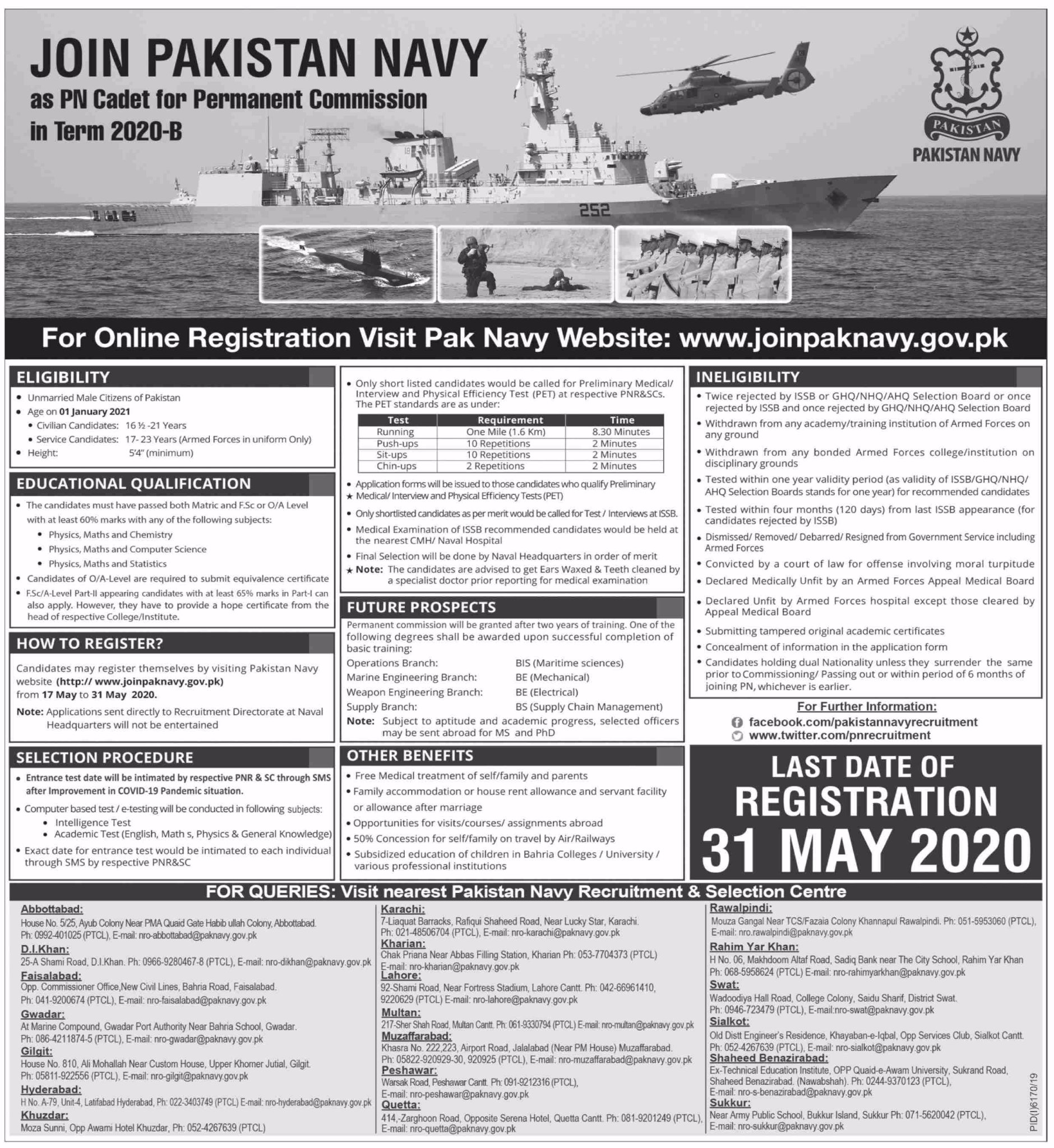 شیئر کریں, بےروزگاری ختم کرنے میں پاکستان کی مدد کریں, اجر کمائیں

Submit Your Name & Email for Daily Updates"

[email-subscribers-form id="1″]