JOIN PAK ARMY AS CAPTAIN THROUGH DIRECT SHORT SERVICE COMMISSION – ENTRY NOV 2020
ELIGIBILITY CONDITIONS
► CATEGORY OF SELECTION
AGE: 28 Years as on 01 Nov 2020QUALIFICATION:
► MAIMScaS (4 years) education in following disciplines:- • Mathematics • Physics • Chem • English • Political Science • History • Islamic Studies / Arabic • Geography / GIS
• Psychologist
► MSc Psychology
► COMMON FEATURES
■ Minimum 60% marks in annual system or 2.5 CGPA in science subjs and 50% marks or 2.0 CGPAinArts so* from HEC recognized university as a regular student. • Minimum CGPA 2 out of 4 or 50% marks in the annual system for Psychology. • No 3″ Division or (Grade D) and only one Ts Division (Grade C) throughout the academic career i.e Metric to MA/MSc/BS. • PhD will be given preference. • Candidates only graduated from HEC recognized universities or foreign universities recognized by HEC are eligible. • Candidate must have attained the entire education (Maine till MA/ MSc IBS) as a molar student. ► GENDER – Male ► MARITAL STATUS – Married /Unmarried ► NATIONALITY. Citizens of Pakistan and domicile holders of Azad Kashmir. Upon final selection, candidates with dual nationality will have to surrender nationalities other than Pakistani. ► PHYSICAL STANDARDS ■ Minimum Height – 5′- 4*(162.5 cm) ■ Weight – Asper Body Mass Index
INELIGIBILITY CONDITIONS
► A candidate who has been twice 910T RECOMMENDED" by ISSB for PMA / Graduate Course or equivalent Naval/ PAF Courses, however, third chance to appear for a commission in AEC is given. ► Permanently declared UNFIT by Appeal Medical Board. ► Declared medically unfit due to Hepatitis B & C (Appeal Medical Board cannot be requested). ► Declared unfit by any Armed Forces Hospital except those cleared by Appeal Medical Board. However, PAF candidates who get medically unfit for frying but fit or ground branches can undergo a routine medical examination as normal candidates if they are desirous to join other arms. ► Tested within four months (120 days) gap of the previous appearance in ISSB except candidates granted a waiver by DGPA. However, bar of 120 days will is not applicable to candidates appearing in post Graduate GHQ f NHQ /AHQ based selection boards. ► Withdrawn from any Academy / Training Institution of Armed Forces on any ground. ► Withdrawn from any bonded Armed Forces college/institution on disciplinary grounds. ► Dismissed/removed/debarred from Govt Services including Armed Forces. ► Convicted in a Court of law in Criminal Proceedings
REGISTRATION AND PRELIMINARY SELECTION PROCEDURE
Candidates can register either through the Internet or by visiting Army Selection and Recruitment Centres (AS&RCs). The following procedure will be adopted:- ► REGISTRATION THROUGH [KERN ET. Candidate can register on website vonftiotrip_akarmy.gov.pk Date and time of test shall be intimated on the internet, for which the individual should have an e-mail account. Candidates will report on exact date and time given for preliminary test on computerized roll number slip. Date once given will not be changed. Candidates will also bring along all documents mentioned in para 6 and will pay prospectus fee on the day of the test. Candidates MUST attain a working knowledge of computer as registration and tests will be conducted on computers. ► REMIRATION AT AS&RCs. Candidates may report at nearest AS8RCs for registration /allotment of roll number along with necessary documents mentioned in pars 6 and the prospectus fee for completion of registration formalities. Candidates will bring these documents on the day of test as well. ► SCHED1WEGLGIRAILOILLIRE.PRELIMINARY TESTS Registration and Preliminary Tests will be held as per the following schedule:-
■ Registration 13 July 2020 to 01 August 2020 ■ Preliminary Tests August 2020 • Keep visiting www.joinpakarmy.gov.pk for exam slip. • Exact date of exam will be printed on your exam slip
► 60ADEMIC$ I INTELLIGENCE TESTS. Academics intelligence tests based on multiple-choice questions will be conducted at AS&RCs on the date given by the Computer during the registration process. ► PRELIMINARY MEDICAL TESTS. Candidates will undergo initial medical festal AS&RCs. ► PHYSICAL TESTS. Candidates are required to qualify the following physical tests:-
■ 1.6km Run • ■ Push-Ups • Sit-Ups ■ ChinUps
9 Minutes • 10 Repetitions in 2 Minutes – 10 Repetitions in 2 Minutes – 2 Repetitions in 2 Minutes
► ISSB TESTS, Shortlisted candidates will receive intimation for ISSB tests through the website as well as call up letters.
FURTHER SELECTION
Detailed medical examination of candidates recommended by ISS8 will be carried out at nearby CMHS. Candidates who are recommended by ISSB will be called for interview by GHQ Selection Board. No TA / DA is admissible. Final selection will be made at GHQ on the basis of the candidate's overall performance.
TRAINING PERIOD AT PMA
► 6 Months
DOCUMENTS REQUIRED AT AS&RCs
► Original certificates/ detailed Mark Sheetsalong with two attested photocopies of each educational certificate I degree/diploma. ► Candidates serving in Government Institutions Departments will render No Objection Certificate of the concerned Establishment. ► Attested photocopy of domicile. ► Photocopies of computerized National Identity Card along with verification slip obtained by NADRA. ► 6 x colour photos duly attested (front and back). ► Crossed postal order of Rs.100.00 in favour of Director General Personnel Administration (DGPA). GHQ Rawalpindi ► Candidates must bring their degrees duly verified by HEC /PEC. ► ENDORSEMENT APPLICATION FORMS. While filling the application forms by successful candidate atAS&RCs, must ensure that information be endorsed in the respective paragraph /columns and no column should be left blank. Note: Old National Identity Card will not be accepted.
BOND
Finally selected candidates will be required to sign a bond to serve the Army for a minimum period of 7 years. The applicability of bond will commence on successful completion of basic military training at PMA Kakul.
AMC I Telephone AS&RC I Telephone
Peshawar 091.9211747 • Ravalpird 051-9271393 Lahore 04236620730 • !Alan 061-4504566 Hyderabad 022-27877258 • Karachi 0214279091 Quetta 081.2836626 • Gilgit 05811.92053 Faisalabad 041.9200363 • Muzatlarated 05822-20598 D.11than 09669280155 • PanoAqi 071-5805595 LA…..1… 11010 .141/411 I
For further details visit
Nearest Army Selection and Recruitment Centres at Rawalpindi, Lahore, Karachi, Peshawar, Quetta, Gilgit, Hyderabad, Multan, Faisalabad, Muzaffarabad, D.I. Khan, PanoAqil and Khuzdar.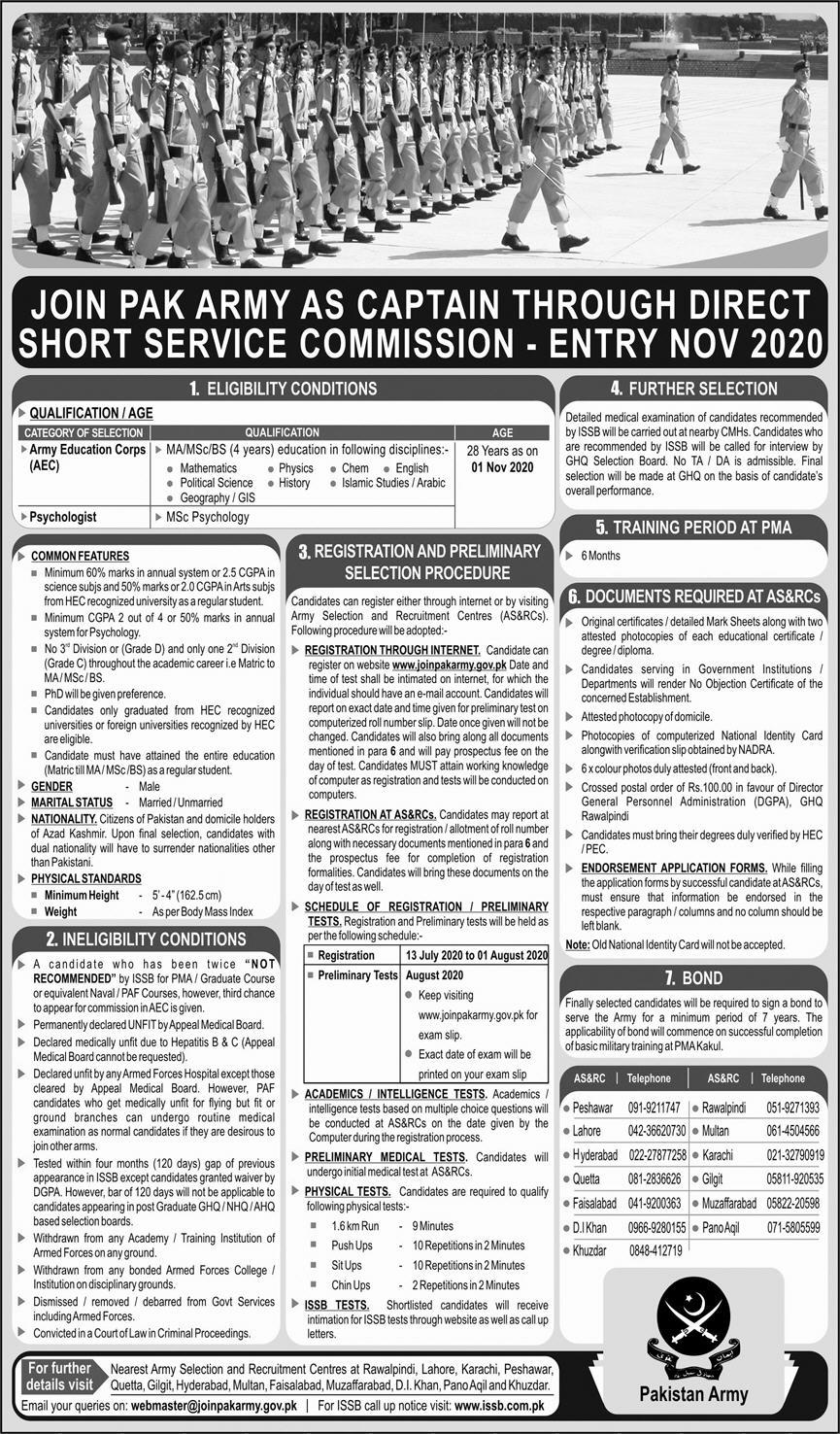 شیئر کریں, بےروزگاری ختم کرنے میں پاکستان کی مدد کریں, اجر کمائیں
SEE ALL JOBS PUBLISHED IN BACK DATES & UPTO "04 MONTH"