National Insurance Company Limited NICL Jobs Latest 2020, Chief Financial Officer Latest Job
National Insurance Company Limited Jobs
Chief Financial Officer
Published: 17-05-2020
The National Insurance Company Limited is seeking applications from highly skilled and experienced (Insurance Related) candidates for the following positions:
Aviation Insurance
The aviation department provides following insurance services to the aviation industry of Pakistan:
Aircraft Hull Insurance
It covers the aircraft itself for accidental damage or loss from whatsoever cause operating anywhere in the world subject to certain terms and conditions.
Spares/Spare Engines Insurance
This policy covers damage to/loss of spare parts of the aircraft/engines against all risks while they are not attached to the aircraft.
Passenger Legal Liability Insurance
It covers the airlines and aircraft operators liability towards passenger for bodily injury/death and loss of or damage to their baggage caused while in the care, control and custody of the airline/aircraft operators.
General Third Party/Third Party Legal Liability
This policy provides coverage to the airlines/aircraft operators for loss of or damage to third party property on the ground for which the airline/operators may be held legally liable.
Cargo Legal Liability Insurance
This covers loss of or damage to the consignments of cargo carried by airlines. The shipper and the consignees have right of claim against the accepting or delivering carrier. This insurance also covers post office mail carried by the airlines/aircraft operators to the extent of their liability towards general public.
Loss of License Insurance
This policy provides financial security to the pilots of aircraft against permanent or temporary incapacity to fly the aircraft due to medical disability.
Personal Accident To Crew Of Aircraft
This policy provides financial security to the crew of aircraft against temporary or permanent disability to persue the flying carreer due to accident.
National Insurance Company Limited was incorporated in Pakistanon 31st March 2000 as an unquoted public limited company under the Companies Ordinance 1984 through NIC (Reorganization) Ordinance 2000
Major Objectives of National Insurance Company Limited 
To provide insurance cover to the Government/Semi Government organizations at economical cost
To reduce outflow of foreign exchange by reducing dependence on reinsurance abroad
To make significant contributions to public exchequer by payment of taxes & dividends
To make prudent investments in public as well as private sector in order to obtain maximum returns
Ownership
Initially it was named as National Insurance Corporation formed in the year 1976 through NIC Act 1976.
The National Insurance Company Limited is 100% owned by Government of Pakistan (GOP) and working under the administrative control of Ministryof Commerce (MOC).
Authorized Capital of Company is Rs. 6 Billion and Paid up Capital of Rs. 2 Billion divided into 200 million shares of Rs. 10 each.
Being NBFI, Securities and Exchange Commission of Pakistan (SECP) is the regulator of NICL.
Principal Business
The National Insurance Company Limited is providing general insurance coverage to the State Owned Moveable and Immoveable Assets belonging to Federal & Provisional Government, Local Authorities and Statutory Corporations.
Insurance coverage is being provided in the following areas:
 Fire and Property Damage
 Aviation Hull
 Marine Hull
 Marine Cargo
 Credit Risk and Surety ship
 Motor
 Liability
 Workers' Compensation
 Accident and Health
 Engineering / Mechanicalmods
 Agri Loans (New)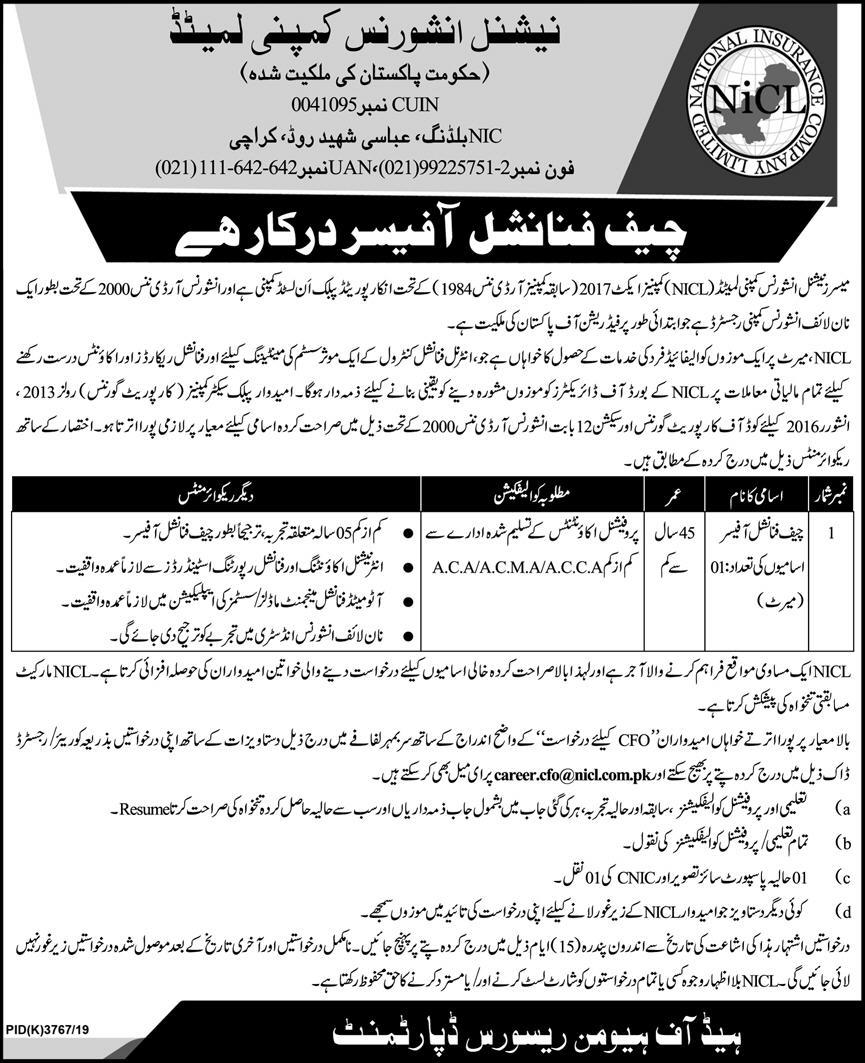 شیئر کریں, بےروزگاری ختم کرنے میں پاکستان کی مدد کریں, اجر کمائیں

Submit Your Name & Email for Daily Updates"

[email-subscribers-form id="1″]