CALL FOR PROPOSALS 2020, Defining futures NATIONAL CENTRE OF ARTIFICIAL INTELLIGENCE NCAI
The NCAI Research Fund (RF) aims to foster research excellence and novel ideas in Artificial Intelligence and related technologies. Full-time Faculty Researchers in HEC-recognised institutions with project proposal focused on commercialisation are encouraged to apply.
NATIONAL CENTRE OF RESEARCH THEMES
NCAI invites researchers to submit proposals. The Research Themes include, but are not limited to, the following Discipline given in the Advertisement.
KEY FEATURES:
a Researchers to apply through HEC recognised institutions a Projects must have capacity for commercialisation Maximum grant duration is 2 years Maximum conditional grant in PRK 15 million
FOR APPLICATION:
VISIT: https://ncai.smme.nust.edu.pk/?page_id=191
BY JULY 24, 2020
FOR QUERIES Write to [email protected]
FOR MORE INFORMATION Visit www.ncai.smme.nust.edu.pk Call at +92300 5805298
NATIONAL UNIVERSITY OF SCIENCES & TECHNOLOGY UAN:111-116-878 I 00000 I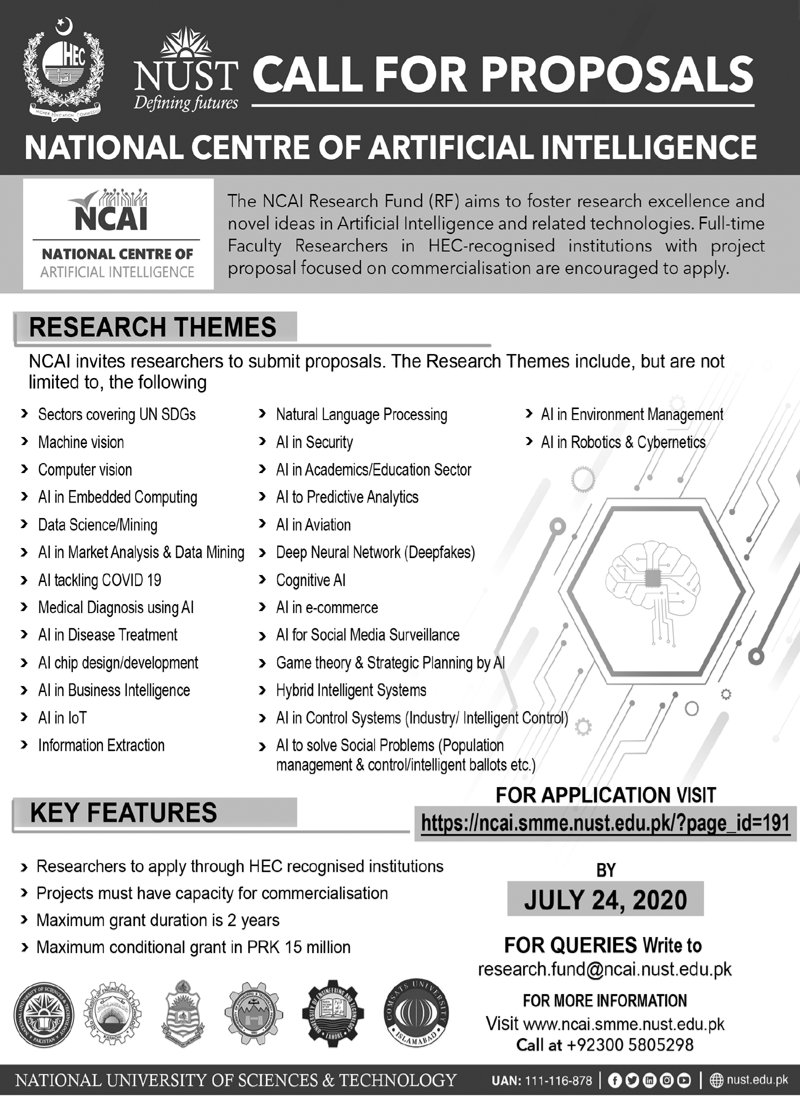 شیئر کریں, بےروزگاری ختم کرنے میں پاکستان کی مدد کریں, اجر کمائیں
SEE ALL JOBS PUBLISHED BACK WITN IN " 03 MONTH"