Ministry of Energy Jobs 2022 May Apply Online Petroleum Division Jobs 2022 Latest in Islamabad, Pakistan
The Ministry of Energy, Petroleum Division, Policy Wing is seeking applications from suitable qualified Pakistani professionals for following positions on purely contract basis:
01 Expert Geophysicist DG (PC)
01 Expert Exploration DG (PC)
01 Expert Production DG (PC)
01 Finance/ Accounts Specialist DG (PC)
01 Expert Refining DG (Oil)
01 Specialist Logistics & Marketing DG (Oil)
01 Gas Expert-I DG (Gas)
01 Gas Expert-II DG (Gas)
01 LPG Specialist DG (LGs)
01 LNG Specialist DG (LGs)
01 Senior Finance Specialist
02 Junior Finance Specialist
02 Legal Advisor(s)
HOW TO APPLY:
Interested Candidates are advised to fill-up the application form and can download terms of reference of the Job from the Careers Section at National Job Portal Website: www.njp.gov.pk. within fifteen (15) days of the publication of this advertisement.
URL: https://njp.gov.pk/

ADVERTISEMENT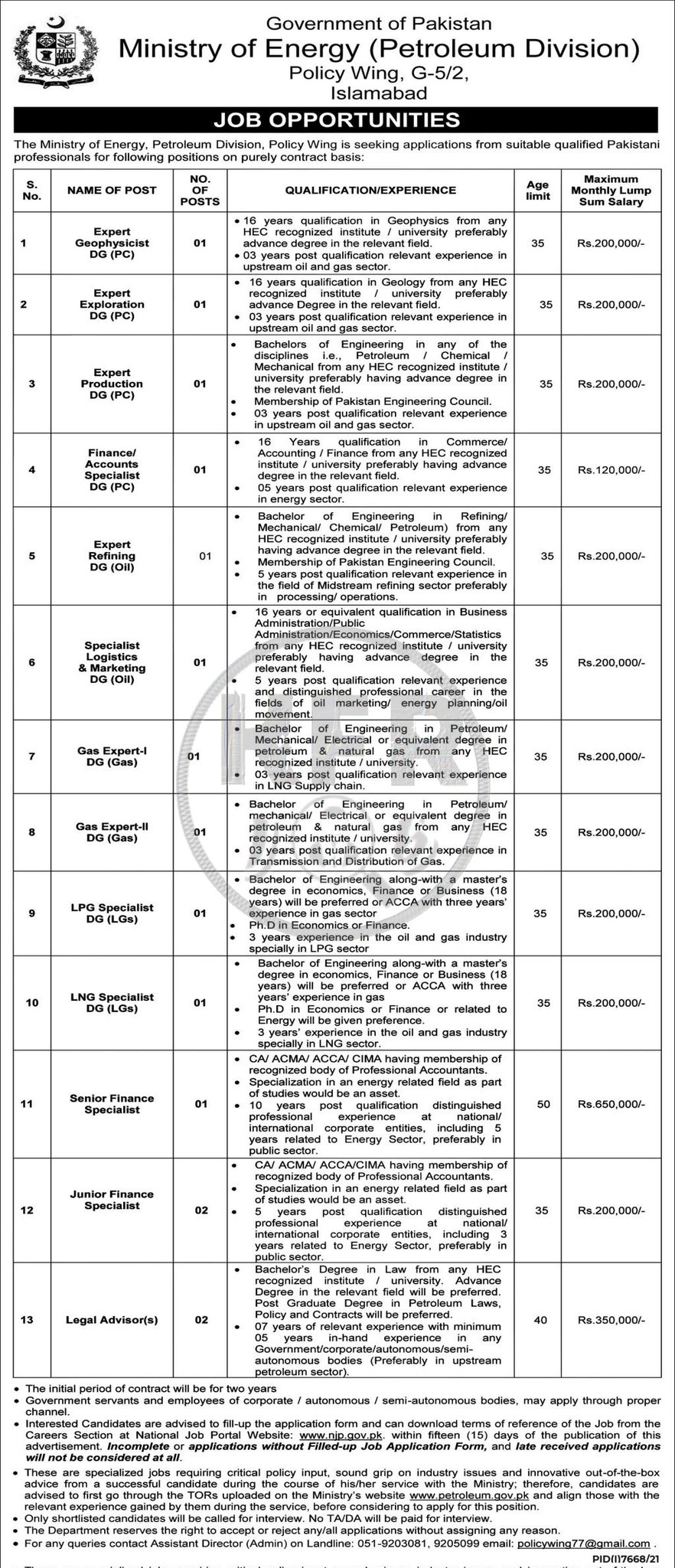 📅 LAST DATE:
15th, May 2022
[wpdevart_countdown text_for_day="Days" text_for_hour="Hours" text_for_minut="Minutes" text_for_second="Seconds" countdown_end_type="date" end_date="15-05-2022 23:59″ start_time="1632471829″ end_time="0,1,1″ action_end_time="hide" content_position="center" top_ditance="10″ bottom_distance="10″ countdown_type="button" font_color="#000000″ button_bg_color="#3DA8CC" circle_size="130″ circle_border="5″ border_radius="8″ font_size="30″ countdown_font_famaly="monospace" animation_type=""][/wpdevart_countdown]

SEE MORE JOBS HERE…..