"64 Faculty Positions" Lasbela University of Agriculture, Water and Marine Sciences LUAWMS Jobs Latest 2020
Professor (NPS-21)
English Linguistics 01
Agronomy 01
Plant Pathology 01
Economics 01
International Relations 01
Marine Biology 01
Livestock Management 01
Animal Breeding & Genetics 01
Veterinary Parasitology 01
Animal Nutrition 01
Veterinary Pathology 01
Poultry Science 01
Education 01
Water Resources Engineering 01
Associate Professor (NPS-20)
Horticulture 01
Soil Sciences 01
Economics 01
Finance & Management 01
Analytical Chemistry 02
Marine Biology 01
Fisheries 01
Geophysics 01
Geology 01
Environmental Biotechnology 01
Biotechnology 01
Animal Reproduction 01
Veterinary Medicine 01
Education 01
Water Resources Engineering 01
Animal Products Technology
Assistant Professor (NPS-19)
Fisheries 01
Environmental Science 01
Dairy Technology 01
Veterinary Anatomy 01
Animal Breeding & Genetics 01
Veterinary Pharmacology 01
Veterinary Pathology 01
Education 02
Civil Engineering 01
Water Resources Management 01
Computer Science 01
Agronomy 02
Soil Sciences 03
Plant Breeding and Genetics 03
Agriculture Entomology 02
Mathematics 01
Sociology 01
International Relation 02
Finance & Management 02
Linguistics 02
Lecturer {NPS-18)
Veterinary Anatomy 01
Veterinary Microbiology 01
Water Resources Management 01
Instructions / Further Information:
1. Duly filled applications, along with two recent passport size photographs, attested copies of all educational degrees, experience
certificates, CNIC and Local/Domicile should be reached in the office of the Registrar, on or before 30th June 2020.
2. Applications must be submitted along with all necessary documents on the prescribed "Application Form", available at University's
Website: www.luawms.edu.pk, with a Bank Draft of Rs.2000/- in favor of Registrar LUAWMS Uthal.
3. Incomplete and after due date applications shall not be entertained.
4. Female candidates are encouraged to apply.
5. Candidates who are already in-service may apply through proper channel and submit NOC; otherwise the applications will not be
entertained and they are responsible for getting relieved properly from their parent departments.
6. Candidate applying for more than one post shall submit separate application, complete-in-all respects, with necessary documents.
7. The University reserves the right to change number of posts, cancel advertised posts, withheld the appointment against any
advertised post, not to fill any post partially or as a whole, to accept/reject any application, without assigning any reason.
8. Hiding facts and providing mis-information may lead to termination even after selection of candidate, at any stage.
9. Canvassing in any manner will disqualify the candidates.
10. Experience and maximum age limit shall be counted, till the closing date.
11. Only shortlisted candidates will be called for test/interview and no TA/ DA will be admissible for appearing in the test/interview.
12. The bench mark for qualifying written test shall be obtaining 50% marks.
13. Obtaining highest marks in written test does not confer right to the candidates for selection. However, final selection shall be decided by the Selection Board.
14. Decision of the University shall remain binding in all cases.
15. The Candidate applying for the Post of Professor and Associate Professor should submit four sets of all documents, experiences and publications on the prescribed application form.
16. The University reserves the right of cancellation of advertised posts, at any stage or to increase or decrease the number of vacancies of any category.
Registrar
Lasbela University of Agriculture, Water and Marine Sciences
Ph: 0853-610351, 0853-610770
University  Lasbela Un vers ty of Agriculture, Water and Marine Sciences
Uthal, District Lasbela, Balochistan
Lasbela University of Agriculture, Water and Marine Sciences (LUAWMS) is a Public Sector university, recognized and approved (HEC) of Pakistan. Applications are invited from Nationals of Pakistan for following positions, on regular Basis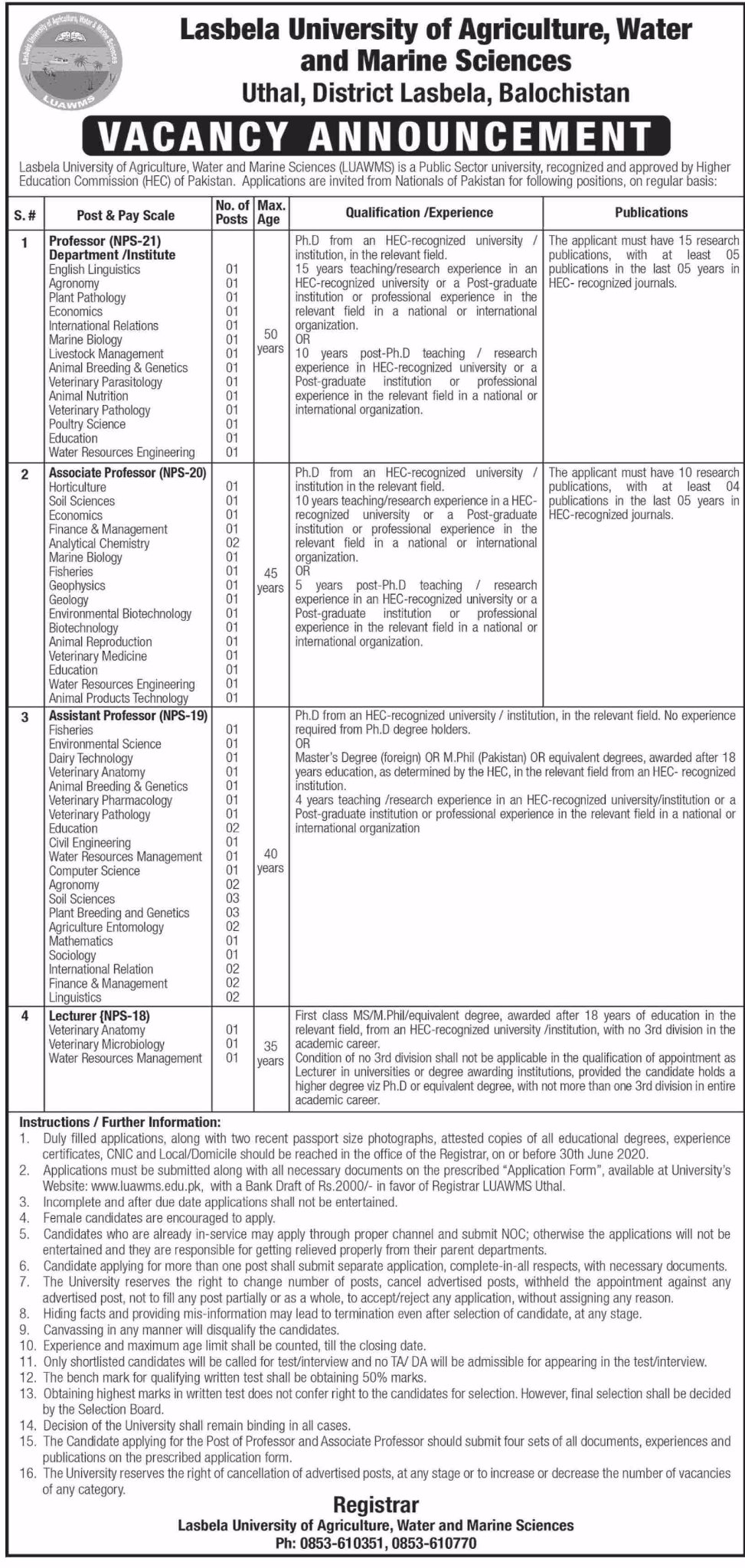 شیئر کریں, بےروزگاری ختم کرنے میں پاکستان کی مدد کریں, اجر کمائیں

Submit Your Name & Email for Daily Updates"