Law Graduate Assessment Test (Law-GAT) for eligibility to seek enrolment as an advocate with Pakistan Council
The Honorable Supreme Court vide its Order dated March 6, 2018 has directed restoration of the Law Graduate Assessment Test (Law-GAT) by the Pakistan Bar Council (PBC) through the Higher Education Commission (HEC). The objective of the Assessment Test is to ensure proper scrutiny and evaluation of a law graduate desirous to join the legal profession so that only competent individuals possessing necessary basic knowledge of law may enter the legal profession for practicing law. Therefore, henceforth a law graduate will only become eligible to apply to a Bar Council for enrolment as an Advocate if he/she qualifies the Assessment Test to be conducted by HEC, Pakistan having been so authorised by PBC, pursuant to the aforementioned Order of the Honorable Supreme Court and read with Section 26 (cc) of Legal Practitioners and Bar Council's Act 1973 and rules of the PBC.
How to Register:
Please visit the following link: http://etchec.gov.pk for online registration.
In case of any difficulty during online registration, please send email at onlinehelp@hec.gov.pk  or visit HEC Secretariat or HEC Regional Centres for guidance.
Application submission comprises of two steps: profile completion using "My Profile" section, and application submission using
"Law Graduate Assessment Test"link on menu panel in left hand side bar of online portal.
Only SUBMITTED applications will be considered for LAW-GATTest, and applications in SAVE or INCOMPLETE mode will not be entertained.
Test fee of Rs. 3000/- is to be deposited online/ATM in the Account No. 01127900567403, Account Title: Higher Education Commission Bank: Habib Bank Limited, Branch Code: 0112. Bank Draft/Pay Order will not be accepted.
Applicants are required to submit Original fee deposit slip/ATM/Online transfer through courier at Room No. 13-209, 2nd floor, HRD Building, HEC, H-8, Islamabad on or before the last date of registration
Please mention your CNIC number at the back side of the deposit slip.
The examination fee is non-refundable and non-transferable
Last Date for Online Registration is Tuesday, June 30, 2020.
Other Requirements/Conditions
50% score is required to pass the Law Graduate Assessment Test (Law-GAT).
Applicants will have to meet other criteria, if any, as per Rules and Regulations of the Pakistan Bar Council.
Applicants will have maximum of three chances to clear the test. HEC will conduct the test quarterly in a year.
Test Centre Information:
Applicants who register through HEC online registration process will download their Roll Number Slip through http://etc.hec.gov.pk a week before the test date. Email/SMS will be sent to registered applicants for test date, time and venue. Candidates are required to provide valid email/mobile number while filling online application form. A print of Roll Number slip and original CNIC will be required to enter in Test Centre. The examination will be conducted in the following Test Centres:
Islamabad
Karachi
Quetta
Lahore
Sukkur
Turbat
Multan
Hyderabad
Muzaffarabad
Bahawalpur
Peshawar
Gilgit
Faisalabad
Abbottabad
Applicants may select any Test Centre from the list available in the application form. Please note that the said test will held in any of the above Centre if minimum 100 applicants will select that Centre. Please also note that a Test Centre once selected will not be changed after registration.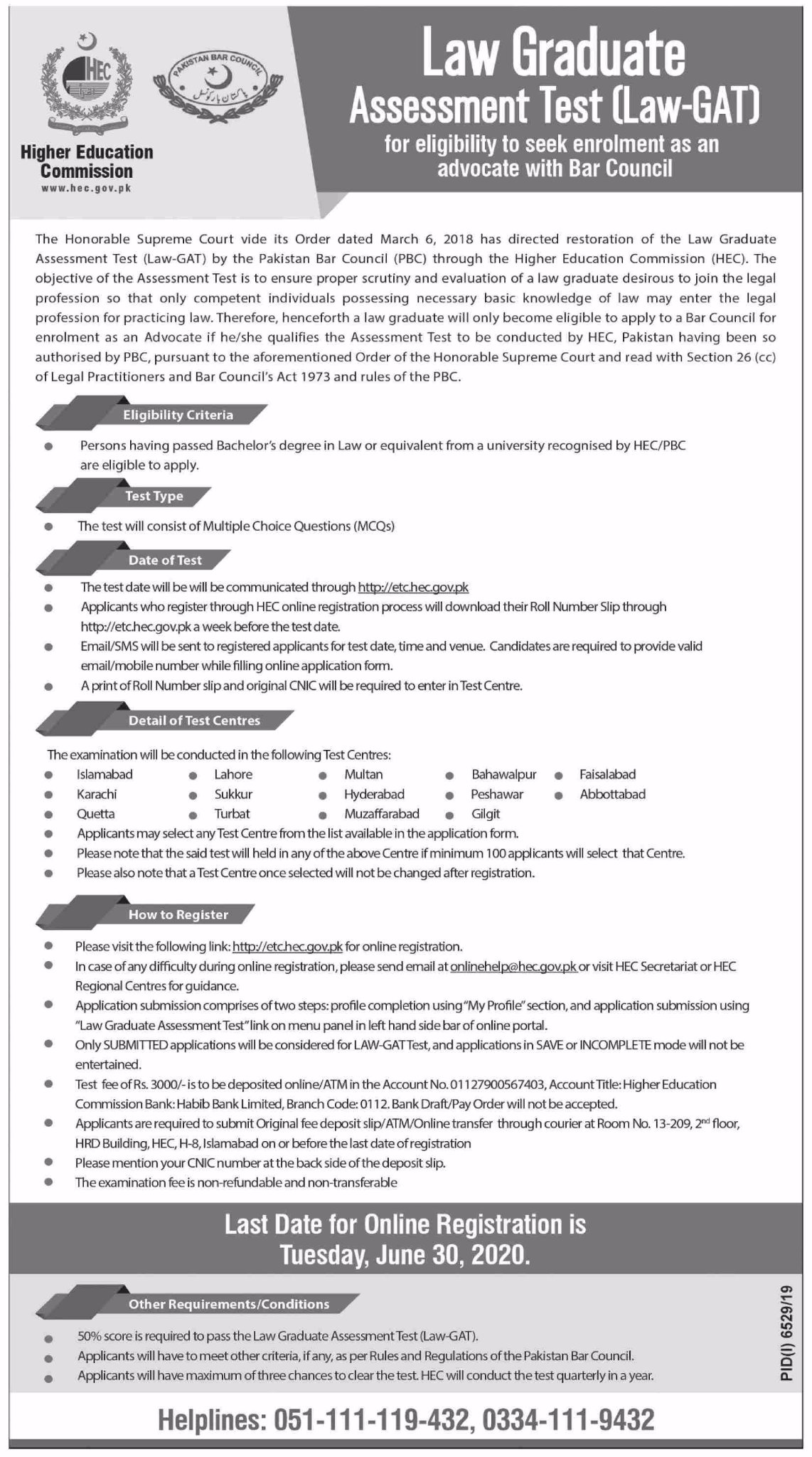 شیئر کریں, بےروزگاری ختم کرنے میں پاکستان کی مدد کریں, اجر کمائیں

Submit Your Name & Email for Daily Updates"