KPPSC Jobs 2021 April, KPK Public Service Commission Jobs Advertisement No 04/2021 Latest in Khyber Pakhtunkhwa
PAKHTUNKHWA PUBLIC SERVICE COMMISSION JOBS 2021 ONLINE APPLICATIONS
Online applications are invited for the following posts from Pakistani citizens KPK Public Service Commission having domicile of Khyber Pakhtunkhwa (KPPSC) by 27.04.2021
Post Date: 13-04-2021
Deadline: 27-04-2021
Departments:

Agriculture & Livestock,
Primary and Secondary Education
Healthcare Department
Mines and Minerals Department
Industries
Technical Education
Forestry and Wildlife Department
Higher/Commerce Education, Archives and Libraries Department KPK

Location: Peshawar, KPK
Qualification: MBBS, Phd, Mphil, Master,Bachelor etc
Newspaper: Daily Express
Position: Multiple
●●● ELEMENTARY & SECONDARY EDUCATION DEPARTMENT ●●●
●○● LEFTOVER POSTS OF MALE SUBJECT SPECIALIST (BPS-17) ●○●
TWO (02) PAK STUDY
ONE (01) PHYSICS
THREE (03) CHEMISTRY
TWO (02) LIBRARIAN (MINORITY QUOTA)
●●● HEALTH DEPARTMENT ●●●
●●● PROFESSOR BPS-20 ●●●
01 BIOCHEMISTRY
01 ANATOMY
01 PULMONOLOGY
01 ORTHOPEDICS
●●● ASSOCIATE PROFESSOR (BPS-19) ●●●
01 MICROBIOLOGY
01 SURGERY
01 OPTHALMOLOGY
01 DERMATOLOGY
01 ORTHOPEDICS
01 PAEDS SURGERY
01 UROLOGY
●●● ASSISTANT PROFESSOR (BPS-18) ●●●
01 COMMUNITY MEDICINE
02 ANAESTHESIA
01 BIOCHEMISTRY
01 NEPHROLOGY
01 PHYSIOLOGY
●●● BPS-17 ●●●
01 POST OF LIBRARIAN
04 PHC TECHNOLOGIST (MCH)
●●● HIGHER/ COMMERCE EDUCATION, ARCHIVES AND LIBRARIES DEPARTMENT ●●●
●○● FIFTY TWO (52) POSTS OF MALE LECTURER (BPS-17) ●○●
18 Commerce
07 Urdu
05 Islmamiyat
05 Pak Study
06 English
05 Computer Science
02 Maths
02 Statistics
02 Economics
●○● FOUR (04) POSTS OF FEMALE LECTURER (BPS-17) ●○●
01 Islmamiyat
01 Pak Study
01 Maths
01 Urdu Minority
●○● TEN (10) POSTS OF MALE LIBRARIAN (BPS-17) in HIGHER EDUCATION DEPARTMENT ●○●
●○● NINE (09) POSTS OF MALE LIBRARIAN IN COMMERCE COLLEGES ●○●
●○● FOURTEEN (14) POSTS FOR MALE DIRECTOR PHYSICAL EDUCATION ●○●
●●● Agriculture, livestock and cooperative department ●●●
ONE (01) (LEFTOVER) POST OF RESEARCH OFFICER (AGRICULTURE CHEMISTRY/ SOIL SCIENCE (MINORITY QUOTA)
●●● MINES AND MINERALS DEVELOPMENT DEPARTMENT ●●●
01 ASSISTANT DIRECTOR TECHNICAL (MINING ENGINEER) (BPS-17) (FEMALE QUOTA) IN
●●● INDUSTRIES, COMMERCE AND TECHNICAL EDUCATION DEPARTMENT ●●●
01 SENIOR SCALE STENOGRAPHER (BPS-16)
KPK Public Service Commission Jobs 2021 April Newspaper Advertisement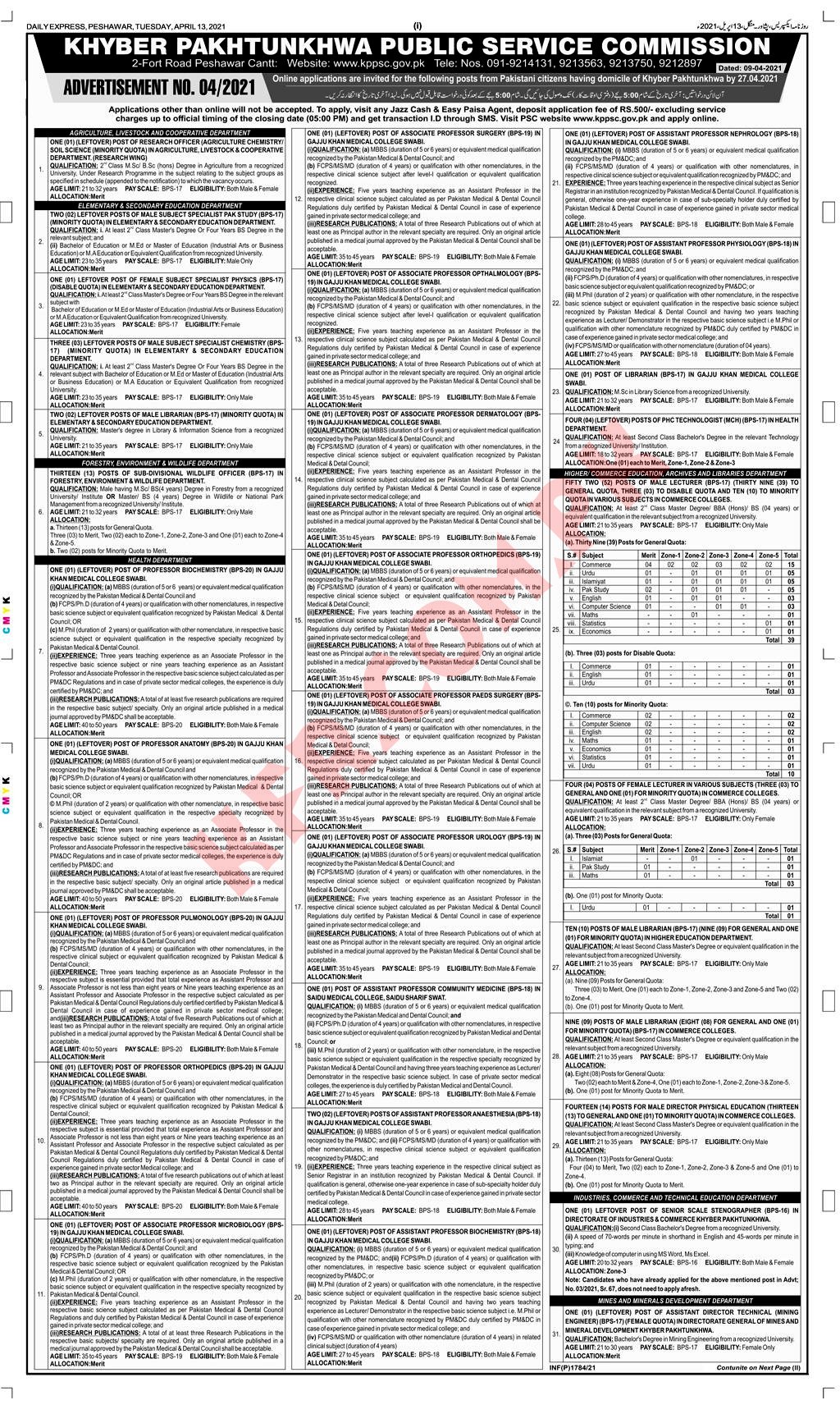 PLEASE CLICK THE IMAGE TO VIEW ITS ORIGINAL SIZE
HOW TO APPLY
PLEASE VISIT THE LINK GIVEN BELOW FOR APPLY ONLINE THROUGH KPPSC WEBSITE FOR KP PUBLIC SERVICE COMMISSION JOBS 2021:
https://apply.kppsc.gov.pk/online
Applications other than online will not be accepted. To apply, visit any Jazz Cash and Easy Paisa Agent, deposit application fee of RS.500/- excluding service charges up to official timing of the closing date (05:00 PM) and get transaction I.D through SMS. Visit PSC website www.kppsc.gov.pk and apply online.
LAST DATE: 27th, April 2021
-265
Days
-8
Hours
-12
Minutes
-19
Seconds
TERMS AND CONDITIONS:
(i) Candidates are advised to fill in all the columns carefully as change(s) will not be allowed after submission.
(ii) Only one application is required for one serial, however the candidates applying for various quotas should mention serial number of (1)a, (1)b or (1)c in the application form specifically.
(iii) Incomplete applications or unclaimed qualification, experience etc will be summarily rejected.
(iv) Documents are not required at the time of submission of application; candidates who qualify the test will have to submit their documents within one week time after announcement of the result.
(v) Candidates are required to make correct entries in the online application which can be documentarily proved as on the basis of their claim / entries they will be called for screening / ability test.
(vi) Candidates applying for experienced posts, are required to submit year wise affiliation/ registration with B.I.S.E upto 2016 and P.S.R.A from 2017 in case of private school experience while HERA in case of private Colleges with their documents.
(vii) Overage candidates after apply must obtain age relaxation orders from the respective Departments to avoid any difficulty.
(viii) Candidates applying against disable quota will be required to submit disability certificates issued by the Provincial Council for Rehabilitation of Disabled Persons as well as from the respective Medical Superintendent / Medical Board showing therein the specific disability on or before the date of interview.
(ix) Govt. / Semi Govt. / Autonomous / Semi Autonomous Bodies employees may apply direct but their Departmental Permission Certificates will be required before interview.
(x) Call letters for test will be placed on PSC website. Candidates must keep visiting the PSC website from time to time.
(xi) Degrees / Diploma / Experience Certificates / Testimonials of unrecognized Institution are not accepted. Only original Degrees / Certificates / DMCs are accepted.
(xii) Domicile, qualification and its registration with Medical/ Engineering or other related institutions, possessed on the closing date of the advertisement shall be taken into consideration.
(xiii) Candidates possessing dual domicile on our closing date will be rejected.
(xiv) Candidates who have not the prescribed qualification but equivalent qualification, they are required to be in possession of equivalency/ relevancy certificate from Higher Education Commission (HEC) while applying.
(xv) Candidates who possess qualification equivalent/higher than the prescribed qualification in the relevant field of studies will be considered eligible.
(xvi) Age shall be reckoned on closing date of the advertisement¬¬¬¬¬¬¬¬¬¬¬¬. Maximum age limit as prescribed in the recruitment rules shall be relaxable up-to 10 years for Disabled persons / Divorce women / Widow / Govt: Servants who have completed Two (2) years continuous service and up-to Three (3) years for candidates belonging to backward areas specified in the appendix attached to the Khyber Pakhtunkhwa Initial Appointment to Civil Posts (Relaxation of Upper Age Limit) Rules, 2008. However, a candidate shall be allowed relaxation in age in one of the above categories provided that the candidates from backward areas, in addition to automatic relaxation of three years shall be entitled to one of the relaxations available to Govt: Servants, general or disabled candidates, whichever is relevant and applicable to them. Employees or ex-employees of development projects of the Government of Khyber Pakhtunkhwa and employees or ex-employees of development projects of the Federal Government under the administrative control of the Government of Khyber Pakhtunkhwa shall also be entitled to age relation equal to the period served in the projects, subject to a maximum limit of ten years provided that this age relaxation shall not be available in conjunction with any other provisions of the age relaxation rules.
(xvii) Applicants married to Foreigners are considered only on production of the Govt: Relaxation Orders.
(xviii) A female candidate if married before entry into government service shall acquire the domicile of her husband. If otherwise she will possess her own domicile. However, married female candidates are allowed to opt one of the domicile of her choice. Option once exercised shall be final and changes therein shall not be allowed.
(xix) Experience wherever prescribed shall be counted after the prescribed qualifications for the post(s) if not otherwise specified in the service rules. The experience certificates should be on prescribed forms available on PSC website.
(xx) Government reserves the right not to fill any or fill less than the advertised post(s).
(xxi) In case the number of applications of candidates is disproportionately higher than the number of posts, short listing will be made in anyone of the following manner: –
(a) Written Test in the Subject.
(b) General Knowledge or Psychological General Ability Test.
(c) Academic and / or Professional record as the Commission may decide.
Note: Candidate who apply for the post(s) are advised to make sure that they are eligible for the post in all respects because eligibility of the candidate will be determined strictly according to the rules after conduct of all tests.
---
SEE MORE JOBS HERE…..
KFR Team Collect Jobs from Pakistan's leading newspapers like Daily Jang, Express, Nawa-i-Waqt, The News, Dawn & The Nation. Our aim is to facilitate job seekers from various cities of Pakistan like Karachi, Lahore, Rawalpindi, Islamabad, Peshawar, etc. by providing them all www newspaper job advertisements on a single .com .pk website. This is done as a public service in good faith and we are not responsible for any incorrect, misrepresented or misleading advertisement. Instead of searching the Jobs Advertisements in every newspaper, you can use www.kfr.com.pk to find any ad of your interest quickly.