KPPSC Jobs 2021 Advertisement No. 03/2021, Apply Online Pakhtunkhwa Public Service Commission Jobs 2021 in KPK
ADVERTISEMENT NO. 03/2021
Here Good news for Personals Pocessing Domicile of Khyber Pakhtunkhwa because A large number of KPPSC JOBS March 2021 we are sharing. Online applications are invited for the following posts from Pakistani citizens having domicile of Khyber Pakhtunkhwa by 12.04.2021. KPPSC Jobs 2021 has been Announced by Khyber Pakhtunkhwa Public Services Commission 2021 for Different Posts. KFR Team Collect Jobs from Pakistan's leading newspapers like Daily Jang, Express, Nawa-i-Waqt, The News, Dawn & The Nation. Our aim is to facilitate job seekers from various cities of Pakistan like Karachi, Lahore, Rawalpindi, Islamabad, Peshawar, etc. by providing them all www newspaper job advertisements on a single .com .pk website. This is done as a public service in good faith and we are not responsible for any incorrect, misrepresented or misleading advertisement. Instead of searching the Jobs Advertisements in every newspaper, you can use www.kfr.com.pk to find any ad of your interest quickly.
Post Date: 27 February 2021
Due Date: 12 April 2021
Department: Kpk Public Service Commission
Qualification: Matric, Intermediate, Bachelors, Masters
Region: Kpk
Positions: Multiples
KPPSC Jobs 2021 Online Apply. Applications are Invited for the following Positions:
Male Subject Specialist English
Male Subject Specialist Statistics
Male Subject Specialist Biology
Male Subject Specialist History Cum Civics
Male Director Physical Education
Dental Surgeon
Senior Registrar Pathology
Consultant Cardiologist
Associate Professor Psychiatry
Associate Professor Chemical Pathology
Assistant Professor Cardiothoracic
Assistant Professor Medical Education
Assistant Professors Physiology
Assistant Professor Biochemistry
Homeopathic Doctor
Assistant Director Tibb
Tabeeb
Medical Officers
Associate Professor Anatomy
Associate Professor Physiology
Associate Professor Bio-Chemistry
Associate Professor Pharmacology
Associate Professor Pathology
Librarian
Pharmacist
Demonstrator
Clinical Psychologist
Professor Forensic Medicine
Clinical Technologist Dental
Associate Professor Forensic Medicine
Assistant Professor Forensic Medicine
Assistant Professor Community & Preventive Dentistry
Assistant Professor Oral Pathology
Assistant Professor Dental Material
Assistant Professor Oral Biology
Assistant Professor Oral & Maxillofacial Surgery
Assistant Professor Operative Or Restorative Or Conservative Dentistry
Assistant Professor Periodontolgy
Assistant Professor Oral Medicine
Assistant Professor Orthodontics
Assistant Professor Anesthesia
Senior Registrar Cardiac Surgery
Senior Registrar Nephrology
Senior Registrar Anesthesia
Senior Registrar Oncology
Senior Registrar Plastic Surgery
Nursing Instructors / Nursing Superintendant/ Nursing Directress
Assistant Professor Oncology
Assistant Professor Plastic Surgery
Assistant Professor Cardiac Surgery
Assistant Professor Forensic Medicine
Associate Professor Ophthalmology
Male Assistant Professor
Female Librarian
Female Associate Professor Pak Studies
Female Librarian
Female Assistant Professor Pashto
Female Lecturer In Resource & Facility Management
Female Lecturer In Human Development
Assistant Professors Commerce
Male Assistant Professors In English
Male Principal/ Associate Professors In Commerce
Male Assistant Professor Law
Senior Scale Stenographer
Assistant Engineer / SDO (Civil)
Zilladar
Senior Scale Stenographer
Assistant Director Technical (Mining Engineer)
Assistant Director (Mining Engineer)
Assistant Director (Exploration)
Senior Inspectors Of Mines
Inspector
Senior Scale Stenographer
Assistant Director (Administration)
Assistant Sister Tutor
Senior Scale Stenographer
Hockey Coach
Pakhtunkhwa Public Service Commission Jobs 2021 in KPK Paper Advertisement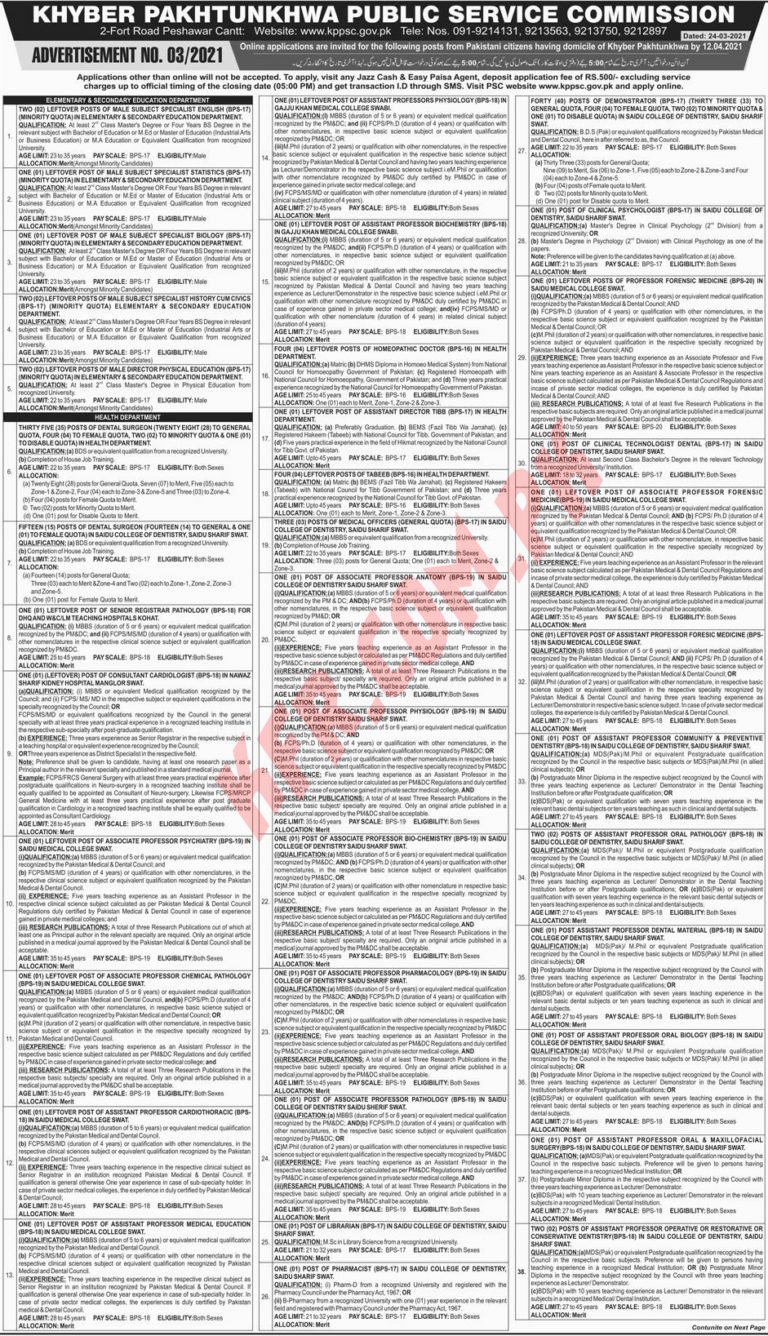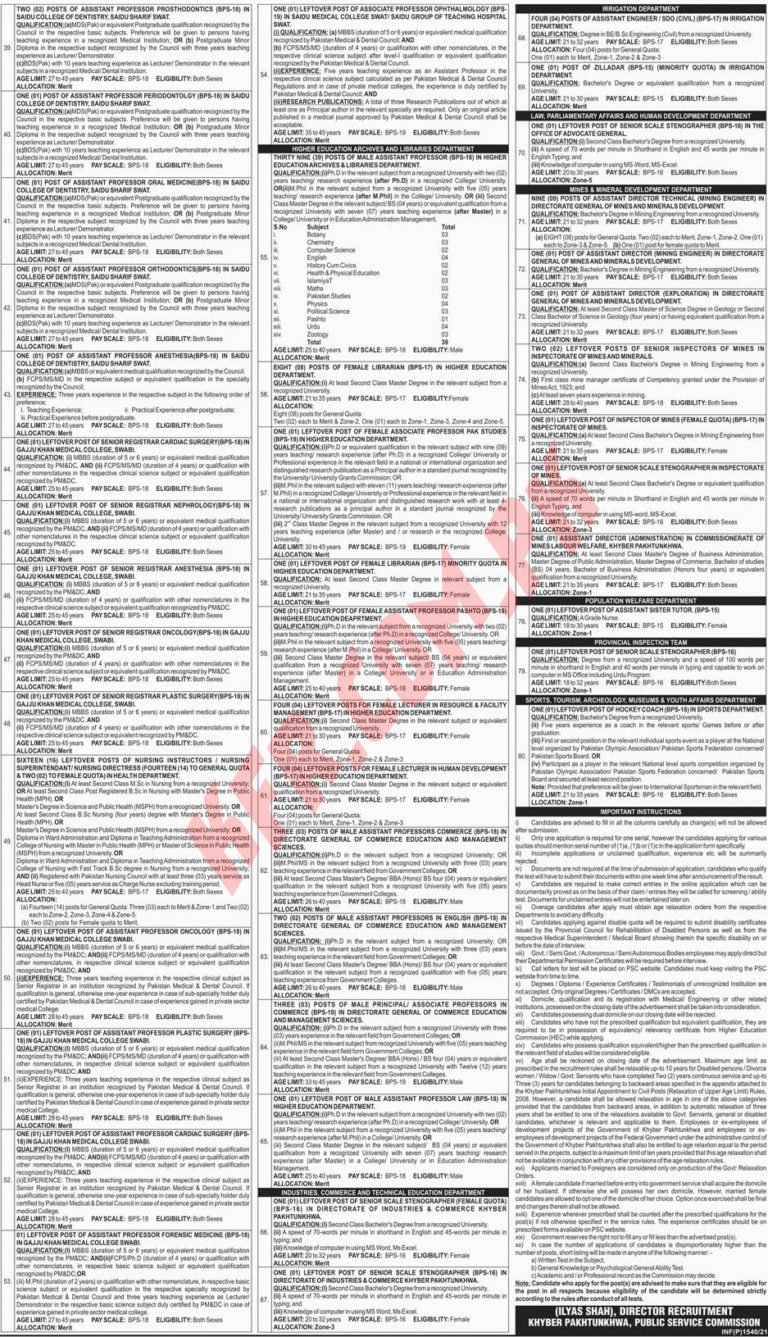 PLEASE CLICK THE IMAGE TO VIEW ITS ORIGINAL SIZE
HOW TO APPLY
Online applications are invited for the following posts from Pakistani citizens having domicile of Khyber Pakhtunkhwa
Applications other than online will not be accepted. To apply, visit any Jazz Cash & Easy Paisa Agent, deposit application fee of RS.500/- excluding service charges up to official timing of the closing date (05:00 PM) and get transaction I.D through SMS. Visit PSC website www.kppsc.gov.pk and apply online.
Visit the link given below for Apply Online for KPPSC JOBS 2021
https://apply.kppsc.gov.pk/online/
LAST DATE: 12th, April 2021
-280
Days
-7
Hours
-54
Minutes
-56
Seconds
---
SEE MORE JOBS HERE…..