INSTITUTE OF SOCIAL & CULTURAL STUDIES University of the Punjab Jobs Latest 2020
University of Punjab has been conducting a research project titled "Trial of High-Dose Vitamin D Supplementation in the Treatment of Complicated Severe Acute Malnutrition" (ViDiSAM", the Clinical Trial) in collaboration with Queen Marry University of London. The Project Management is looking for suitable technical / support staff for a specific period of time.
1. Trial Coordinator (01)
2. Trial Administrator (01)
3. Finance Officer (01)
4. Trial Pharmacist (01)
5. Junior Pediatric Specialty Doctors (02)
6. Research Nurses (02)
7. Fieldworkers (05)
8. Laboratory Technicians (02)
TERM & CONDITIONS
Interested candidates are advised to submit their brief resume with the applications Forms, along .th all attested educational and experience certificates.
The prescribed application form are available at the University website http://pu.edu.pk/page/downloads.
Only short listed candidates will be called for interview.
The applications (complete in all respect) should reach (through TCS or any other courier services) in the Department of Public Health, Institute of Social & Cultural Studies, University of the Punjab (Quaid-i-Azam Campus), Lahore by 28 July 2020 during office hours and you can also send their applications forms along with all attested educational and' experience certificates through [email protected]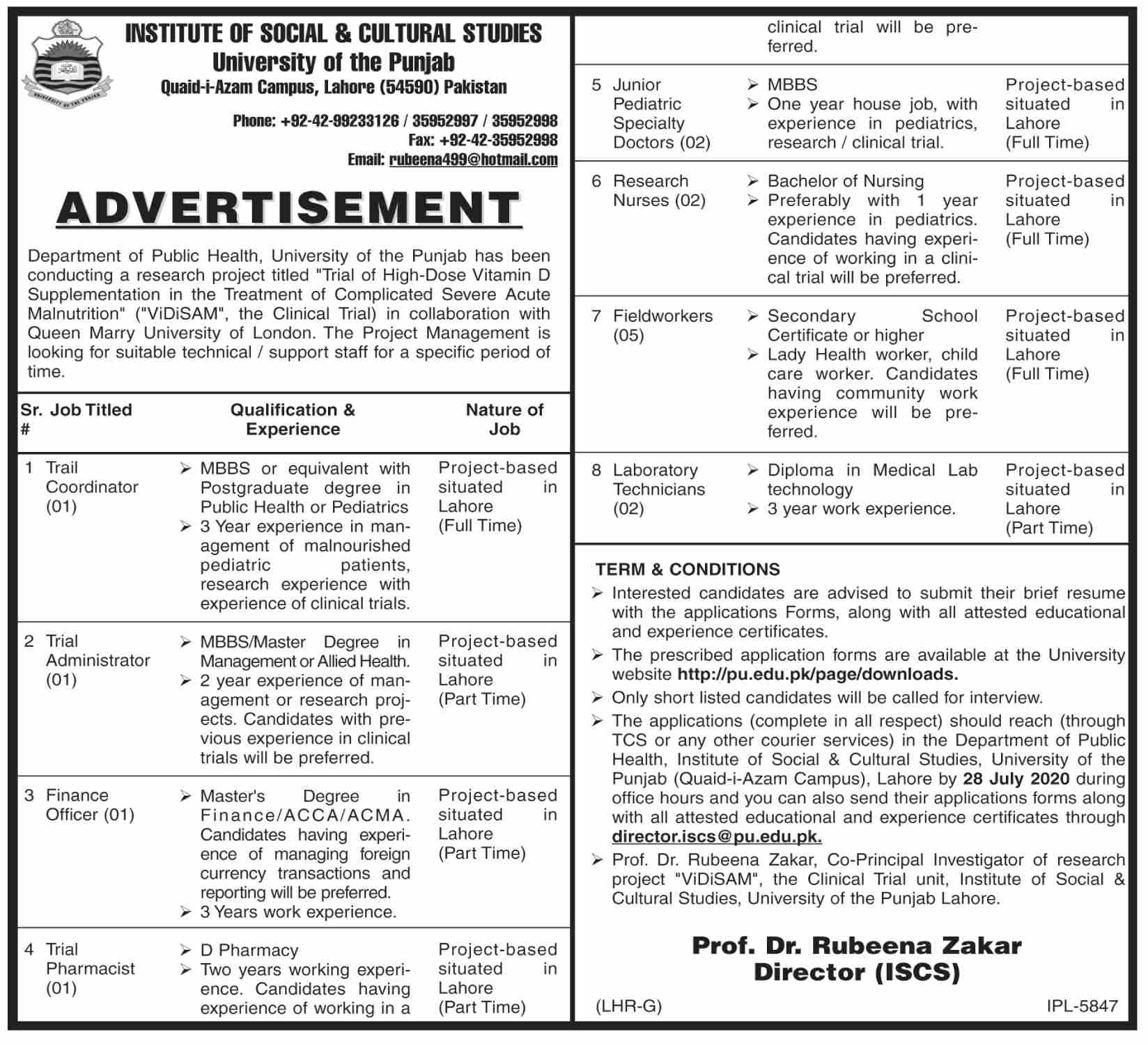 شیئر کریں, بےروزگاری ختم کرنے میں پاکستان کی مدد کریں, اجر کمائیں
SEE ALL JOBS PUBLISHED IN BACK DATES & UPTO "04 MONTH"