Hydrocarbons Development Institute of Pakistan HDIP Islamabad Jobs Latest May 2020, Secretary, General Manager (Admin & Accounts), Latest Jobs in HDIP Islamabad, Pakistan
Welcome to HDIP
The Hydrocarbon Development Institute of Pakistan (HDIP) is the national petroleum Research & Development (R&D) organization. It is an autonomous body of the Ministry of Petroleum & Natural Resources established in 1975 under a Resolution of the Federal Government.
Mandate
The HDIP was re-established under an Act of the Parliament (Act No. 1 of 2006) for the purpose of "undertaking, promoting and guiding scientific research and development in the field of hydrocarbons, and for matters connected therewith or ancillary thereto"
Vision
To be a national Research and Development Orgranization in Hydrocarbon sector.
Mission
Professional self reliance for sustainable energy development in Pakistan.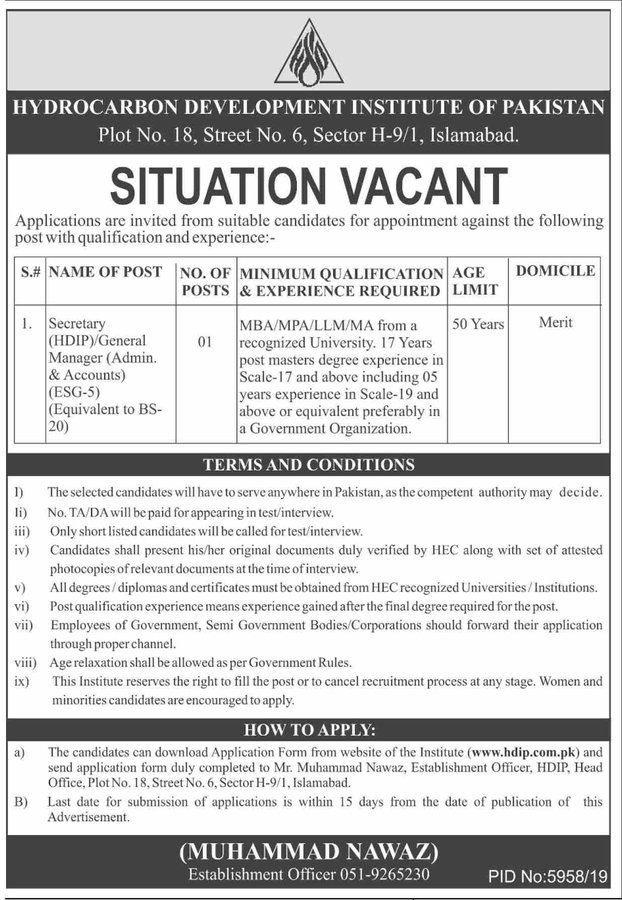 شیئر کریں, بےروزگاری ختم کرنے میں پاکستان کی مدد کریں, اجر کمائیں

Submit Your Name & Email for Daily Updates"