Healthcare Organization Karachi Jobs Latest May 2020, Molecular Biologists & Molecular Technologists
Healthcare Organization Karachi
Molecular Biologists (Code: MLab-01)
Molecular Technologists (Code: MLab-02)
Publiched on: 10-05-2020
A well reputed Healthcare Organization of KARACHI invites applications against following positions;
Molecular Biologists (Job Code: MLab-01)
Qualification:
M.Phil./Ph.D. in Molecular Biology
Experience:
A senior level Molecular Biologist with at least 8-10 years experience of working in a reputable organization with hands-on experience in Molecular Biology Techniques like PCR NUCLEOTIDE Sequencing and hybridization for Characterization of Viruses. Must possess experience of working on PCR Machine, nucleotide synthesizer and automated sequencing machine and software application.
Molecular Technologists (Job Code: MLab-02)
Qualification:
M.Sc./ Equivalent Molecular Biology
Experience:
Min 3-5 years of working experience in reputable organization who can perform tests in Molecular/Virology, Genornics, and Molecular Oncology. The incumbent will be responsible for all aspects oftesting.
Apply at [email protected] by mentioning designated Job Code for example "MLab-01" in subject line latest by 20 May 2020.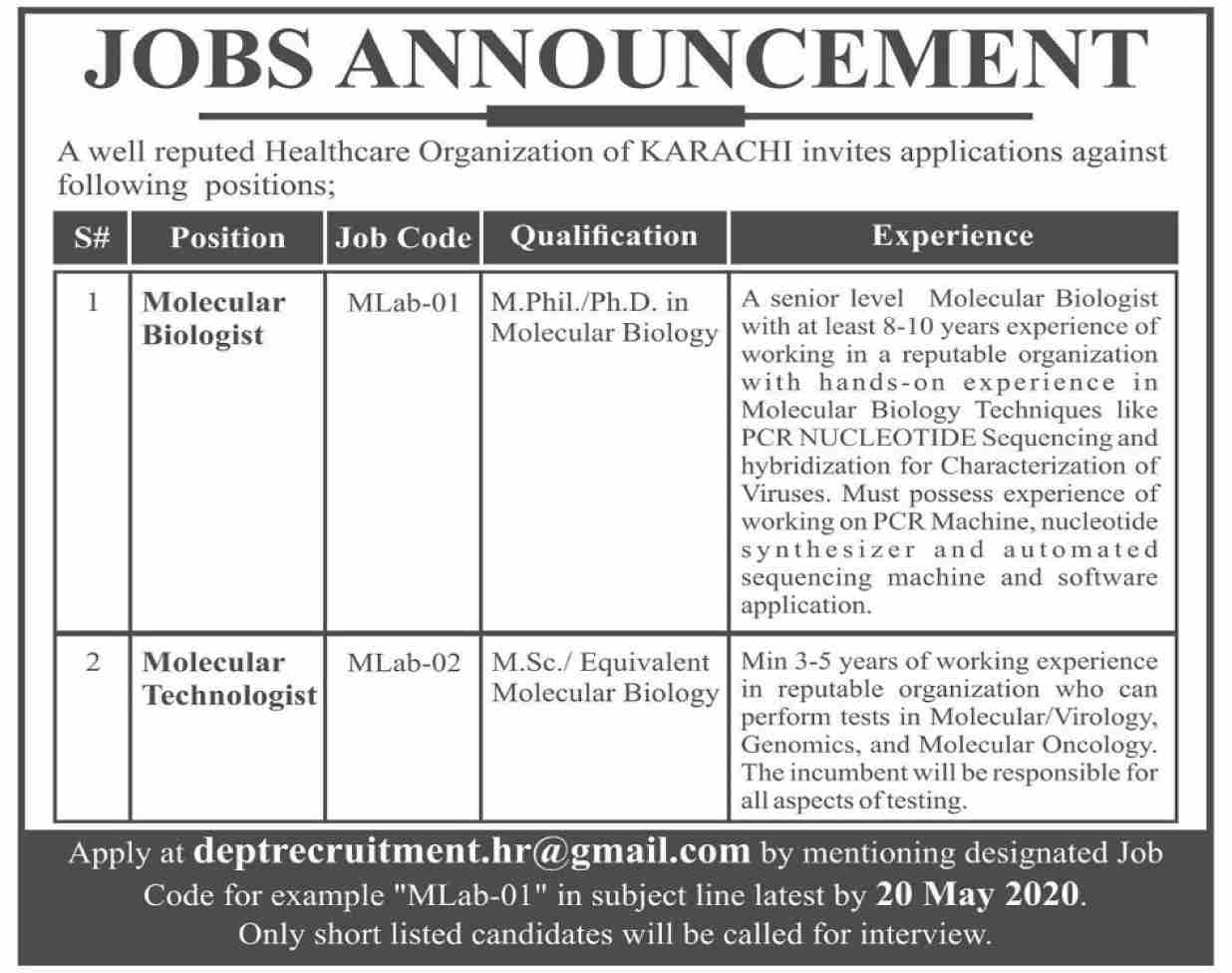 شیئر کریں, بےروزگاری ختم کرنے میں پاکستان کی مدد کریں, اجر کمائیں

Submit Your Name & Email for Daily Updates"