Hiring of Technical Staff Latest (287 Posts), Health Department District Umkot
1 Health Technician === 18
2 Dental Technician === 10
3 Dialysis Tech ===01
4 ECG Tech === 05
5 Echo Technician === 05
6 Lab: Technician ===09
7 X-Ray Technician ===04
8 Ophthalmic Technician === 03
9 0.T Technician === 05
10 Dispenser === 100
11 Lady Health Visitor === 51
12 0.T Assistant === 06
13 Laboratory Assistant === 05
14 Midwife === 54
15 _ Driver === 11
Total Posts ===>> 287
• All Posts are not transferable & Temporary.
• After Selection / Appointment on the Post The Successfulcandidate will be posted in their district preferably near position oftheir address.
• The applications should accompany the attested photocopies ofqualification Matriculation, Certificates, Domicile Certificates /PRC & CN IC & Required Qualification.
• The All Applications should reach to the undersigned within 07days of the publication of advertisement.
• The candidates already in service should apply through properchannel.
• No TA/DA will be admissible.
• The Number of Posts in any case may fluctuate according to availability.
• The candidates are eligible to apply against the posts of their district of domicile.
• Incomplete applications cannot be entertained.
• After Due Date the application cannot be entertained.
• Candidates applying for more than one positions need to apply separately for each position.
District Health Officer District Umerkot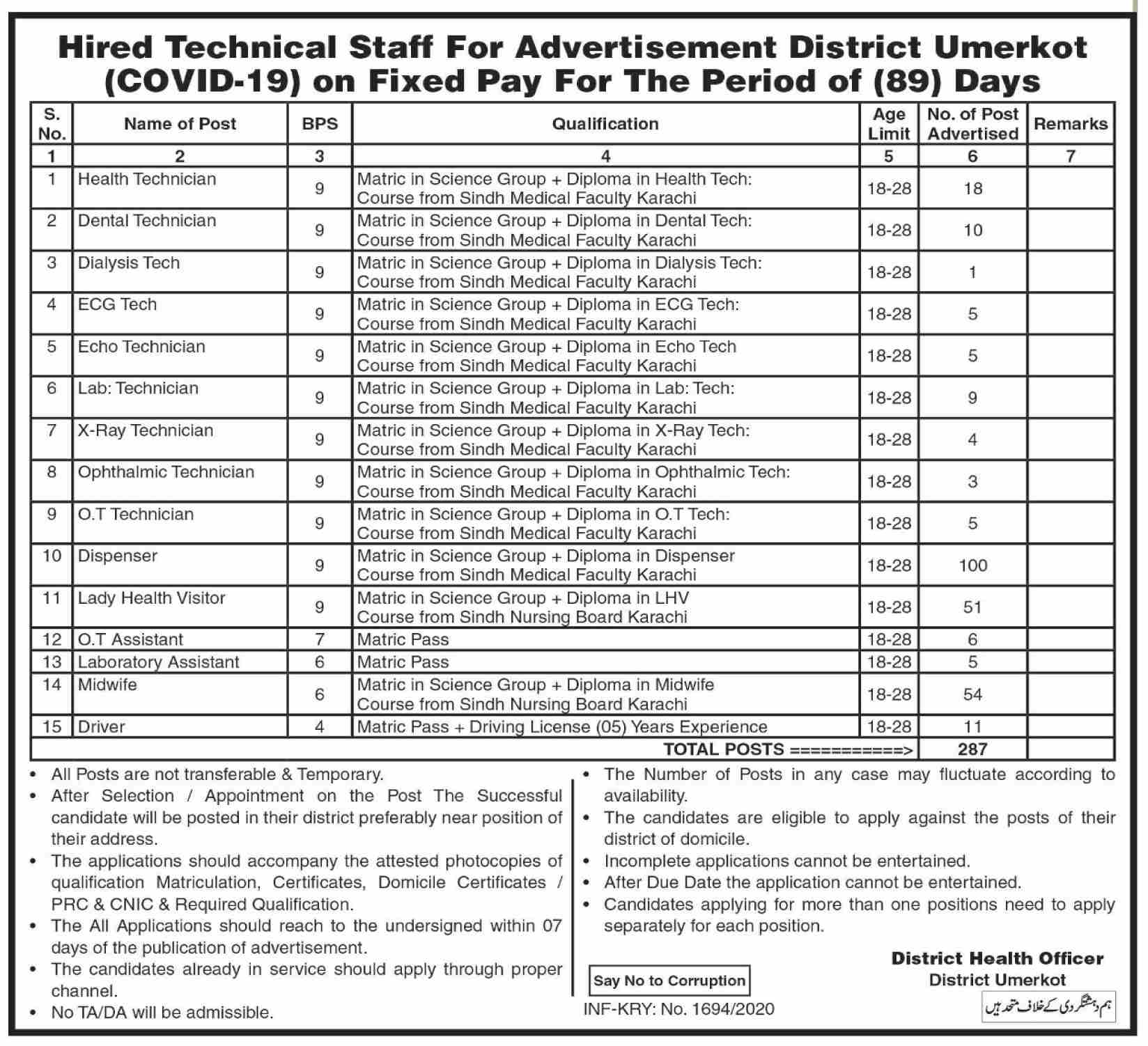 شیئر کریں, بےروزگاری ختم کرنے میں پاکستان کی مدد کریں, اجر کمائیں
SEE ALL JOBS PUBLISHED IN BACK DATES & UPTO "04 MONTH"