GIK Institute of Engineering, Science & Technology Swabi, KPK
Join as: Director (Office of Research Innovation & Commercialization) Manager/Deputy Director (Marketing) Horticulture & Sanitation Officer Staff Nurse Applications are invited for the above posts in the Institute. Requisite qualifications and experience for each post are as follows: Director ORIC (Office of Research Innovation & Commercialization): Criteria: "The Director will manage and enhance the research activities of the university, develop research policies and priorities, work for fund raising for research and other activities, mobilize faculty, business community and industry for research commercialization and serve as an effective advocate for research with the university and to its broader community of stakeholders and supporters. Secondly, must have strong ties with the local government, business /industry, entrepreneur, university and social communities. Finally, proven leadership experience in managing and growing non-profit organizations.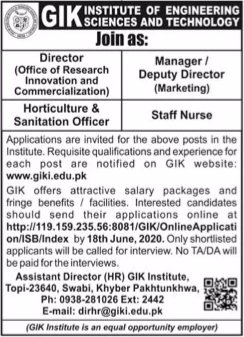 شیئر کریں, بےروزگاری ختم کرنے میں پاکستان کی مدد کریں, اجر کمائیں
Submit Your Name & Email for Daily Updates"
[email-subscribers-form id="1"]