Specialists :Walk in Interview", Gwadar Development Authority Jobs Latest 2020 May, Gynecologist (01), Pathologist (01), Paediatrician (01) Latest Jobs in GDA Hospital Gwadar, Balochistan
Gwadar Development Authority
(GDA;Urdu: گوادر ڈویلپمنٹ اتھارٹی) is a public and government sector corporation responsible for providing municipal services in Gwadar City (Southwestern Arabian Sea Coastline of Pakistan), established on October 2003, to improve, enhancement and implement the master plan for Gwadar city.
HISTORY
Starting of work on the Gwadar Port in March 2002, it was expected that there will be a massive growth in Gwadar town and their suburb areas. In order to manage and regulate this huge growth rate, a Gwadar Master Plan was introduced. The Gwadar Development Authority (GDA) was established in October 2003 to improve, enhancement and implement and regulate the Master Plan, which formally suggested only the land use in Gwadar city. After the establishment of the GDA Authority, the internal road network in the city, residential and commercial land zoning, and the vision and mission for the future of Gwadar was developed and finalized.
GDA HOSPITAL GWADAR
Red Cross Society of China has constructed a modern 100 bed hospital in Gwadar. Red Cross Society says the hospital will meet health requirements of workers that will take part in the development of Gwadar. On later stages, the hospital will be expanded to 300 beds. This hospital is a gift from Red Cross China to the people of Gwadar. The hospital is supervised by Government of Balochistan and Planning, Development, and Reforms Commission. Hospital at Gwadar (Up-gradation of existing 50 bedded hospital, i.e. Phase-II of GDA Hospital to be named as China-Pakistan Friendship Hospital). This project is proposed for implementation of Phase-II of 50-bedded hospital constructed under GDA Business Plan (Federal PSDP). The hospital is planned on 68 acres of land. One out of six medical blocks (each 50 bedded) and almost 20% of the residential blocks are completed. Under the proposed project remaining medical blocks, nursing and paramedical institutes, medical college, central laboratory, and other allied facilities are to be constructed with supply of medical equipment and machinery. Creating state-of-the-art medical facility in the port city of Gwadar.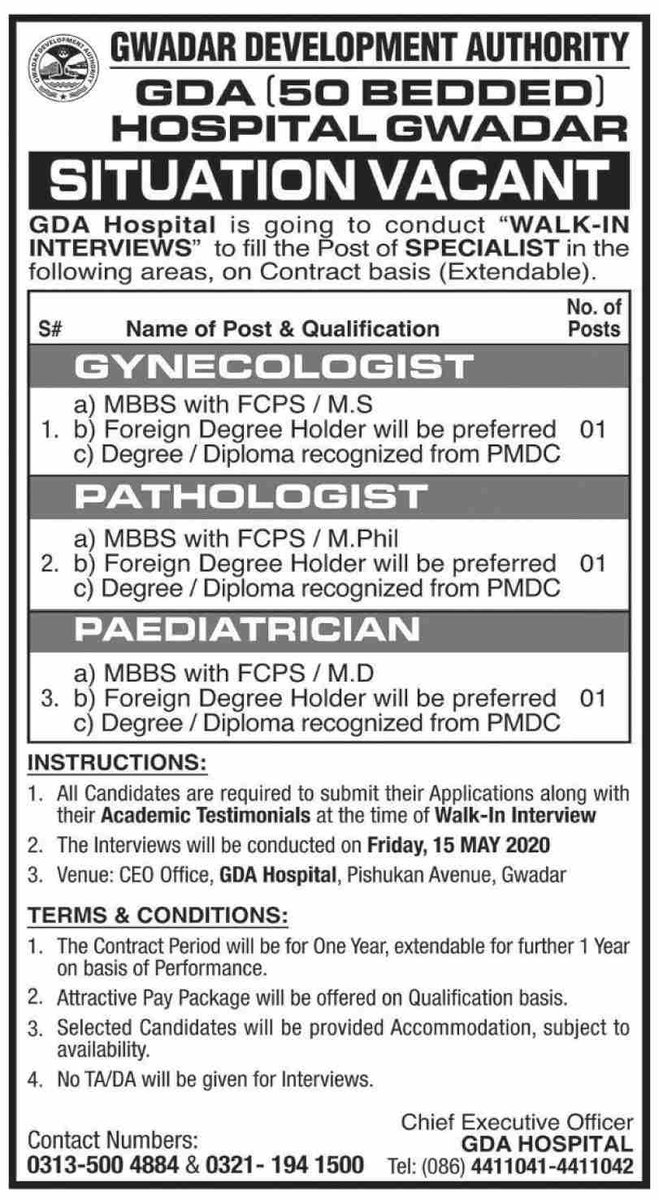 شیئر کریں, بےروزگاری ختم کرنے میں پاکستان کی مدد کریں, اجر کمائیں

Submit Your Name & Email for Daily Updates"