Ministry of Federal Education & Professional Training FE&PT Jobs Latest May 2020, Secretary Latest Jobs in FE&PT Islamabad,
SECRETARY (BPS-20)
Ministry of Federal Education & Professional Training FE&PT
Publiched on: 07-05-2020
Post: Secretary
Location: Islamabad
Positions: 01
Level: BPS-20
Education: PhD
Age: 45+05= 50 Years
Last Date: 22-05-20
Introduction
Ministry of Professional and Technical Training was established in July 2011 in the wake of 18th Amendment. Some of the Departments/Organizations previously under MOLM and MOE were placed under this Ministry. Supreme Court of Pakistan in its Judgment dated 25th November, 2011 directed that in view of insertion of Article 25-A in the Constitution, the Federal Government cannot absolve itself from the responsibility of providing Education to its citizens.
In the light of Supreme Court Judgment, a Summary was moved to Prime Minister of Pakistan who was pleased to approve the renaming of Ministry as "Ministry of Education and Training" which was duly notified by the Cabinet Division on 24th July, 2012.Subsequently, the Council of Common Interest (CCI) in its meeting held on 8th November, 2012 endorsed the renaming of Ministry and approved its functioning with the subjects already assigned to it.
On reorganization of Federal Secretariat the Ministry  renamed as Ministry of Education, Trainings & Standards in Higher Education vide Cabinet Division's notification No. 4-8/2013-Min-I dated: 07th June, 2013.
On 19th June, 2014 Ministry has now renamed as Ministry of Federal Education anf Professional Training  vide Cabinet Division's notification No. 4-10/2011-Min-I dated: 19th June, 2014.
Vision
"Developing Pakistan as a progressive and prosperous country by providing all citizens a fair and equal opportunity to receive quality education and skills to achieve optimum potential"
Mission Statement
"To develop human resources by ensuring equal access and educational excellence across Pakistan"
Values
Integrity – above boardPursuit of excellence – in our workTeam work –  breaking silosInnovation –  ideas for transformational changeSense of responsibility – to citizens
Functions
National cohesion on education policies and reforms, and focusing national attention on education issuesLead Educational Standard settingLeading programs of national importance to ensure equity and cohesionLeading international cooperation and coordination on education mattersAchieve universal literacy in the countryIntegration of Religious Educational InstitutionsCollect, analyze and disseminate information on key education indicators including student learning assessments and education financingManage, supervise and implement formal education in schools and colleges under ICT through the Federal Directorate of EducationRegistration & regulation of Private Educational Institutions in ICT and enforcement of relevant rules & regulations on private education sectorContribute to the education of young through a value system based on the Scout Promise and LawLead a coordination of academic evaluation across Pakistan, especially for quality in large scale student exams through the Inter Board Committee of Chairmen (IBCC)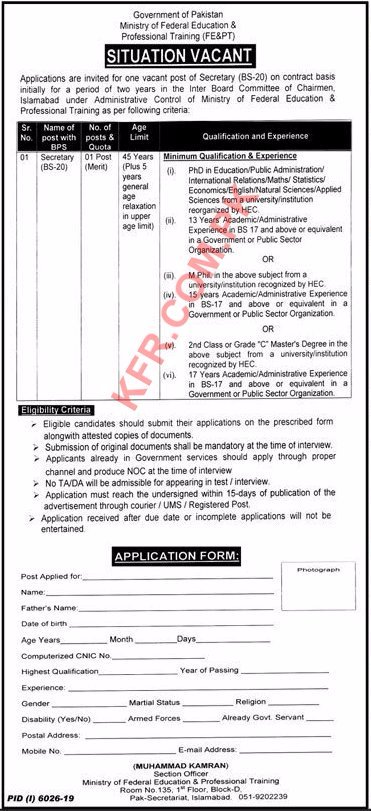 شیئر کریں, بےروزگاری ختم کرنے میں پاکستان کی مدد کریں, اجر کمائیں
Submit Your Name & Email for Daily Updates"
[email-subscribers-form id="1"]