FC KPK South Jobs 2021 For General Duty Soldier, Frontier Corp South KPK Jobs 2021 "Corrigendum"
Today newly announced FC KPK South Jobs 2021 For General Duty Soldier with complete details. If you pass this department's test, no one will stop you from getting this FC South KPK Jobs 2021. Interested candidates can also apply for these FC Jobs 2021. We will recommend you to Apply now to these FC Jobs 2021 before the last date. For more FC Jobs 2021 KPK keep visiting our website regularly. You can also see here all the Jobs in FC 2021. KFR Team Collect Jobs from Pakistan's leading newspapers like Daily Jang, Express, Nawa-i-Waqt, The News, Dawn & The Nation. Our aim is to facilitate job seekers from various cities of Pakistan like Karachi, Lahore, Rawalpindi, Islamabad, Peshawar, etc. by providing them all www newspaper job advertisements on a single .com .pk website. This is done as a public service in good faith and we are not responsible for any incorrect, misrepresented or misleading advertisement. Instead of searching the Jobs Advertisements in every newspaper, you can use www.kfr.com.pk to find any ad of your interest quickly.
Posted Date: 26-03-2021
Registration Start Date: 29-03-2021
Department: Frontier Corps FC South
Education: Middle Pass
Province: South Waziristan, Dera Ismail Khan, Khurram, Bannu
Positions: Multiples
General Duty Soldier (Male)
FC KPK South Jobs 2021 For General Duty Soldier Paper Advertisement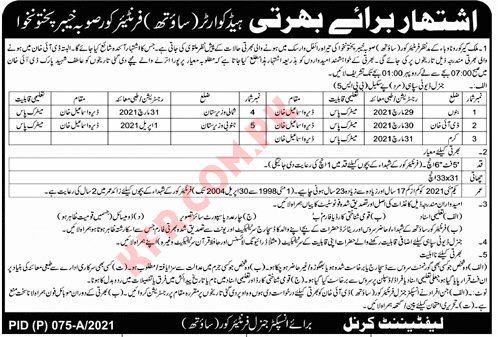 PLEASE CLICK THE IMAGE TO VIEW ITS ORIGINAL SIZE
HOW TO APPLY
According to the given Eligibility Criteria, Eligible Candidates report to the following Address on Dates (MENTIONED AGAINST EACH DISTRICT) for Registration & Medical Examinations
مطلوبہ معیار پر پورا اترنے والے حضرات اشتہار میں دی گئ تاریخوں کو مندرجہ ذیل پتے پر صبح 07 بجے سے دوپہر 01 بجے کے درمیان رجسٹریشن اور طبی معائنہ کیلئے تشریف لایں
ADDRESS: ATIF SHAHEED PARK, DERA ISMAIL KHAN
REGISTRATION DATES: 29th, March to 01st, April 2021 (07:00 AM to 01:00 PM)
-22
Days
-4
Hours
-35
Minutes
-4
Seconds
---
SEE MORE JOBS HERE…..