ECONOMIC REVITALIZATION OF KHYBER PAKHTUNKHWA PROJECT (ERKP) GRANT FOR SMEs
INVITATION FOR MATCHING GRANT APPLICATIONS FOR SMEs
ERKP aims to provide financial assistance through matching grants to small and medium enterprises (SMEs), which have been directly or indirectly affected by the militancy/natural disasters and/or COVID-19 pandemic between June 2008 and June 2020.
SMEs registered in Khyber Pakhtunkhwa are invited to apply for matching grants to upgrade their businesses in the following categories:
SMEs owned by either women or transgender, and/or SMEs which employ a majority of women and/or transgender workers.
Up-gradation of SME clusters to adapt to Covid-19 situation through product and services upgrades.
Business up-gradation for compliance with the Covid-19 standard operating procedures (SOPs) for respective sectors.
Up-gradation of Common Facility Centers (CFCs) for Clusters (Group of at least 3 SMEs).
Any SME interested in upgrading his business.
Applications from the following sectors will be entertained
Travel, Tourism & Hospitality
Health products, equipment and services (including Making of Personal Protection Equipment).
Marble & Granite Processing
Handicrafts and Textile
Schools / educational institutes
Manufacturing & Processing
The owner of the business shall be a Pakistani citizen doing legitimate business in Khyber Pakhtunkhwa. The business must have been registered prior to May 1, 2019 with minimum 3 workers (minimum 2 workers in case of women and/or transgender owned businesses).
Grant application forms are available online at the website of Sarhad Chamber of Commerce & Industry, Women Chamber of Commerce & Industry, SMEDA & www.reconnectpakistan.com.pk SMEs can obtain the grant application form by sending an email to erkp.project@smeda.org.pk with "Grant Forms Request" written in subject line .
THOSE WHO CANNOT APPLY:
Beneficiaries of other development schemes of government and donors including Ehsaas, World Bank project (BEST once effective) and other relief programs offered by SMEDA, State Bank of Pakistan, provincial government, USAID Challenge fund and other donors.
Applications both approved and rejected by ERKP/ERKF at any stage will not be reconsidered.
SMEs from the newly merged districts (erstwhile-FATA) for which applications have already been received by the ERKF between March 18, 2019 and May 2, 2019.
Please send your filled application forms along with the supporting documents through registered courier to the following address; Project Manager, ERKP Project Unit (PU) – SMEDA Ground Floor, State Life Building, The Mall Peshawar Cantt. or over email at erkp.project@smeda.org.pk
Incomplete applications shall not be considered and will be rejected
The closing date of grant applications is September 15, 2020. The grants will be awarded subject to availability of funds.
Applications submitted by hand will not be entertained due to social distancing SOPs being observed
Note: For guidance or grievance related to the grant applications please contact on the Helpline Numbers Call: 091-9218051, 091-5254022-23 Or send an email to erkp.project@smeda.org.pk
A Joint Venture of:
Khyber Pakhtunkhwa Federally Administered Tribal Areas and Balochistan (Multi-Donor Trust Fund)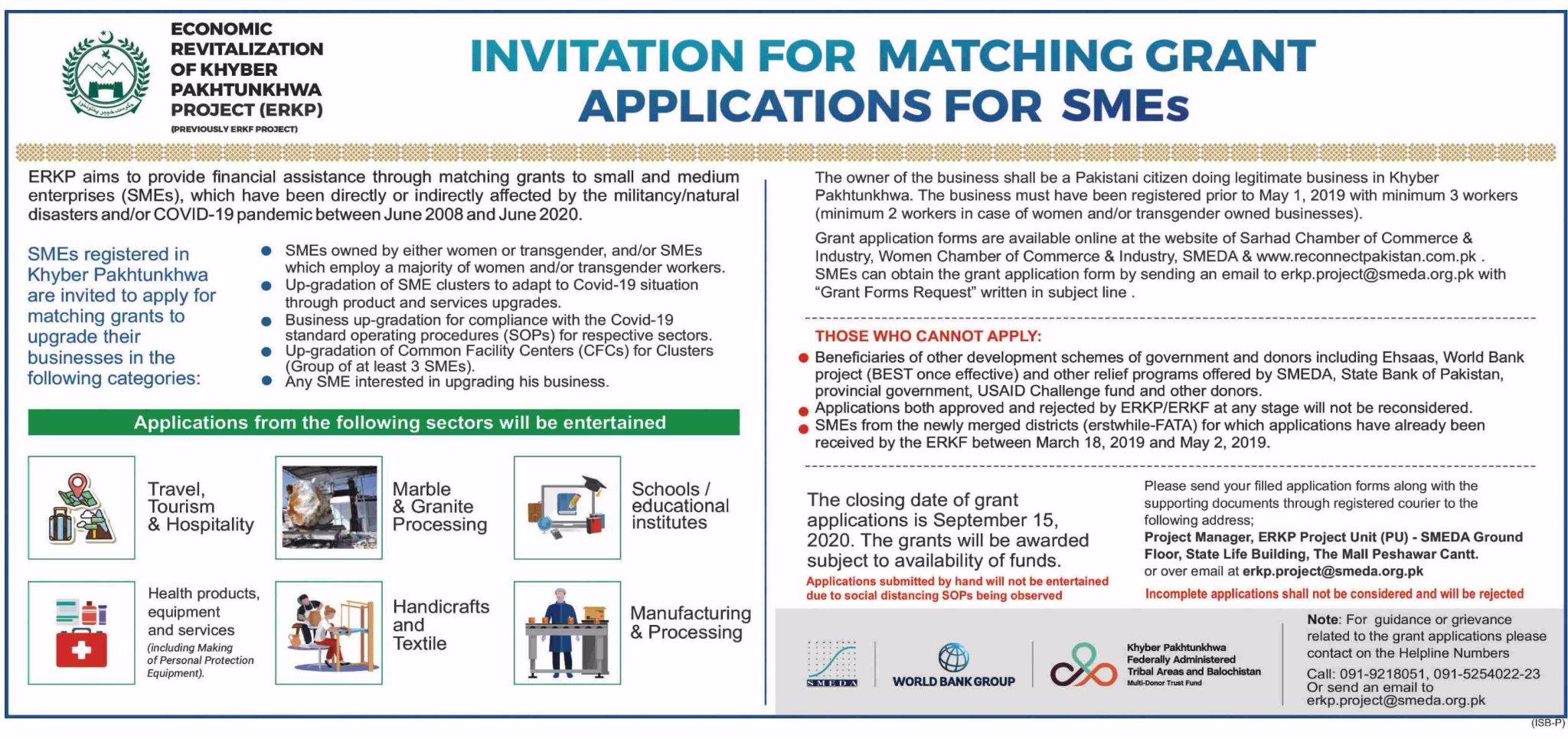 شیئر کریں, بےروزگاری ختم کرنے میں پاکستان کی مدد کریں, اجر کمائیں
SEE ALL JOBS PUBLISHED IN BACK DATES & UPTO "04 MONTH"