EFU LIFE INSURANCE COMPANY JOBS LATEST 2020 AUGUST, CAREERS IN EFU AT RAWALPINDI & ISLAMABAD
VACANCIES ANNOUNCEMENT FOR EFU LIFE INSURANCE NEW BRANCH IN RAWALPINDI & ISLAMABAD
Assistant Branch Manager
Unit Marketing Manager
Marketing Trainee Officer
Only Residents of Rawalpindi and Islamabad can Apply for Above Mentioned Positions.
Careers at EFU LIFE:
We believe that people want to excel. Working at EFU Life will provide you with the right support and environment you need to achieve extraordinary results. We nurture and develop our people to be good human beings and firmly believe that exceptional results should be based upon uncompromising integrity, ethical behavior and honesty. We believe that anyone can be successful and achieve 'Kamal' in their careers. We welcome professionals from all backgrounds and belief's to join the EFU family. Our culture opens doors and opens minds so your ideas are always welcome and your inputs will shape the future of the company.
In 1990, the Government of Pakistan reopened the life insurance business to the private sector organisations and EFU Life Assurance Ltd started operations in November 1992 as the first private sector life insurance company. In early 1993, EFU Life commenced its Group life insurance business and by March 1994, the company began writing its individual life business. Pioneers and industry leader in the Life Insurance Sector, EFU Life's major developments during the years are;.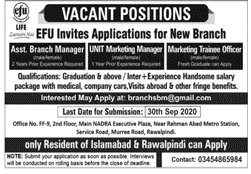 SEE ALL JOBS PUBLISHED IN BACK DATES & UPTO "04 MONTH"