DOW University of Health Sciences Admission/Fellowship Program Latest Session 2020, FCPS, MCPS, & Fellow, Karachi, Sindh
Overview
Admissions Department of Dow University of Health Sciences serve as the coordinating office for university relations and to disseminate information to prospective students about the University and about the admission process.
It's working since inception of university with highly efficient staff known for their work excellence and competencies, it is situated on 3rd floor of Administration Block, in the main campus at Dow Medical College.
The services provided by the admission department:
To deal with admissions of all the undergraduate programmes.
Evaluates and processes admissions applications in accordance with well defined eligibility criterias, university policies, goals and rules on admissibility of undergraduate students.
Advises applicants regarding admissions requirements, eligibility for admission, program options, residency requirements and other matters related to their admission to the University.
Serves as a resource to students, parents, the University community, High Schools, and other feeder institution regarding admission to the University. Interprets admissions policies and procedures and responds to general questions about the University's campus life, academic programs and requirements.
Keeps informed regarding academic program requirements, enrollment restrictions and other issues related to admitting students.
Assists in developing informational and/or promotional materials.
Conducts informational meetings and programs to explain admission requirements policies and procedures.
Assists in maintaining and updating admission records and files and compiles admissions reports as directed.
DUHS, offers a multitude of undergraduate and postgraduate programs that caters to the needs in Healthcare sciences by providing quality human resources. University provides excellent academic facilities through it's fully equipped laboratories, museums, digital libraries through video conferencing, besides logistic facilities at teaching departments, hostels and all the campus in general.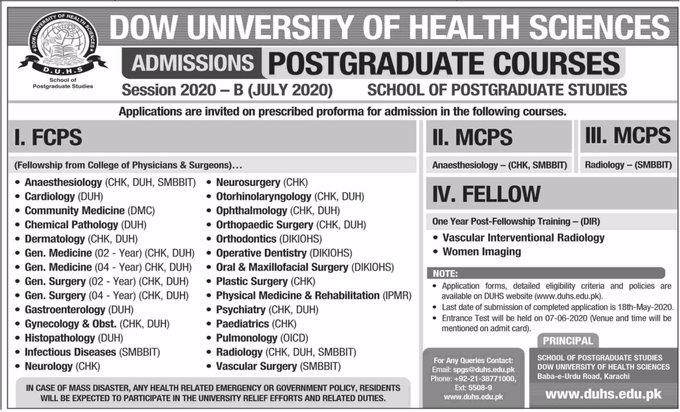 شیئر کریں, بےروزگاری ختم کرنے میں پاکستان کی مدد کریں, اجر کمائیں

Submit Your Name & Email for Daily Updates"