Digiskills Pakistan Free Online Courses May 2022 June Online Apply Ignite MoITT Latest in Pakistan
●●● Free Online Courses ●●●
Freelancing
E-Commerce
Graphic Designing
QuickBooks
WordPress
Creative Writing
AutoCAD
Search Engine Optimization (SEO)
Digital Marketing
Digital Literacy
Video Editing, Vlogging and Animation
Data Analytics and Business Intelligence
Affiliate Marketing
Virtual Assistant
Communication and Soft Skills
Procedure:
DigiSkills Training Program 2.0 will be opening enrollments for Batch-02 on Wednesday, June 01, 2022, by 11:00 AM.
A total of 250,000 seats will be available in this batch that will be filled on a first-come, first-served basis. Please make sure to enroll before the available seats run out!
The Enrollments will continue until June 30, 2022. However, if the total allocated seats are filled up before this date, then the enrollments will be closed.
Trainees can enroll in 2 courses at a time from the list of 15 courses being offered.
Newly registered trainees must enroll in the Freelancing course. They can select the 2nd course of their own choice.
Trainees from the previous batches are also eligible to enroll in 2 courses.
Batch-02 will commence on Monday, July 04, 2022. Insha Allah!
On 4th July 2022, you will be able to view the first week content on our Learning Management System (LMS) by 11:00 AM.
To learn HOW TO USE LMS, Click Here.
HOW TO APPLY:
How to register for DigiSkills Freelancing Training Courses:
You can register for digiskills free training courses at following  link, registration shall start from June 01, 2022.
URL: https://digiskills.pk/Register.aspx

ADVERTISEMENT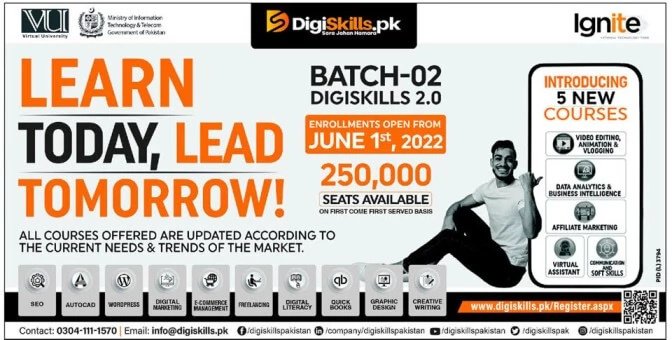 📅 LAST DATE:
June 30th, 2022

SEE MORE JOBS HERE…..