Culture Tourism Antiquities and Archives Department Sindh Jobs 2021 April STS Apply Online Latest in Sindh
Posted Date: 26-04-2021
Closing Date: 17-05-2021
Hiring Department: Culture Tourism Antiquities and Archives Department Sindh
Education/Qualification: Primary / Middle / Matriculate / Matric – Pass, F.A. / F.Sc. / Intermediate / Inter – Pass, B.A. / B.Sc. / M.A. / M.Sc. / BS / B.Com. / M.Com, Graduate / Postgraduate / Bachelor's / Master's – Degree
Location: Karachi, Sindh
Total Positions: 99
●●● BPS-15 ●●●
03 Cameraman
01 Photographer
01 Video Technician
●●● BPS-14 ●●●
04 Library Assistant
03 Steno Typist
01 Cataloger
01 Craft Assistant
01 Field Technician
01 Music Teacher
01 Oriental Assistant
●●● BPS-13 ●●●
02 Assistant Archivist
02 Classifier
01 Assistant Chemist
01 Lab Assistant
●●● BPS-12 ●●●
01 Computer Operator
01 Data Input Operator
01 Data Processing Assistant
●●● BPS-11 ●●●
15 Junior Clerk
13 Accounts Assistant
08 Cataloger
03 Gallery Assistant
01 Carpenter
01 Conservation Assistant
01 Counter Clerk
01 Guide
01 Photographer
01 Scout Guide
01 Site Supervisor
01 Technical Assistant
●●● BPS-10 ●●●
01 Accountant
01 Cataloger
01 Classifier
01 Site Supervisor
●●● BPS-09 ●●●
01 Fire Fighting Technician
●●● BPS-07 ●●●
01 Calligrapher
01 Guide Scout
●●● BPS-06 ●●●
02 Sindhi Typist
01 Urdu Typist
●●● BPS-05 ●●●
03 Driver
02 Photo Printer
02 Store Keeper
02 Typist
01 Account Clerk
01 Booking Clerk
01 Counter Clerk
01 Gate Sergeant
01 Guard
01 Technical Assistant
01 Telephone Operator
Culture Tourism Antiquities and Archives Department Sindh Jobs 2021 Advertisement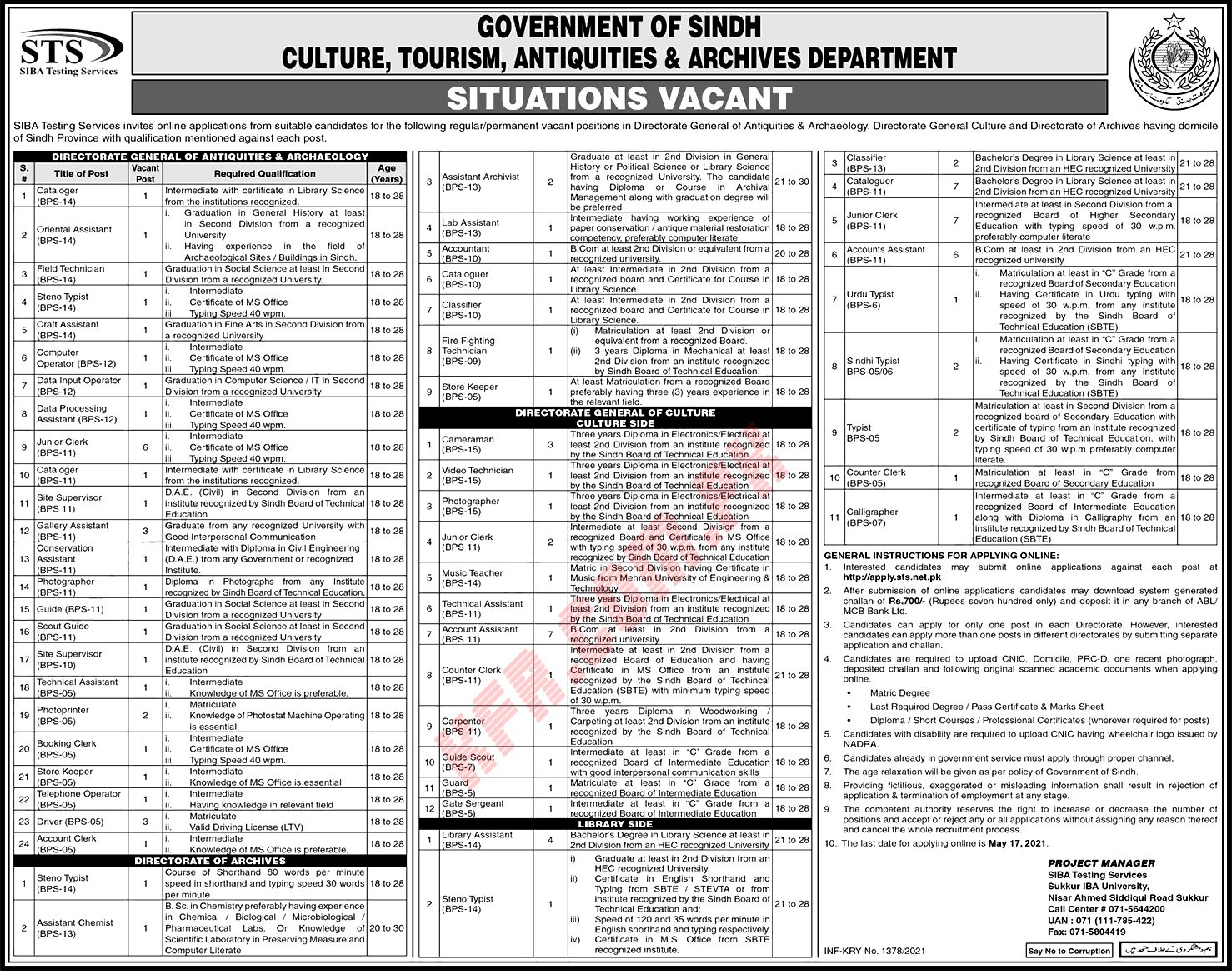 PLEASE CLICK THE IMAGE TO VIEW ITS ORIGINAL SIZE
HOW TO APPLY
Culture Tourism Antiquities and Archives Department Sindh Jobs April 2021 STS Apply Online
Please visit the link given below to Apply Online for Culture Tourism Antiquities and Archives Department Sindh Jobs April 2021 through STS's Online Application Form:
LAST DATE: 17th May 2021
-252
Days
-7
Hours
-17
Minutes
-45
Seconds
---
SEE MORE JOBS HERE…..
KFR Team Collect Jobs from Pakistan's leading newspapers like Daily Jang, Express, Nawa-i-Waqt, The News, Dawn & The Nation. Our aim is to facilitate job seekers from various cities of Pakistan like Karachi, Lahore, Rawalpindi, Islamabad, Peshawar, etc. by providing them all www newspaper job advertisements on a single .com .pk website. This is done as a public service in good faith and we are not responsible for any incorrect, misrepresented or misleading advertisement. Instead of searching the Jobs Advertisements in every newspaper, you can use www.kfr.com.pk to find any ad of your interest quickly.