Agriculture Policy Institute Islamabad Jobs Latest 2020 May, Drivers (01 Post), Naib Qasid (03), & Chokidar (01) Latest Jobs in API Islamabad, Pakistan
Agriculture Policy Institute Islamabad Jobs
Published: 15 May 2020
Headquarter:  Agriculture Policy Institute, 3rd Floor, Evacueet Trust Complex, Islamabad
Phone: +92-51-9215233
Fax: +92-51-9215232
AGRICULTURE POLICY INSTITUTE (API)
Agriculture Prices Commission was established in 1981 and re-constituted as Agriculture Policy Institute (API) in 2006 as Attached Department.
FUNCTIONS OF AGRICULTURE POLICY INSTITUTE
i)   The focus will be on broader agriculture policies. Focus will be general and adjustable keeping in view growing needs.
ii)   Conduct studies on emerging policy issues. Periodically examine, processing, storage, and marketing costs of agricultural commodities and recommend policies and programs to reduce such costs and improve the competitiveness of commodities. Broader coverage and holistic approach 
iii)   Analyze the impact of important agricultural policies on groups such as consumers, processors and exporters and advise on policy adjustments needed for greater efficiency and equity.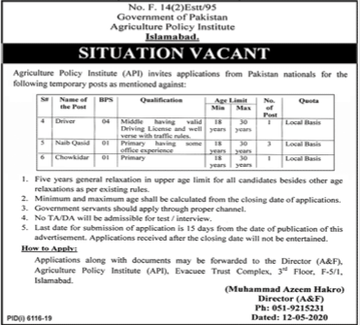 شیئر کریں, بےروزگاری ختم کرنے میں پاکستان کی مدد کریں, اجر کمائیں
Submit Your Name & Email for Daily Updates"
[email-subscribers-form id="1"]