JOIN PAKISTAN MARINE ACADEMY AS NAUTICAL OR ENGINEERING CADET 2020 AUGUST LATEST in Karachi
JOIN PMA KARACHI
75 NAUTICAL
75 ENGINEERING
10 NAUTICAL
10 ENGINEERING
---
ELIGIBILITY CONDITION

Unmarried male citizen of Pakistan.
Age: Not more than 20 years as on 3P' Dec 2020;
For FATA/Gilgit-Baltistan / AJK / Balochistan, not more than 21 years
as on 31st Dec 2020.

QUALIFICATION

Higher Secondary School Certificate: Pre- Engineering/equivalent in Physics, Chemistry & Mathematics with at least 55% Marks.
Candidates who are awaiting final results may also apply, however, they have to provide a 'Hope Certificate' from head of respective College/Institute

HOW TO REGISTER?

Prospectus & application forms are available with PMA admission office and on PMA website.
Submit application form along with pay order/ bank draft of Rs.
2500/- in favor of Pakistan Marine Academy, Karachi, NBP, PMA Branch Code-0239. Candidates applying under Self Finance Scheme
(SFS) are to submit additional pay order/bank draft for Rs. 300,000/- along with the application form. SFS fee will be refunded in case selected on open-merit.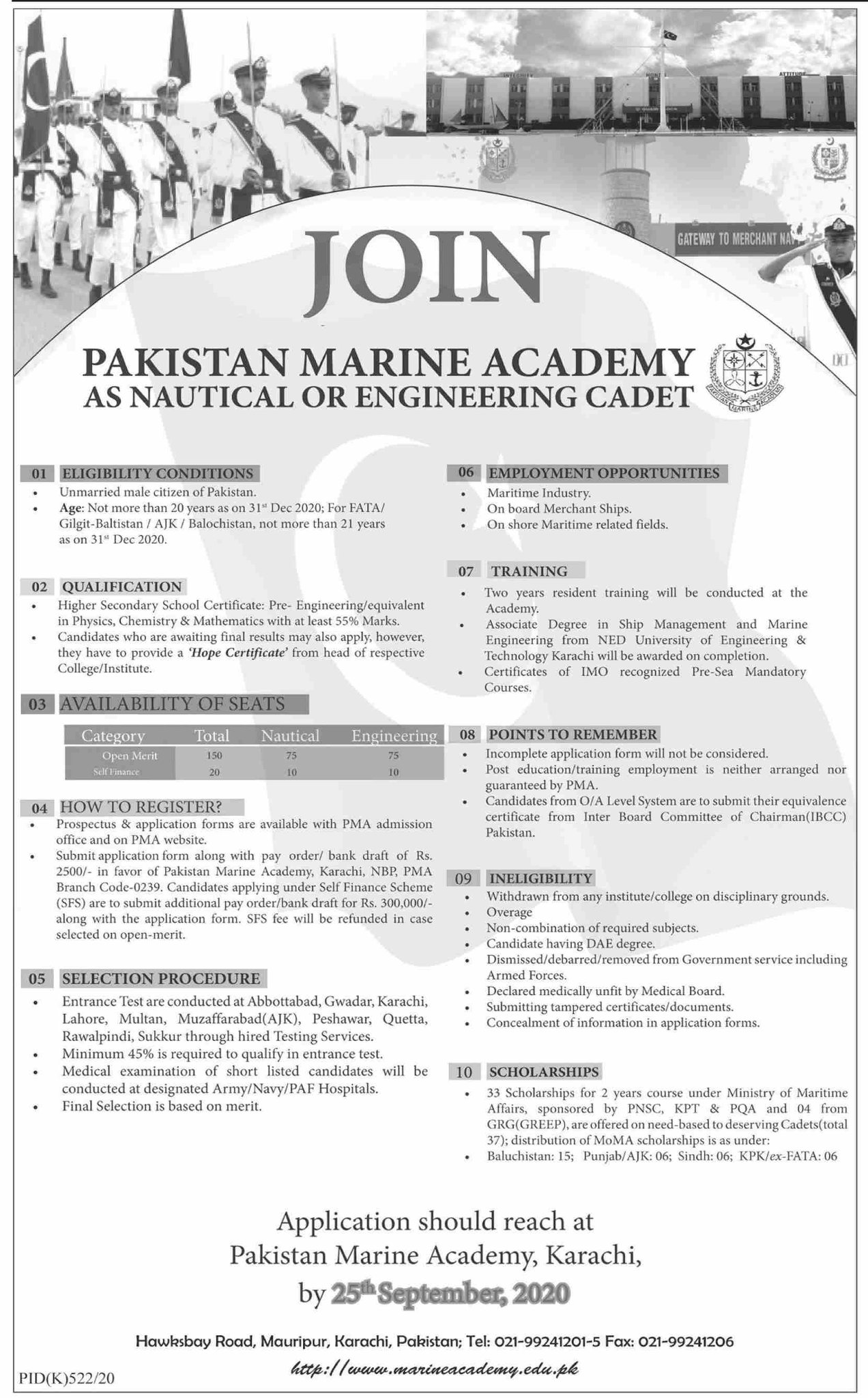 SEE ALL JOBS PUBLISHED IN BACK DATES & UPTO "04 MONTH"