INSTITUTE OF MANAGEMENT SCIENCES PESHAWAR JOBS 2020 DECEMBER, IMSCIENCIES JOBS LATEST IN PESHAWAR, KPK
"PROJECT BASED JOB/CONSULTANCY OPPORTUNITIES"
Following positions are available for a short term project engagement titled "Baseline Study to support government of Khyber Pakhtunkhwa in implementation of KP Women Empowerment Policy". The study is being conducted by the Center for Public Policy & Research (CPPR), IMSciences, Peshawar for Right to Public Services Commission, Khyber Pakhtunkhwa.
02 Research Associates
01 Administrative associate
01 Workshop trainers
02 Interviewers
01 FGD expert
06 Enumerators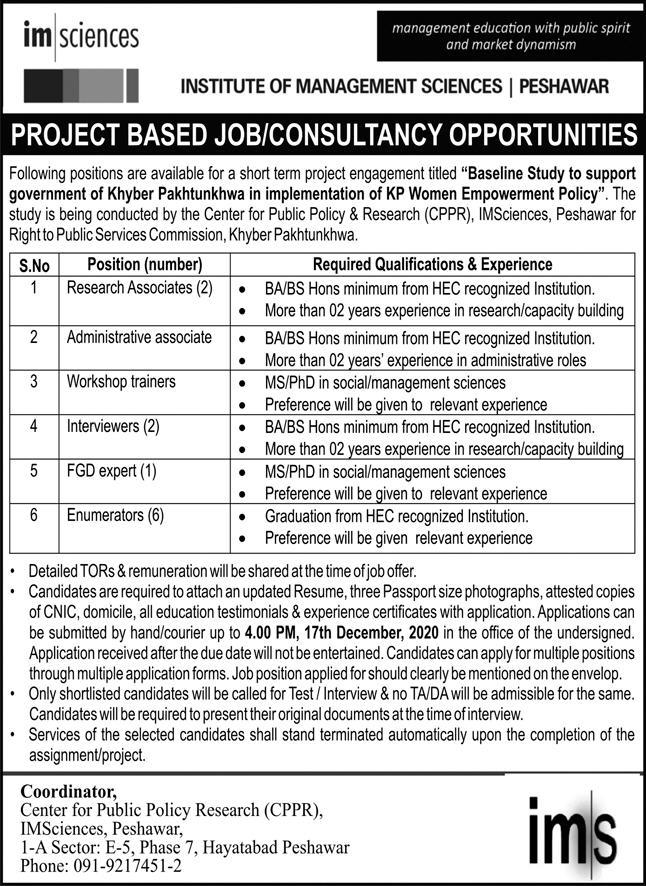 PLEASE CLICK THE IMAGE TO VIEW ITS ORIGINAL SIZE
LAST DATE: 4.00 PM, 17th December, 2020
---
SEE MORE JOBS HERE…..